Felipe Perrone: "Our end and that of women reflects the change in society" | sports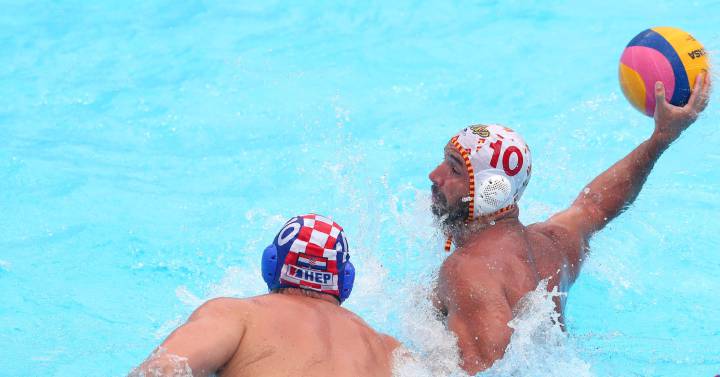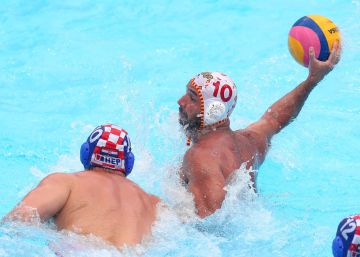 Felipe Perrone is the atypical captain of the Spanish water polo team that has been planted in the World Cup final. He was born 33 years ago in Rio de Janeiro, but he moved to Barcelona as a kid and became Spanish national. Play with the national team since 2005, but with a parenthesis, on the occasion of the Games in Rio. He took advantage of the regulations that govern this sport and competed with the Brazilian national team. He returned to the Spanish and now has the opportunity to fight for gold.
Question. What reading do you draw from the path of Spain in this World Cup?
Answer. In addition to getting into the final, the fact of qualifying for the Games, takes a weight off us. I was in the final of the World Cup in Rome ten years ago and, after so long, returning to the final is a dream for anyone, moments for a lifetime.
P. In that final of 2009 played the now coach David Martin, and has a thorn nailed What happened?
R. Yes. It was a two against one, we were winning in extra time, and David, as always, very supportive made one more pass and the player who accompanied him could not kick. Serbia tied and beat us in extra time. They are plays that remain in your mind. David was like a coach: he always conveys the idea of ​​a team. Here, we win or lose all.
P. You are the one who harangues your teammates shortly before the start of each match. What did you say before the semifinal against Croatia?
R. That we had all our energy and desire in the tactical approach. There is a lot of tension, and it is easy for you to finally confuse the desire to get a game plan. It was incredible. The whole game we follow our plan and our game idea that is fundamental for Spain.
P. That last room has been able to take their toll.
R. David proposed a way of playing that very few people play. We have done what we call in water polo zone M. We always have a player always in front of the buoy, that is, two defend it. It is a risky defense, but we follow the plan and it is what led us to victory. If you look at the game, not in the water, but before, when we make the presentation, you see that we play against giants. The Croats measure all two meters. We try to always take the game to a physical and mental limit because there where we are good.
P. And before the final what will he say to his teammates.
R. I am preparing it between one game and another. There are a lot of feelings, I have the team right? And this in the end I am preparing throughout the day and, when I get there, he sent them a last message, that it reaches them above all. It is a team of kids who are starting their history, the majority of 20 and 21 years old and I think I can always contribute some experience especially considering that it is my ninth World Cup already. What can help you to shorten the path to success, then better
P. He won Italy in the European.
R. The matches with Italy are always very curious because they raise something very similar to ours, neither are players as great and individual quality as the Croatians and Hungarians. It is a clash of similar approaches. In the last matches we have won but the final is a separate point. It will be unforgettable match and people will enjoy it a lot.
P. There is Gonzalo Echenique, who played with the Spanish team.
R. These are situations that happen in water polo due to flexibility in the rules. Chalo has a very great friendship with us, but we will have to forget him in the final.
P. You have lived that feeling since you have played with Brazil and with Spain.
R. In my case, my story is associated with the two countries. It's very complicated. I've ever felt more Brazilian, ever more Spanish. Then I realized that I feel both. My grandmother was Catalan, I grew up in Spain, my parents live in Brazil … It is a mixture of emotions, but in the end it is a bit of a reflection of Spanish society, a cosmopolitan society. Immigration from South America leads to many people having a feeling like I have.
P. Is it true that, as a child, with his brother, he watched matches of the Spanish team?
R. When I think about it, I even get excited. As a child … imagine, in Brazil, a country that is totally football, right? My brother liked water polo and we always felt an identification with the Spanish style. Estiarte or Ballart, were not very physically developed players. You saw it as a mirror, as a possibility of becoming a player like that one day. We played with the ball at home and there was always the fight of who Spain was going to be, because he was handsome. I have a picture with Estiarte when he was in Brazil, in '94, I am eight years old, I have it saved, it is very special for me. There is a whole story behind to be here with the selection as captain and reach a final.
P. What does this team have to have made the leap to the finals?
R. I have lived both realities and the road is very long. With the selection I was third in the World Cup in Melbourne and in the European in Belgrade. I don't have many years left, but these kids start a story that is very long. Right now we have achieved a combination with players from another era like me, Fran, Blai and Dani and we managed to convey to the boys: no No, please. We are not going to lose again! ', so that they understand how important all the preparation is and the need to be focused and how to deal with this type of tournaments psychologically. Maybe before we loaded a lot, we put a lot of pressure and now we have learned to better manage what these games are.
P. What do you fear most about Italy?
R. I do not fear anything. It is a very very open match. They have a player who is standing out a lot that is Francesco di Fulvio who makes a very beautiful water polo, very dynamic, in addition to Pescara, from a historic water polo family, who surely will have seen many videos of Manel (Estiarte) because he has taken many characteristics of him. And they also have Echenique that is always a danger. But it will not be a match of individualities but they further exploit the potential of the team.
P. What tells you that Spain is in the final in both men and women?
R. Without a doubt it is the reflection of a whole change in Spanish society, more in swimming. It is also seen in handball, in basketball, in football … Everything comes from an idea of ​​equality and promoting women's sports. We have Premaat that sponsors both and LaLiga4Sports that supports both. In the end, the result is there. And I like to add that it's very beautiful. After the game, the girls were there waiting to applaud us and we did the same. Let's all go to one.
You can follow EL PAÍS Sports in Facebook, Twitter or subscribe here to the Newsletter.