FC Barcelona: Barça will release another shirt with the 'senyera' | sports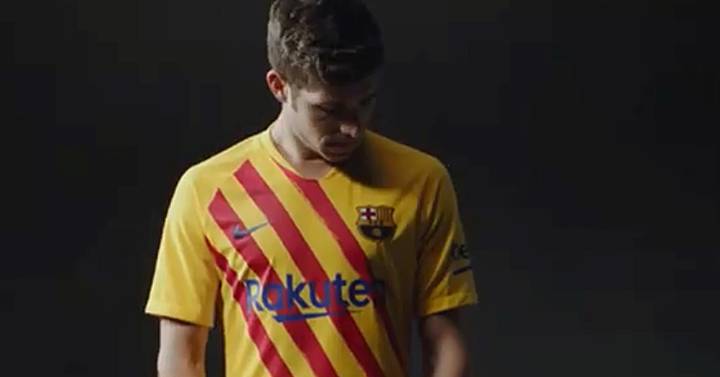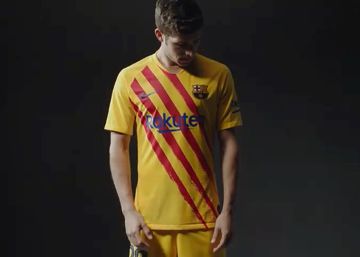 Under the motto Ho portem dins (We have it inside), Barcelona has presented a new shirt with the senyera as the protagonist, in a tribute to his roots and a story that began 120 years ago. The Valverde team I could wear this shirt on December 1 before Atlético de Madrid in the Wanda Metropolitano.
It is the first time that the Blaugrana club presents four kits in the same season, and for this occasion, as was done with the first shirt, the new design will be put on sale both in the version that the first football team sports, with Rakuten on the front, like the one you saw the female Barça, which since last year has its own sponsor, STANLEY. Both teams will wear the new kit on different occasions during the League competition.
This season the news began with the first shirt, presented on June 3, which breaks with the traditional arrangement of vertical stripes by similar pictures to those of chess but combining the colors blue and grana. For the first time, also, the official shirt of the women's team was put on sale.
Barça's second kit this season is yellow, crossed by a diagonal strip of blue and grana, very similar to the one used by Barcelona in the 1983-1984 season, season in which the team figure was Diego Maradona and the team disputed the Recopa. The third kit is greenish blue.
With the new shirt, the fourth this season, Barça, according to the club itself, proposes a contemporary design with the four red bars drawn diagonally on a yellow background. Another highlight is the V-neck retro style, while the pants maintain the same yellow hue of the shirt giving continuity to the entire uniform. The kit also completes the stockings also in yellow background and four red circular stripes, with the Nike logo in blue and the word Barça
The new kit will go on sale this Wednesday, November 13, exclusively at the Barça Stores of Camp Nou, Canaletes, Paseo de Gracia, La Roca and Barcelona airport. In addition, at the Barça Store in Canaletes (La Rambla 124), a limited edition will be available for the first 500 buyers who purchase it and will have the motto registered Ho portem dins (We carry it inside) in one of the sleeves. Also, one week later, starting on November 20, the shirt will also be available at the rest of the usual official outlets.
You can follow EL PAÍS Sports in Facebook, Twitter or subscribe here to the Newsletter.