Fast-paced and clean confinement in a crowded Pamplona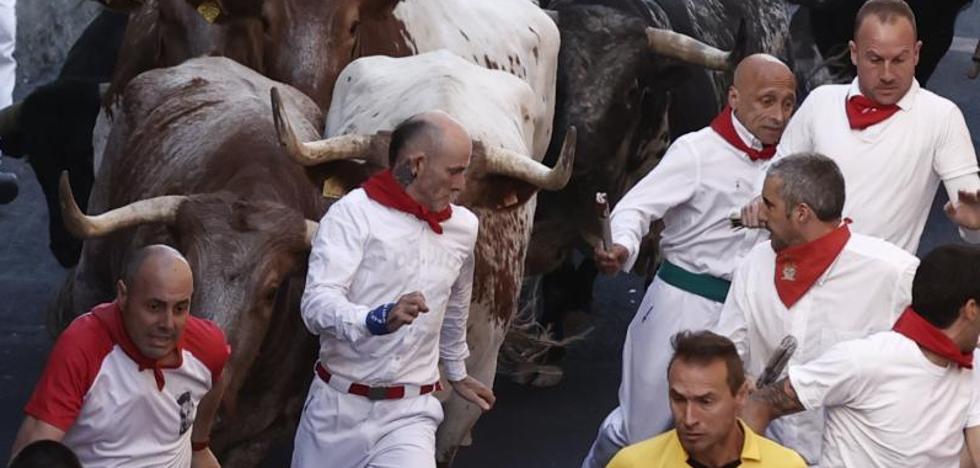 Four transfers to hospitals have been registered, all of them for bruises and without goring
Fast-paced fourth running of the bulls for the Sanfermines with bulls from La Palmosilla, who staged a fast and clean race to the bullring. Once again, and it has become the general trend this year, the bulls have shown great nobility, hardly throwing defeats at the lads, which has led to beautiful races.
The herd has advanced together, until in the second section of Estafeta a horned man has slipped and has entered the square a little later than his brothers. Despite this, the last bull entered the pigsty without delay, so the race was closed in just 2 minutes and 29 seconds.
The race started on time, without the bulls having hardly lingered in the corrals after the sound of the rocket announcing the start of the running of the bulls at 8 o'clock in the morning, after the three pertinent songs to San Fermín, in Spanish and Basque . The halters have taken the lead in the first section of the race and have made it difficult for the young men to show off in front of the bravos' antlers.
The herd has been compact until the section of the Town Hall. In the Mercaderes curve it seems that the anti-slip that they have been throwing on the ground for several editions has taken effect so that the horned ones do not slip, and today none have fallen, so the herd has lined up the Estafeta at a frantic pace, except a halter that has slipped in front of a groom, staying behind the herd, which has left more gaps for the runners before the horned ones.
As Estafeta street has progressed, more gaps have been opened and the herd has arrived more stretched to the Telefónica stretch, although it has not starred in great scenes of danger, among other things because the bulls have displayed exquisite nobility.
In the bullring itself, the first five bulls have accessed the bullpens in the bullring without delay, but there was a sixth that had been delayed and could have made the clock stop later. However, it has not been like that. He has accessed the pigsties very quickly as well and the confinement time has dropped from two and a half minutes.
The first part of the injured details 4 transfers to the University Hospital of Navarra, all due to contusions (one due to head and maxillofacial trauma and the rest in the extremities), one from Mercaderes, another from Estafeta and two more from Telefónica. In principle, there have been no reported injuries from flagpoles after this fast race of the La Palmosilla bulls.