Fast confinement of the Toro de la Vega through the streets of Tordesillas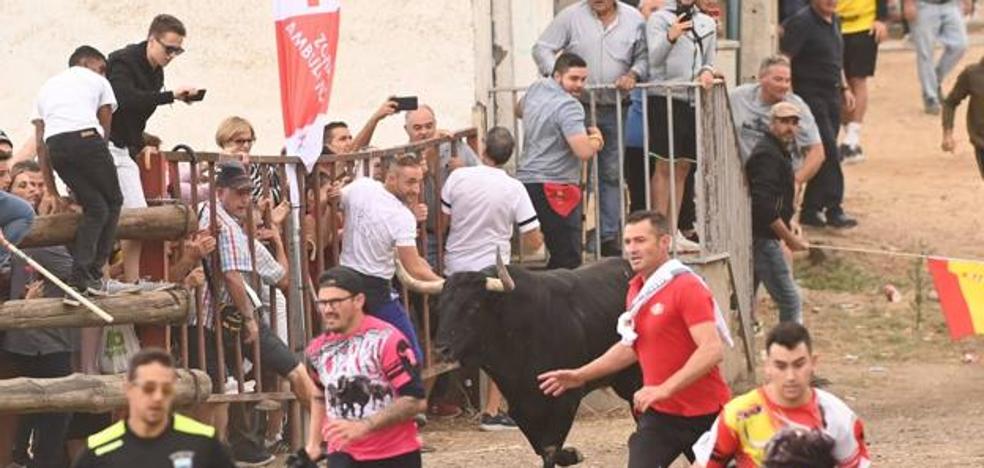 Thousands of people attend the release of 'Manjar' amid a wide security deployment
A few drops of rain fell before the release of the Toro de la Vega without tarnishing the running of the bulls, which has brought together thousands of people along the traditional route in Tordesillas (Valladolid). 'Manjar', the 560-kilo bull from the Albarreal cattle ranch in Huelva, headed the section through the urban area of ​​the municipality at a fast pace without turning around, on the way to Vega and the Zapardiel meadows.
A large device of the Civil Guard remained vigilant to avoid altercations in what had been scheduled as a tournament and has been reduced to a confinement after the Superior Court of Justice of Castilla y León provisionally suspended, last Friday, the order by which the bases modified this year by the City Council were approved and that allowed the horned to place currency through a kind of harpoon.
Several neighbors consulted lamented that "the tradition" of the Toro de la Vega tournament has been lost and ask "that it not be politicized." In some parts of the route, participants in the running of the bulls were seen carrying banners against the banning of the tournament and, unlike in previous editions, there was no act of protest by members of the Pacma Animalist Party.
Wound in a talanquera

During the Toro de la Vega, a 68-year-old woman was injured, who had to be taken to the hospital after suffering a possible cervical trauma after falling from a talaquera as the bull passed by in the roundabout area, as reported by Cruz. Red.
During the running of the bulls, which could not be a tournament, there were moments of risk, such as when a man was about to be caught by the animal next to the aid station.
Another moment of danger occurred 100 meters later, when an elderly man was able to save the onslaught of 'Manjar' thanks to an umbrella. The bull fixed on the parasol instead of the participant.