Farmers denounce that the EU-Mercosur agreement gives "la puntailla" to Spanish honey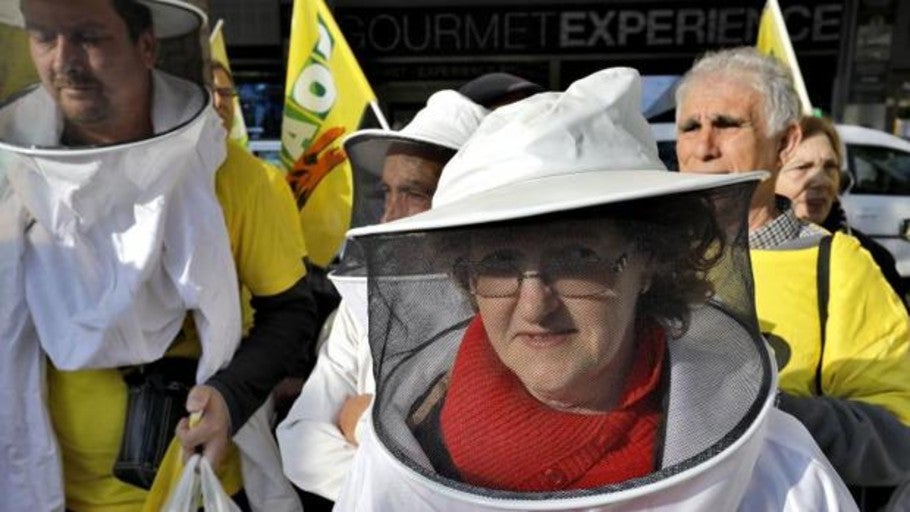 MADRIDUpdated:
The agrarian confederation COAG has denounced on Wednesday that the EU-Mercosur free trade agreement is "very harmful" for the interests of Spanish beekeepers. The entity said in a statement that if the agreement is ratified, Argentina, Brazil and Uruguay, apicultural powers worldwide, "may flood the European market with 45,000 tons of honey free of duty ».
In 2018, the EU as a whole imported a total of 34,541 tons of honey from the countries that make up the Mercosur (4,549 tons from Uruguay, 4,587 tons from Brazil and 25,404.35 tons from Argentina). According to COAG, for practical purposes, all of what is now being imported from these countries by the EU would enter without paying tariffs, pushing prices down in the domestic market.
«Last year the average price of entry of Mercosur origin honey was 2.46 euros / kg, while the costs of producing one kilo of honey were in Spain at 2.92 euros / kg. We do not deny that honey comes from outside the EU, we reject the use of this type of agreements so that a handful of large packaging industries can buy cheaply and increase their profit margins at the expense of beekeepers on both sides of the Atlantic, "warns Ángel Díaz, head of the apiculture sector of COAG.
For COAG, the agreement with Mercosur is "bad news in a particularly adverse context" and may be "la puntailla" for the Spanish sector, since "we are facing the worst spring honey production campaign of the last 15 years "
The overall balance is of a production of spring honeys that is around 20-40% of the production of a normal year and even some monoflorals, such as orange blossom or thyme, with lower yields, around 10% of a normal year, due to an excessively dry winter, with low and irregular rainfall and strong variations in temperatures.
. (tagsToTranslate) coag (t) honey (t) beekeepers



Source link