Families of people with cerebral palsy condition their lives to their care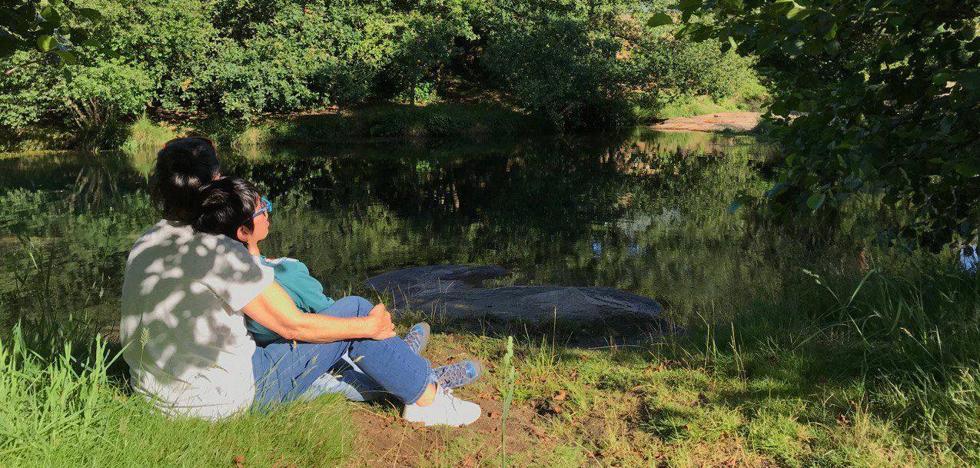 There are 120,000 Spaniards diagnosed with multiple disabilities and 80% require permanent support for almost everything
The family's life, home and work are adapted to the needs of people with cerebral palsy. The changes vary depending on the level of physical, cognitive or communication limitations that are generated. "It's as if my son were an extension of me, like being two people in one," explains Javier Viana, father of André, a 32-year-old dependent, when talking about the adaptation that caregivers have to make. Almost 120,000 people have cerebral palsy in Spain, 80% with great needs, which implies support "24 hours a day, every day", recalls the Confederation of Associations for the Care of People with Cerebral Palsy (Aspace).
André lives in Galicia and is almost 100% dependent, he cannot speak nor has mobility due to lack of coordination in the control of his muscles; however, he communicates through gestures and can stand and walk with assistance. He is an only child and his parents have organized his life around him. "Everything we do is designed for him. There are many things that he can do because we have adapted to his needs, we have even made reforms in the house to generate an environment suitable for his development », points out Viana who, as a father and caregiver, speaks of a dependency« mutual'.
"Any stimulus that you want to reach him must go through a first filter: the person who assists him, like that for everything." And it is a permanent job, without breaks. "It satisfies us, but that does not eliminate the effort that is made," he says with a bittersweet feeling for the "little value and recognition" they have.
There is no standard treatment for those affected, therefore, care requires time that, in most cases, falls on the mothers or sisters. Seven out of ten caregivers are women, reveals Aspace. Marta Cañón, mother of Nicolás, who is 15 years old and totally dependent, affirms that the adaptation is gradual. At birth, the needs are like all babies, but as it grows, they increase. Cañón worked for the first 4 years, then had to leave to take care of her son.
"You end up so caught up in what he needs that you forget other things exist." Nicolás requires support to dress, wash, eat and much more. «Activities considered basic for us are not. I am a mother, but also a caregiver. Marta thinks that they are unprotected and despite the fact that it is a sacrifice that is made with pleasure, she clarifies that it is exhausting. «The maternal accompaniment is multiplied by a thousand. We do what other mothers don't. I do everything twice: mine and his".
Cañón is always aware of her son, except when he attends the special education center in León. "When she returns she becomes my better half again." But she can only know what happened on her day thanks to a report given by professionals. Nicolás does not speak, so communication is through gestures and a visual "system" that they have managed to coordinate with the movement of his eyes. Due to his disability, there is great uncertainty about who will take care of him in the future.
If the dependency is minor, a certain normality opens up, says Ana Belén Santiago, Alberto's older sister, 38, who has three-quarters of her brain affected. «A gymkhana of visits to the doctor. Change swimming classes for rehabilitation sessions », she refers to care for cerebral palsy. Alberto has autonomy to move around and eat because as a child he received many physical stimuli that, according to his sister, would not have been possible if he had not been hand in hand with institutions such as Aspace Cantabria. "No one in the family knows how to dance and we never would have thought that teaching that is part of the support," she says.
For this reason, Santiago insists that the figure of the caregiver should be extended. "There is a need for co-responsibility in society," he explains. Although the care conditions his life, he also highlights the positive aspect for the community that surrounds them: "Being attentive to them awakens the empathy and vulnerability that we all have." The rush is over because their times are slower. In addition to time, patience and love, money is also needed. The extra cost of cerebral palsy is estimated between 250 and 819 euros per week, Aspace figure. "30 years ago, care was very complicated and expensive. Now there is a world of difference", says Viana, who compares the technological advances of help with the invention of the automobile. However, he regrets that access is limited by cost. "Care requires resources above the average or that someone in the family does not work and that increases the economic burden," Alberto's sister concludes.