Fair draw between Granada and Getafe in a formal match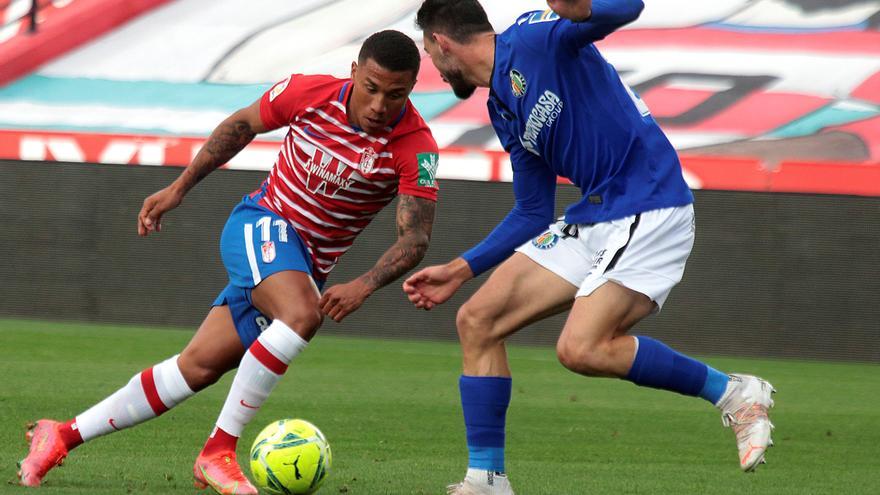 The grenade and the Getafe, with nothing important at stake, tied this Sunday (0-0) at the Nuevo Los Cármenes Stadium in the last game of the season for both teams, a result that allows the Andalusians to finish LaLiga Santander in ninth place, while Madrid closed the course with four points of income on the decline.
The first part was of greater visitor control, although the locals improved with the passing of the minutes, while in the second Granada dominated more and was more incisive, despite the fact that it was a clash with few occasions.
The Turk Enes Unal was Getafe's most dangerous player, putting Aarón Escandell in trouble first with a strong kick that repelled the crossbar, on the best occasion of the first half, and then with a header that forced the goal to intervene.
Granada, who once again noticed both the multiple losses in the spinal cord and the accumulated fatigue, had their best option to score about half an hour with a shot from Alberto Soro, after a failure by Rubén Yáñez, with the Togolese Dakonam Djene avoiding the goal.
The Getafe goalkeeper did intervene successfully against Colombian Luis Suárez in the last dangerous action of the first half.
The Granada came out better in the second half, with distant shots outside Antonio Puertas and the Venezuelan Darwin Machís.
The Venezuelan winger himself, who revitalized his team after the break, did not find a goal by centimeters on a great occasion after a sensational pass into space by Jorge Molina.
The script of the first half was repeated in the second but in reverse, since Getafe improved little by little, especially after Colombian Juan Camilo 'Cucho' Hernández took the field, who was quite active.
There were no more occasions in the final stretch of a procedural clash in which the two teams seemed to settle for the equalizer.
Data sheet
0.- Granada: Aaron; Foulquier, Pepe, Germán, Vallejo (Víctor Díaz, m.46), Antonio Puertas; Yan Eteki, Fede Vico (Brunet, m.90), Alberto Soro (Machís, m.46), Luis Suárez (Luis Suárez, m.75); and Jorge Molina (Soldier, m.70).
0.- Getafe: Yáñez; Damián (Cucho Hernández, m.64), Djene (Cabaco, m.88), Chema, Nyom; Maksimovic (Sabit, m.82), Aleñá, Juan Iglesias, Cucurella (Miranda, m.88); Kubo and Enes Unal (Mata, m.82).
Referee: Medié Jiménez (C. Catalán). He showed yellow cardboard to the local Germán (m.15), Alberto Soro (m.22), Víctor Díaz (m.56) and Yan Eteki (m.63), and to the visitors Maksimovic (m.35) and Sabit (m.35) .86).
Incidents: Match corresponding to matchday 38 of LaLiga Santander played at the Nuevo Los Cármenes Stadium behind closed doors.