Expert Alfonso Philippot, great promoter of the Galician Columbus theory, dies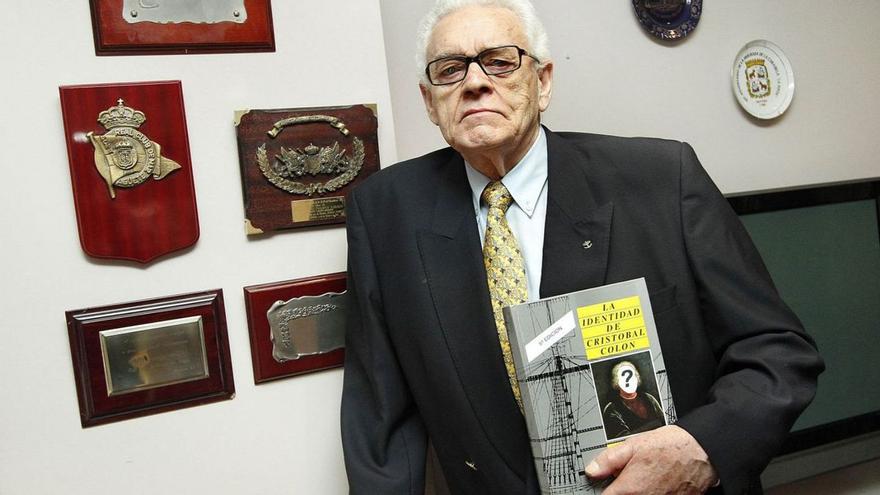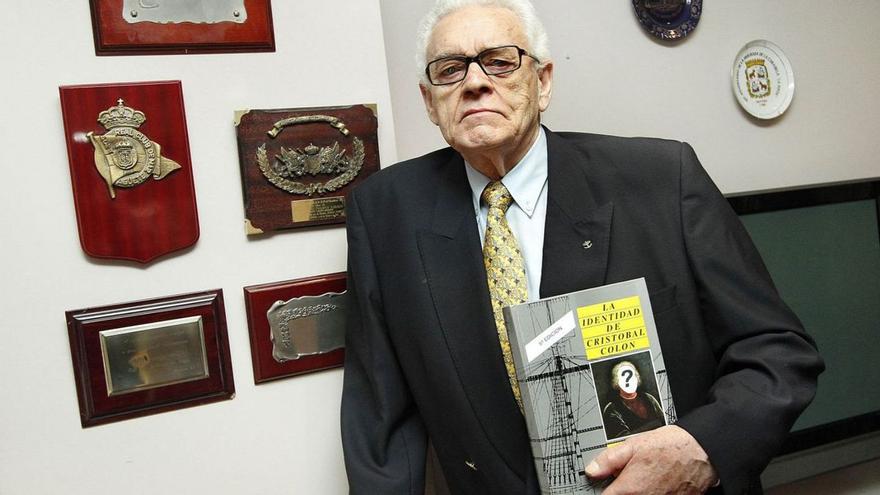 Alfonso Philippot Abeledo, promoter of the theory of the Galician origin of Christopher Columbus, died yesterday in Vigo at 89 years of age, informed Faro de Vigo, a newspaper that belongs to this group, Prensa Ibérica, sources close to the family. The death of the author of "The Identity of Christopher Columbus", a book that this year has completed three decades, occurred yesterday morning at the Álvaro Cunqueiro hospital, surrounded by his wife, Maria Berta Santamaria Delgado, who with his unconditional support contributed to his research, and his seven children: Alfonso, Angels, Joseph, Miguel Angel and Maria Isabel Phillippot Muñiz; and Cristobal and Catalina Phillipot Santamaría.
"I could say that I am a Colombian encyclopedia," said Philippot in his memoirs, published in the FARO supplement Estela in 2014. On that occasion, the expert confessed to the journalist Fernando Franco that he was aware that he would die without his thesis on the Columbus's Galician origin would have prevailed. Still, he maintained that no one had been able to disprove his theory.
Born in Vigo on April 25, 1932, to an Italian father and a Galician mother, Alfonso Phillipot is considered one of the "fathers" of the idea of ​​the Galician Columbus, along with Celso Garcia de la Riega, died in 1914 and who was the one who laid the foundations of this theory. Phillipot's fundamental contribution was the hypothesis about who that Galician was: for him it was clear that he was the nobleman Pedro Álvarez de Soutomaior, known as Pedro Madruga, born in Pontevedra around 1430, and whose life trajectory paralleled that of the discoverer from America. "Dates, ages and even the signature match," explained Philippot in an interview with FARO in 2007. The facts fit and no one can argue. The steps taken by one are the same as the other. When Madruga has to escape to Portugal, Columbus appears in 1479. Later we see that he visits the Duke of Alba (also the Sotomayor family) in 1486. ​​It coincides that all the Sotomayor are large families and Pedro Madruga is recognized by eight married children and two o three bastards ".
Other researchers, such as Aquilino Fariñas Godoy and Angel Carracelas, have continued to pull that historical thread that some view with skepticism and others find fascinating. The last one was the Pontearean Miguel Angel Novoa, who, as published by FARO on October 10, endorsed the theory that Columbus and the Galician nobleman were the same person when deciphering a hidden message in their signature. Colón's signature would say: "I put my name on Álvarez de Sotomayor, Cristóbal, the one I wear."
Novoa is a follower of the theory promoted by Philippot in 1977. On October 12 of that year, FARO DE VIGO published in full page the theory of the Vigo researcher, for whom the name of Christopher Columbus was nothing more than an alias of Pedro Alvarez de Sotomayor.
It was the first time that Philippot had published his inquiries, which had begun almost a quarter of a century earlier. "My Italian grandmother, who lived in Vigo in those early years of the 19th century when García de la Riega's thesis on the Galician origin of Columbus was disseminated, wrote to the mayor of Genoa, the official homeland of the navigator, informing him of Such a matter – he recounted in his memoirs -. Part of that correspondence came into my hands in 1953 and it occurred to me to investigate on my own, without haste, reading, visiting files (…) It became almost an obsession: while the others they went to discos, I went to libraries ".
"Philippot's thesis – said the Franciscan and historian from Pontevedra Manuel Castro, died in 2002–, supported by multiple documents of the time and genealogical trees, fully confirms the Galician origin of the admiral. The author tied the dots in such a way that it will be difficult for the disbelievers to get out of the path he has traced ".
The origin of Alfonso Philippot Abeledo, who was a member of the Galician Heraldic and Noble Genealogy Association, also has a good history. As he related, his grandfather, the Belgian Leon Adelin Philippot Colin, married to the Italian Maria Vagliani, arrived in Vigo in 1903 hired by José García Barbón to manage your Vista Alegre farm. His father was born in Italy when his grandfather worked as a farm manager and gardening expert for a wealthy Russian aristocrat, Prince Troubetzkoy.
His family comprises four generations of florists and nursery entrepreneurs. He also ran a florist shop in Vigo at the end of his professional career, but Alfonso Philippot, captain of the Merchant Navy, was thrown more by the sea: he sailed in 6 fishing vessels, 2 oil tankers, 9 freighters and a passenger ship. He took advantage of his travels to become an expert on Colombian routes and collect data for his research, although his vital journey has ended without knowing if his thesis on the supposed Galician origin of Columbus will finally come to fruition.
Faro de Vigo, where he first presented his research, in 1977
"Don Cristóbal Colón de Sotomayor" is the title of the long article published full page in FARO DE VIGO on October 12, 1977, day of the discovery of America. It was a preview of a voluminous book, then in preparation, that would not be published until 14 years later, in 1991: "The Identity of Christopher Columbus."
In this article, Alfonso Philippot tries to decipher, for the first time, the admiral's signature. He dedicated chapter XIV of the future book to this specific investigation, entitled "Points and Virgulas", consisting of almost thirty pages. In them he tries to explain what he called a "mysterious anagram" of Columbus's signature, comparing it with an autograph by Pedro Madruga dated 1476.