Eviction for a mother with a baby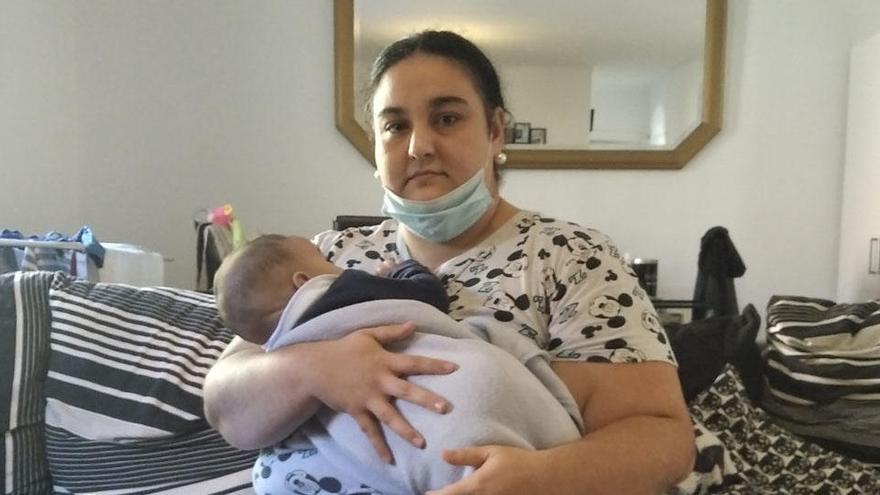 TO Yoana Collantes, The 32-year-old's life took a turn last year. After a second abortion entered depression And it was then, while on leave, when he learned that his company, in which he had been working for five years as a telemarketer, was closing its doors. With this scenario, he was soon unable to pay the 390 euros per month for the apartment he had for rent on the Camino de San Rafael.
"I was earning 1,500 euros plus incentives, that's why I was able to buy almost all the furniture in the house," he says this week. To make matters worse, due to a problem with Social Security due to a previous job he was left without the right to unemployment. "During this time, I have put out many resumes and tried to work, but I have not been able to," he explains.
Without income and with a couple who are engaged in little botches, the only joy in all this time has been the birth of her son Haytam, who is now three months old.
A little earlier, at the end of March, and in full pregnancy, Yoana got rid of a first eviction attempt by the alarm state. On September 29, a second attempt was stopped by the court when considering the state of social and economic vulnerability in which his family lives.
I've never refused to pay or hide, but right now I move forward thanks to the Red Cross, to the social workers who send me to OSAH and also to the Malagueños de la Noche Angels », he confesses. At his side is Francisco Álvarez, founder of Abanicos Solidarios, the Malaga association that tries to mediate between the parties to try to stop the evictions through dialogue and awareness.
However, in this case he explains that it has not been possible. The owners have lost trust with the tenant, she says after speaking with them.
Francisco Álvarez argues that the case of this young woman and her family would enter fully into one of the most recent social plans of the City Council. «It is about plan 5, by which you need to come from an eviction to be granted a rental assistance », stresses.
The hopes of the founder of Abanicos Solidarios and Yoana Collantes would pass because the social shield implemented by the Government delayed the eviction until the end of January, but above all because the owners of the apartment allowed the tenant a period until she could leave the house.
"Until I am one year old"
«With the social assistance granted, which would be higher than the rent, they could continue with the debit and Yoana would already know how to pay them, but Unless they give him time to rebuild his life. What less than until the baby is one year old. It is the only thing we ask for », highlights Francisco Álvarez.
After asking about his case, the City Council reported this Thursday to this newspaper that at the beginning of the year it granted emergency social assistance for three monthss, and now "he has a four-year rental assistance, amounting to 17,000 euros. Now he has to find a rental and the money is already preconceived, "a municipal spokesman explained to this newspaper.
The news, however, has been received with skepticism by the founder of Abanicos Solidarios, arguing that the Consistory has come to announce the granting of many grants for similar circumstances, but then they have not come true.
«He grants them by word of mouth but physically they do not arrive», criticizes Francisco Álvarez.
We will have to wait and see if this glimmer of hope that opens up to Yoana and her family becomes a reality or is only good words.