"Everything is coldly calculated so that they have a great time"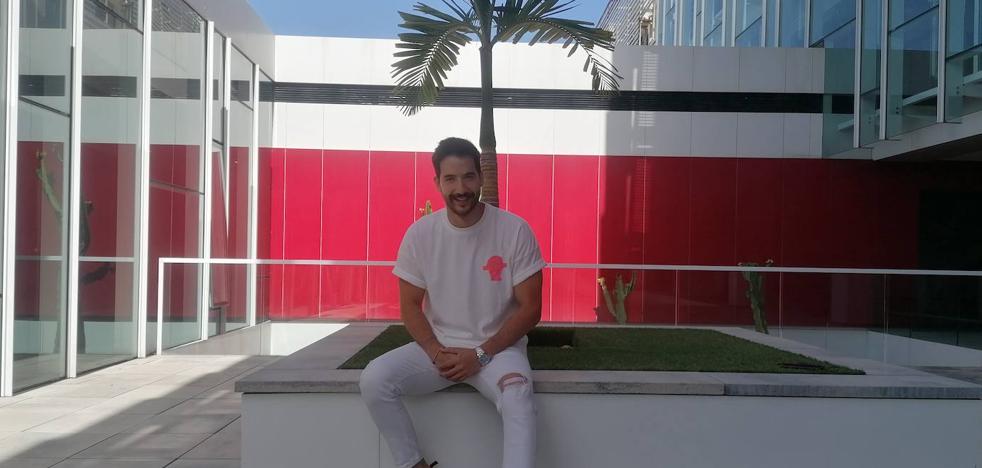 festivals
The Colombian actor from 'La Reina del Flow', who will present the musical event in Gáldar on July 23, winks at the island: "Gran Canaria has a lot of flow"
«
Gran Canaria is an island with a lot of flowIn addition, with this privileged climate that they have, so wonderful,
one makes you want everything, to go out, to walk... everything!». Not just anyone says it, but someone who knows flow, and a lot. It's about the actor
Charles Torresnative of Barranquilla, Colombia, and protagonist of the successful series 'La Reina del Flow', where he gives life to the now eternal Charly Flow.
Torres landed yesterday on the round island to promote the
festival dn7, of which will be your presenter. The event will celebrate its first edition next Saturday, July 23 at the
La Quinta de Gáldar Cultural Spacewith a capacity for 6,000 people, under the framework of the Major Festivals of Santiago 2022. "Whoever goes there is going to have a good time,
everything is coldly calculated so that they have a great time», advanced the interpreter on the musical appointment.
In the middle of this promotional tour, the actor made a stop this morning at CANARIAS7, where he reflected on the overwhelming success of 'La Reina del Flow' in Spain, especially as a result of the broadcast of the second season. «This is the second time that I am in Spain and it has been very different from the first; I have really been able to experience the success of the series, we knew it in Colombia and we listened to it, but now living it...
I am very grateful to be here and to be able to share it with people from different cities», he assured.
The actor Carlos Torres with the mayor of Gáldar, Teodoro Sosa, at the presentation of the DN7 Festival held yesterday.

Will participate in 'Welcome to Eden'

He considered that this is the result, in part, of the magic of the platforms of
streaming, which allow you to open windows in different parts of the globe. "If there is something that I love about these platforms, it is that they have made us feel for the first time, at least in our profession, that the world is very small and that your work no longer has limits," he said.
"That means that Spanish actors, for example, can work in a Colombian series and that Colombian actors do it in a Spanish one.
It is a way of uniting the world, we are all one, let's get together and make good productions», he added about it.
Torres knows exactly what he is talking about, and that is that he will participate in the second season of 'Welcome to Eden', a series by a Spanish company that
premiered this year on Netflix. Part of the filming of 'Welcome to Eden' also took place on the island of Lanzarote, which
will also host the recording of the new installment.
«I am very happy, surrounded by a wonderful cast, extremely talented, where there is also a Mexican partner, an Argentine actor... So, I am happy to enter as that Colombian part, the Colombian was needed in the production, now it is complete», he jokes, while declaring himself a "fan" of Spanish series. "Hopefully more projects come here in Spain," he said.
"Streaming platforms have made us feel for the first time, at least in our profession, that the world is very small and your work no longer has limits"

His role as Charly Flow

The actor confessed that Charly Flow is the character that has given him the most joy: "It has given me very important international recognition, it has brought me surprises, new things to my career and very nice moments, I hope it continues."
One of the most outstanding aspects of the character is his evolution, his passage from darkness to light or, as he defines it, "from hate to love". "I was very concerned about how people were going to receive the character in this second season, if they were really going to believe in changing him, it was a challenge," he said.
«When we signed to do the second season, I didn't have a script in hand and in my head I thought it was going to be Charly's revenge, that it was going to be twice as bad, and I find myself with the surprise of a completely new Charly ;
it was like starting work from scratch, I had a lot of nerves», he added.
The challenge, endorsed by the numerous followers of the series, was overcome by far, "in the fifth chapter -of the second installment- people were already connected, believed in the change of the character and went on skates".
Carlos Torres during his stop at the CANARIAS7 headquarters. /

c7

dn7 festival

Torres will lead the first edition of the DN7 Festival on July 23, although, he assured, he will attend the event "also to enjoy it." He declared himself a "fan" of one of the headliners: Nio García, author of numerous
hits like 'I kicked you out'.
The event will bring together international artists of the urban genre, but also Canarians such as Leyvan, Juanfran -who participated in 'La reina del flow'-, Ariann Music and Adexe y Nau. The music of DJ Valdi, DJ of the television program 'El Hormiguero', will also resound in the La Quinta de Gáldar Cultural Space.
«
It will be a very nice day for Gádar, where we are going to enjoy a lot, will be surrounded by music and good sling. We hope it will be an unforgettable day for all people to enjoy, "said the Colombian actor.