Even vending machines become green | Society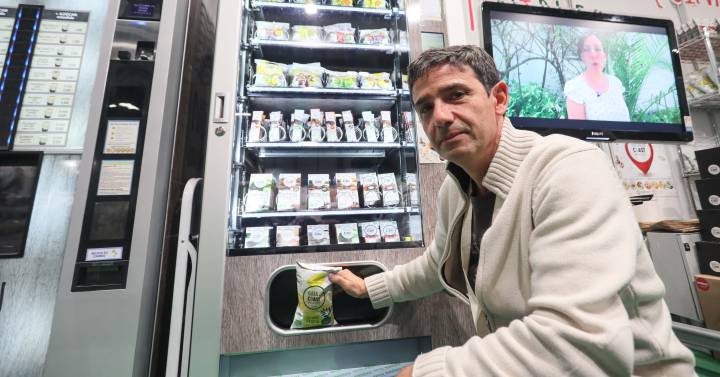 Biological. Organic. Ecological. Bio. Eco. Several words to refer to the same: a kind of food They are made without chemicals, with demanding standards on animal welfare and taking care of natural resources to affect the environment as little as possible. What started in the early nineties with small farmers who grew vegetables without pesticides already generates a production of almost 2,000 million euros a year, according to data from the Ministry of Agriculture. Spain is the leading organic producer in Europe – at least since 2014-.
The interest in the bio goes down in consumers: the annual per capita expenditure on these foods already reaches 46.5 euros, double that in 2013 (21.85 euros), but still far from the 288 euros of Switzerland or 278 euros from Denmark. "We are the first producer, but food goes to Europe," says José Antonio Villarreal, from La Osa cooperative supermarket. "In the countries of the north, people are educated in the food sector, they know how to appreciate local products, made with sustainable production systems that are responsible for the environment. In France there is even a food subject. In Spain we are still far behind, "he adds. José Miguel Herrero, general director of Food Industry, believes that "the large distribution, where he buys the bulk of the Spaniards, does not have a wide assortment of these foods. Hence, we must democratize consumption in our country. "
In Bioculture, the great fair of the sector that is celebrated this weekend in Ifema, shows that this trend permeates all consumption: not only does it reach meat and vegetables, but even the first ecological vending machines are presented. "In our' vending machines' there will be no insane things, but fair trade products, with an eco-label, "explains Javier Fernández, director of the Copade Foundation. The NGO has reached an agreement with Easy Vending to start installing this month about 100 vending machines in hospitals, schools and offices in Madrid as the first step to take them to more places in the country. Instead of the typical junk food, you can buy yucca, fried plantain, Andean vegetables, mango… "We also have french fries, but with an eco-label: made with virgin olive oil, organic potatoes and salt, they don't carry chemicals or palm oil, "adds Fernández. And instead of sugary drinks, tea. Prices will range between one and two euros.
But what is ecological? "A food that has been produced following the rules of the European Union, which prohibits the use of chemical synthesis products – such as fertilizers, pesticides or feedstuffs – and genetically modified organisms – such as transgenic ones – and also does not allow canning with radiation," he explains. Montse Escutia, of the Healthy Life association, which organizes Bioculture. "Animals have to have space and go outdoors daily, and in the transformation of food only natural additives can be used," he adds. "The objective is that the production system be as respectful as possible with the environment, that is, do not degrade the soil, affect biodiversity or contaminate water, things that ultimately also impact on health," he concludes.
The first EU regulation in this regard was approved in 1991 and the last one, in 2018. Farmers, aquaculturists, beekeepers and ranchers who choose this model have to undergo a control body – dependent on each community – and receive annual inspections. . Those who comply receive a green logo with stars forming a sheet that certifies that the products come from organic production. Data from the ministry show that biological operators – mostly producers – have doubled in a decade, from 23,473 in 2008 to 44,282 in 2018. The area dedicated to crops and livestock 'bío' far exceeds two million hectares, which places Spain in fourth place in the world ranking, according to the annual report of the Organic Agriculture Research Institute (FIBL & Ifoam).
What do these techniques translate to? Luis Martin of Biobardales, explains how they produce their organic sausages in Segovia. "The pig's diet is based on organic cereals, and we also don't put antibiotics. You always have to be in an open space, on a farm, and without using any chemical, "he says. "Then, with meat we make sausages with organic herbs, paprika … It is a chemical-free product," he adds. They sell 70 grams of sausage for two euros and 70 grams of ham for four euros, while a loin of 400 grams is worth 10 euros.
The price of these products is not always available to all pockets. A dozen organic eggs like those offered by El Encinar cost four euros; a 800 gram teat cheese with organic milk from Doña Cobiña, five euros; a pot of honey of 320 grams, eight euros; a carafe of five liters of Trujal de Mágina oil, 37 euros. "The price is somewhat more expensive, but the quality is better. It would take me all the cheeses, "says Ana in front of the Doña Cobiña stand. "These tomatoes smell like those of my people," explains Juan, who takes a kilo -a 2.5 euros, fair price- from Las Torcas Granada producers. Bioculture is a hotbed of people who walk with their cart and take the opportunity to shop; Last year they exceeded 63,000 visitors.
"Elitist" food
Some people put buts. "We believe that ecological certification is elitist and that not everyone can have access to it, that is, it could not feed the whole society," explains Tamara Montero, of the NGO Food Justice. Therefore, his organization is committed to changing the agri-food system "that oppresses and expels rural communities and destroys the environment" and "transform it to make it more sustainable": "we are committed to healthy, sustainable, proximity and seasonal food , and above all to reduce meat consumption, "he says.
The question of whether these foods are better for health is not resolved. "Organic food is healthier because it is free of pesticides, herbicides, chemical fertilizers, and those are substances that are best avoided," says Ángel Soriano, nutritionist at Inerzia and a member of Doctoralia. "In addition, much of the food we eat comes from Morocco, where chemical substances are used here and there are fewer controls," he adds. However, there are still no conclusive studies that organic products are healthier.
The eco extends even to sectors such as school canteens. "We use ecological products and respectful processes," explains Martín Goldman, from Scolarest, which offers responsible catering services for schools and institutes. "Traditional cooking in boiling water is replaced by cooking in new ovens that have the possibility of steaming, which takes more care of the texture, flavor and vitamins and minerals of vegetables. In addition, we provide nutritional value with ingredients and side dishes. For example, we make a bechamel that instead of flour has 50% cauliflower and the children eat it delighted, "he adds. However, most of the centers are still committed to economic menus, so the pace of inclusion of organic products is slow. In any case, organic food is here to stay.
. (tagsToTranslate) vending machine (t) (t) vending machine (t) return (t) ecological (t) ecological (t) food (t) eco (t) assume (t) expense (t) per capita (t) 46 (t) 5 euros (t) year (t) Spain (t) consolidate (t) main (t) European producer (t)



Source link