"Even in an environment dominated by technology, the assessment of teachers has never been clearer" | Economy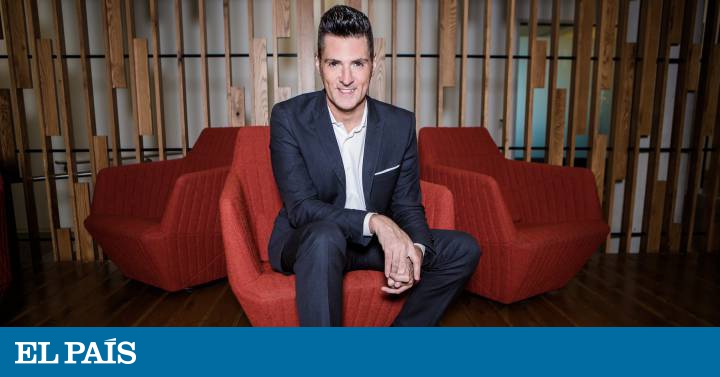 Seven months after the outbreak of the pandemic, the educational landscape has changed in much of the world. The same uncertainty that dominates the employment and economic future of millions of people and the fear of new infections floods with doubts the debate about the best way to guarantee the access of young people to the best possible education. Suddenly doomed to an unprecedented confinement during the last months of last year, most of the students returned to face-to-face classes at the beginning of this year; But the increase in cases means that educational institutions are preparing for the effects of a new school closure. Anthony Salcito, Vice President of Microsoft Education, reflects on the effects of covid-19 on the school environment and on how education should be in the near future.
Question. It has been more than seven months since the pandemic broke out. In what way do you think that covid-19 has impacted the educational landscape?
Reply. I think a lot has changed, but much of that change is not new. In the era of the coronavirus, a series of aspects that we valued before have intensified, such as equity and access to information, the value of a responsible use of technology and the importance of educators. One of the things that has changed is that schools and institutions finally have a better understanding of the true role of technology in education. For decades technology played a secondary role in the educational context: the focus was on classroom instruction, while technology stayed for taking notes, or researching in the library. The twist that has occurred is that the role of technology goes beyond the classroom, and that learning can happen in very different contexts.
The other positive aspect is that society has finally been able to understand the value of educators. Before the pandemic, many teachers feared that an increase in technology could diminish its value, and even that they were competing to avoid being replaced by it. But what we have seen with the coronavirus is that, even in an environment dominated by technology, the valuation of what teachers do every day has never been clearer. As learning traveled to the tables in each kitchen, parents have come to appreciate the value that teachers have for their children. We must remember that technology can be a catalyst beyond the classroom, and that the value of teachers is enhanced by technology, and not the other way around. Most importantly, we have to motivate students with skills that they need to empower in school if we want them to be ready for the future global economy, to unleash their talents, and to change the world.
P. Many experts assure that this digitization of education has no going back. Is it possible that, once the pandemic is over, many teachers simply decide to return to classes as they were before?
R. This is an issue that we have discussed with leaders of many schools around the world. Once the boundaries of the classroom have been expanded and this digital connection created, there should be no going back. In the era of covid, we have seen schools completely reconvert to a remote model and then reopen their doors to students. The first thing that has happened then is that there is pressure from the students themselves, so that what they do in class today is the same as maybe they did last week in a videoconference on Teams. They ask that the way digital is used, the experience and the value of that remote connection be optimized. And also make the time we spend face to face truly meaningful.
We have to avoid going back to the old ways, and embrace these new opportunities for transformation. We all want to go back to classes and collaboration face to face, with students in the classrooms, but we need to continue extending the value of digital collaboration, to make content available to other students who need it after a face-to-face lesson. And also provide flexibility to the system, either because students are sick, traveling or because there is another outbreak of covid-19 that once again leads us to a remote and hybrid educational model.
P. How can students and teachers be inspired by technology to maintain high quality standards in a model that alternates face-to-face and remote classes?
R. There is a very great uncertainty. In this context, the most important thing, and we have to recognize it at a time when technology is at the center of everything, is that the mentality and the social and emotional well-being of teachers, students and other staff of educational centers is what priority. We must ensure that students have the right mindset and energy, and that we address all the uncertainties that are now part of our daily lives. To build an ideal school culture, it is necessary to be considerate of the fatigue and stress of the environment.
Schools should approach a hybrid education model, a mix of physical interaction, digital collaboration, and a wide range of modalities ranging from a live activity, within a virtual course, to a teacher recording a master class, students watching that class at your own pace and then collaborating with your peers digitally, asking questions in a digital format. It could be a mix of entire classes and small digital groups of students, where they come together for projects and activities. What institutions should do, with the return to campuses, is to continue to develop this multi-hybrid approach, with a mixture of the physical and the hybrid, learning within the classroom and beyond, with synchronous and asynchronous learning, small group interactions and great … And then using digital tools that favor collaboration and comments.
Tools such as Microsoft's Teams, One Note or Flipgrid are being used far beyond the digital connection. Collaboration in Teams is not just limited to the meeting, it extends after it. With Flipgrid, students are recording videos to reflect on what they are learning and sharing their opinions with other classes; synchronous experiences that are going to be very necessary in the future. It is important that institutions are rigorous now, so that transitions back to the remote are much easier later.
P. Many experts recommend the method of the inverted class, which in many cases were already being applied prior to the coronavirus pandemic. What is the best way to take advantage of this accelerated digitization process that we have been experiencing?
R. These months we have seen many good practices. In general, the institutions that moved their curriculum, their didactic programming and their agenda to digital, and continued to do the same with an on-screen camera, have had problems with the level of student engagement, student fatigue and teachers, and worse results as a result of it all. The successful examples are those that really built this model, with flipped classrooms and even traditional master classes: if I have a class on Friday that I have been waiting a week, because it is on an interesting topic, and there are certain tasks that I have had to complete before , it can also be very exciting. But if I'm just adding another Teams call to a school diary, it's not that attractive. Institutions that really weigh all the ways they can use technology are the ones that will be most successful in the new normal.
P. How important is data management in this new environment?
R. You have to optimize the value of the data. The more time we spend on-line, With remote education, the more opportunities we have to extract information from that data to help us personalize the learning environment as we move forward. Doing that in a safe way is vital not just for students, but also for our own lifelong learning journey. Economies and markets are changing, and mobility and professional fluidity are going to be necessary elements in the new economy, to the point of having multiple careers in your working life. And that entails a constant need for recycling and the acquisition of skills that cannot only occur in the educational stage, but extends throughout our entire professional life.
P. Last July, Microsoft presented, together with LinkedIn and GitHub, an initiative to improve digital skills of the population (and, especially, of those most affected by the coronavirus at work). What effect has it had, three months later?
R. We have invested heavily in helping people develop those skills and find jobs. We have expanded Microsoft Learn to provide free access to courses and content, so students and teachers are prepared to advance in their careers. Throughout these three months, Microsoft has facilitated training in digital skills for 193,000 people in Spain alone; an investment that will continue. We will also maintain programs like Imagine Cup and Imagine Cup Junior, for young people to unleash their talents as they tackle global challenges such as poverty, hunger or disease in the world, and use technology as a basis to solve each problem and compete with other students around the world .
Microsoft is committed to training on-line and it has facilitated free access to its contents for schools and universities. We have developed a partnership with LinkedIn and GitHub to craft a value proposition where you can build your Microsoft Learn skills, demonstrate and prepare for a job with LinkedIn and collaborate from a technology point of view on GitHub, and do it in such a way constant as possible for institutions to implement.
P. What digital skills will be most needed as we move forward?
R. It will be necessary to understand how to create using technology. We don't need everyone to be a programmer, but it is important to understand how technology works to access information. Technology is going to play a role in every industry, and some disciplines will require more technical skills, but someone will always be needed who understands the value of technology as a catalyst to create, manufacture and communicate ideas. We are working on it with a mix of resources, starting from an early age with Minecraft, where students are not necessarily programming, but they learn to shape and create with the open canvas that is Minecraft, where they can collaborate on a project, dream about something. and turn it into reality, and understand from spatial analysis to how systems work. I love when schools offer students challenges that require the use of technology to solve a problem, so that students perceive technology as a tool to get things done, rather than a discipline in itself.
P. What are the main benefits of using technology in schools?
R. Obviously, we can learn anytime, anywhere. We have the opportunity to mix face-to-face and remote involvement, but above all the possibility of connecting beyond the walls of the school. For students who are used to learning through three or four hours in front of their teachers, the ability to learn where and when, and incorporate content from anywhere in the world, represents a paradigm shift for institutions.
EL PAÍS TRAINING in Twitter Y Facebook
Subscribe to the newsletter Training of EL PAÍS