Eva García Sáenz de Urturi: "I never look at the genre of the author and neither do the readers"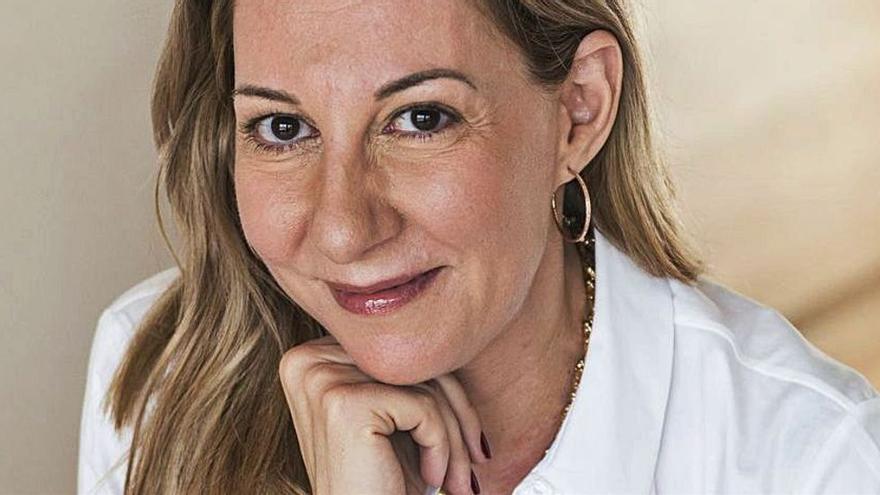 -The next Saturday he will meet again with the readers and at the Alicante Book Fair. What sensations does it produce?
- There is a lot of desire for a reunion on my part and on the part of the readers. Here in Alicante they told me that it was about time, after a year or so that we have been the authors without doing face-to-face signatures. It is what we authors have missed the most. During the pandemic the number of readers has risen and in networks we writers have been more active than ever. But there is a lot of desire for that face-to-face meeting and to be able to chat with a little time. I was signing in Valencia and people came with Aquitania and with other books of mine because they said they had many overdue signatures.
-Planet Prize and best-selling book in 2020 Did you think that Eleanor of Aquitaine was going to give you so much joy?
-The truth is that when I came to the entire Aquitaine world, to that medieval French so cultured that it was the germ of what later became Europe, it seemed to me a very «planetable», Very worthy of winning the Planet. And that's why I showed up. It combines thriller with historical genre; there were great power struggles and narratively speaking they are stories that last a long time. That kind of Game of Thrones that talks about something as human as ambitions, games between lineages and families in the end is a fight for survival and power. That is why they are novels that are widely read and remain on the shelves.
-Power struggle, ambitions ... Could it be extrapolated to today?
-I think there are a series of patterns, especially when we talk about power and family dynamics, which are repeated. That is why we all feel so identified, because we see that there is something to our dynamics for many centuries that have passed.
-More than six months ago the Planet won with this novel. How has the feed-back of the readers been?
-What I liked the most is that they understood it for what it was, a great life lesson. The novel is full of advice and wisdom to manage power and any difficult situation, from a war to any other approach. And that is what the reader has understood. The learning that the novel had has been adopted by many readers and that's why it has gotten so deep and it is being one of the best-selling Planets in history. There is a universal teaching within Aquitaine that has transcended beyond; there is a way to relate between the characters and to take life. They are all survivors and have to play their cards, the good and the bad. It is a lesson in empowerment.
-Well, it could be given to many rulers of many countries.
-I believe that it is always good for any government or president to read, to love the literature. A society full of good readers is more thoughtful, more empathetic, and better.
- It says that Leonor is a precursor of feminism. Do you have more readers than readers?
-In my case, all the statistics say that I have exactly half. In networks as well and in firms as well, and a very wide age range, between 18 and 90 years old. Furthermore, the story is told from different points of view; It is not written from a gender point of view but from a people point of view. And I haven't noticed a gender difference. It has been understood more as the universal history that it is.
The best literature on the topic of the pandemic will arrive in a few years, when we have gone out and had that well of reflection
-The protagonist of your novel is, in your opinion, the first influencer in Western history. What position would Leonor occupy in the 21st century?
-As a person who ruled for 70 years with their husbands, the king of France and the king of EnglandIt was the three of them who planned the borders of Europe. His contribution was decisive, but beyond that, I see it from the point of view of governance. Today it could perfectly be in some European institution.
-Every time there are more authors among the best-selling books. Some of the most prominent literary awards of the past year have been won by women. The funny thing is that this continues to attract our attention.
-I prefer to think of people, that's how I treat readers, characters and I am also the same as a writer and as a readerto. I never look at the genre of the author. And the readers don't look at it either, they take into account the stories.
-They say that reality always inspires writers. Do you think that in such a complicated moment there are many topics to be novel?
-I think that there will be a revisionist literature as in all crises, but I believe that the best literature on this subject pandemic It will arrive in a few years, when we have left and when we have had that well of reflection. There will be why all the great wars and pandemics have had their narrative. But if we count from the present we are talking about the literature of emotion and in a few years it will be the literature of reflection. And I believe that the best works are those of reflection. Speaking with editors, it is too early to review what is happening.
-In 2019 we saw The Silence of the White City in the cinema, although he was not very satisfied with the result. Will Aquitaine be seen on the small screen or on the big screen?
-Well, it's something I still I have not thought about it. I focus a lot on the novels and the narrative field.
-Are you already embarked on the next novel?
-This year, although it is being so atypical for everyone, It is the year to enjoy the planetary tour, especially now that the borders are opening and we begin with the face-to-face acts. It is a unique year in my life to enjoy it. And I'm working on it.