Euthanasia: "Life and death are above ideologies" | Society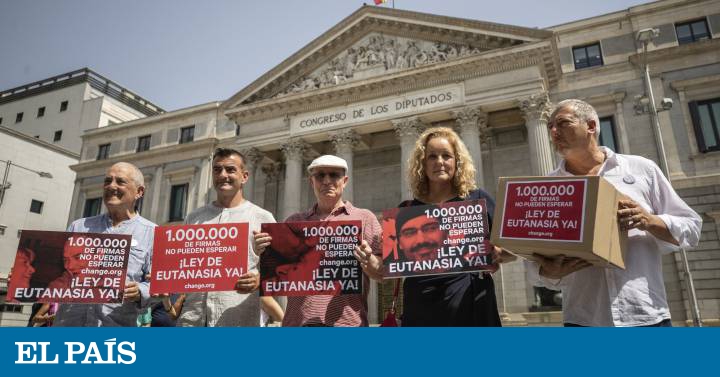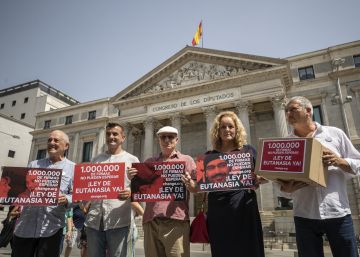 "Life and death are above ideologies." With these words, Asun Gómez-Bueno, the widow of Luis de Marcos, a patient with multiple sclerosis who died in 2017 After unsuccessfully requesting assisted suicide, he has asked politicians to decriminalize euthanasia. Together with the doctor Marcos Hourmann and the widower and one of the children of Maribel Tellaetxe, they delivered this Friday to the Congress of Deputies a million signatures to pass a law of dignified death that regulates this right.
The signatures have been collected through three different campaigns on the Change.org platform. Hourmann, the first convicted in Spain for practicing euthanasia to a patient with her consent and that of her family, collected 600,000 supports for Ángel Hernández, who last April He supplied a lethal preparation to his wife, María José Carrasco, suffering from multiple sclerosis for three decades. "We have decided to come here, to the House of the people, to demand from politicians a solution for the people who are suffering, they have to legislate and a law of dignified death," Hourmann said.
Hernández's situation reopened the debate on assisted suicide and euthanasia after her case ended in a gender violence court. "We are going to appeal," he said before Congress, where he has gone to support the delivery of signatures, although he has not been worried about his procedural situation. "Now the battle for me is to get a law to help people who are suffering and want to die, and it has to be now, that government is formed and that they address this issue, it is the only thing that matters to me," he said.
"The same hands that have cared for and given love for so many years can not end up at the hands of those who have mistreated, in the same court", criticized Danel Lorente, son of Maribel Tellaetxe, sick of Alzheimer who died last March after having also unsuccessfully asked for euthanasia. His initiative has gathered more than 374,000 supports, that are added to those of Hourmann and the 99,000 achieved by Gómez-Bueno. "Sick people who are suffering do not have vacations," he said, in a message to politicians so that they already feel to regulate the right to a dignified death.
The surveys of the last decades are unequivocal, about 84% of the population shows their support to regulate the desired death. The last Sociometer of the Basque Country, the most recent, gave 86%. In spite of the social support, the debate does not finish in the form of law. The PSOE presented in 2018 a proposal for the decriminalization of euthanasia that Citizens blocked in the Congress Table. Now, without a government even in sight, it seems far from being approved. "That they legislate already so that the citizens can dispose of their life." Because we love life, we ask that the right to end it be decriminalized when one considers ", concluded Gómez-Bueno.