Eurovision 2021: Blas Cantó, Barbara Pravi and Gjon's Tears will meet again in the interview with Rocío Carrasco on Telecinco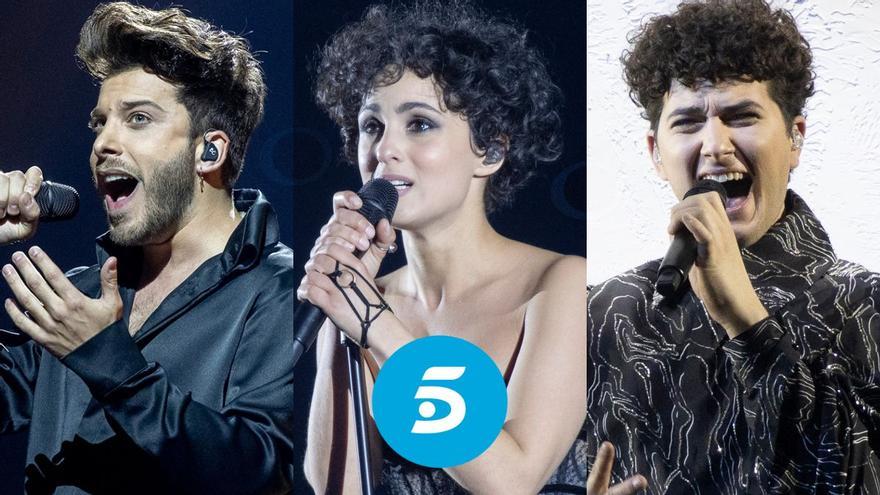 Telecinco will host a very special reunion for the fans of the Festival de Eurovision. The Mediaset chain has announced this Friday on its official Twitter account that Blas Cantó, Barbara Pravi and Gjon's Tears will perform throughout the new interview that Rocío Carrasco will grant after the end of his first season of his documentary.
In this way, hethe representatives of Spain, France and Switzerland meet again after the grand final of the last edition of the European competition, which was held a week ago in the city of Rotterdam (Netherlands) with different results for each of them. While Blas had to settle for the penultimate position, Barbara and Gjon fought until the last moment, achieving the second and third position respectively.
It is not the first time that the three artists will set foot on what has been the set of Rocío Carrasco's documentary. Gjon's Tears was in the first installment of 'Rocío. Tell the truth to stay alive ', while Barbara Pravi acted in the third and Blas Cantó in the fifth, not counting her appearance in the first live interview of Rocío Jurado's daughter.
After the 13 installments of the docuserie, this next Wednesday, Rocío Carrasco will sit again on set 6 of Telecinco to explain some of her words in a special that, for the moment, it is unknown if Carlota Corredera will present it alone or accompanied by Jorge Javier Vázquez, just as it happened last time.