Estrella Damm honors the hospitality industry with the most prestigious chefs in its latest ad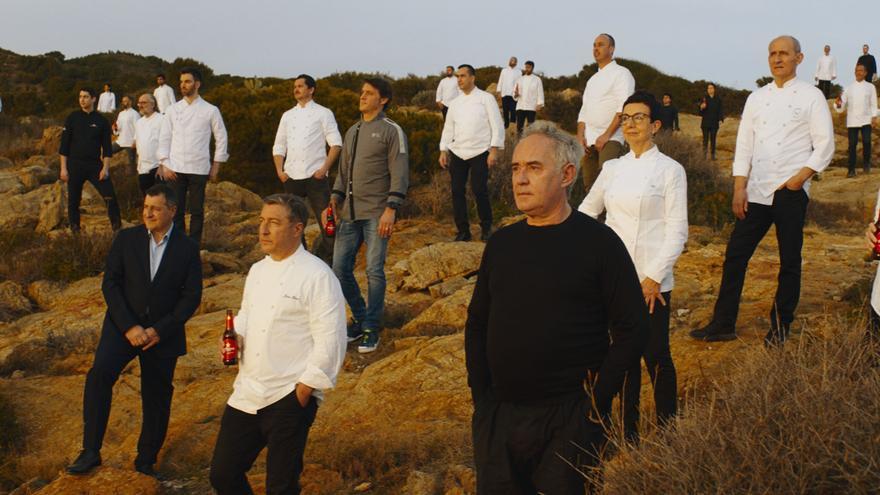 There is no bar or restaurant in Spain that does not have at least a couple of beers on its menu, the same bars and restaurants that have been hit hard by the health and economic crisis derived from the coronavirus pandemic. For that very Estrella Damm wanted to pay tribute to the sector giving voice to some of the most prestigious chefs in the country. The result is an emotional ad that leaves its mark, in the style of the famous 'spots' of the Catalan brewery that are already a classic. On this occasion it bears the signature of the filmmaker Alberto Rodríguez ('7 Virgins', 'The minimal island', 'The man with a thousand faces'), with Oriol Villa as creative director, the brain behind the iconic slogan 'Mediterráneamente'.
The place chosen could not be more suitable: the Cala Montjoi, where the Bulli de Ferrán Adrià used to rise, emblem of the avant-garde Spanish cuisine. Adrià himself appears in the foreground in the advertisement, a role that he shares with Joan and Jordi Roca, distinguished as the best chef and pastry chef in the world, Dabiz Muñoz (Diverxo), Carme Ruscalleda, Rodrigo de la Calle and Paco Pérez. There begins a tour of the Costa Brava, a path in which more star chefs are joining.
And then they take the floor. "We will collaborate with the best producers, we will work from sunrise to sunset, seeking excellence, obsessively taking care of every detail with the highest level of professionalism and dedication. We will investigate, innovate, create", they promise, a path that they assure will return Spain to the place that deserves, throne of world gastronomy.
"So we can continue to welcome you in our home, with your friends, with your coworkers, with your family. To share, to enjoy, to discover … To flicker. To take care of the well-being of your body and your soul. And no we could do it another way. Because this is not only our way of life … It is our way of living", they conclude in unison.