Estopa: «This summer's concerts are therapeutic»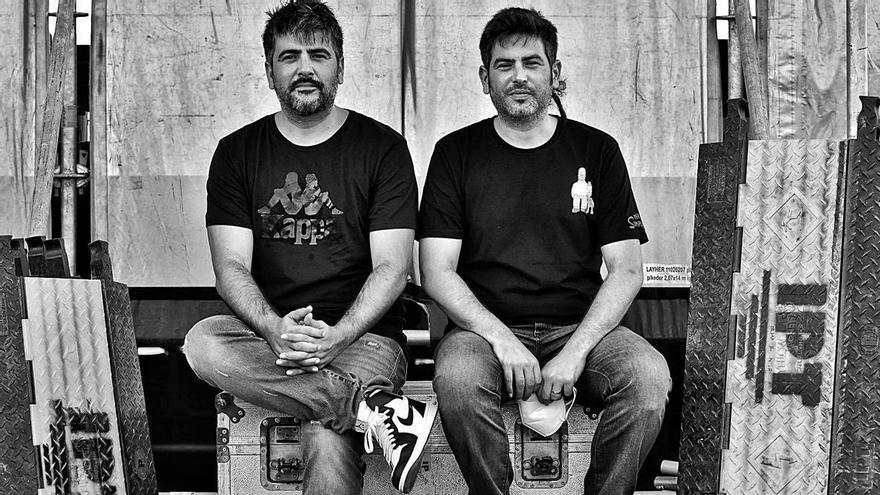 Are they your first concerts in almost a year and a half?
The last one was in London, on February 14, 2020.
How have you felt during this time of hiatus? Angry, anxiety, serene resignation …?
We have taken it quite calmly. If that's what you had to do … All this has also been a cure for your head, for stress, from the moment everything stopped. Even composing, with my brother and I being apart, was difficult at first, because we always do the songs together. But since we were able to get together on the terraces of our houses, songs have already started to come out. They are topics that make no mention of quarantine, and that's fine.
A year ago we were able to talk and they told me that until we returned to full normality they would not go on tour, but they have changed their minds. Does it influence thinking that jobs, musicians, technicians, etc. depend on Estopa?
On tour we are quite a few, yes, although we don't want to think about that so much, because fortunately our musicians and our technicians are very good, and if they are not with us, they are working with others. They raffle them!
How did you feel about the expectation of stepping on a stage again?
At first we had feelings of doubt. You said to yourself: "I say that I will remember, that this is like riding a bike." But of songs like La raja de tu fallo or Tu calorro, I think that, even if we never rehearse them in life, we will always keep remembering the lyrics, without the need for prompter or anything. We carry them inside. And the others too. They are all engraved with fire. So the musicians rehearsed for a couple of days, and we only rehearsed the day before. The band goes alone.
In Estopa concerts there is always an electricity in the environment. Do you think that these days it is transformed into something different?
I think the concerts this summer are a bit therapeutic. The happiest songs make you want to party, and the saddest and most melancholic songs take them away. But we try to play with the feelings of the public, go up and down the tension, and finish on top of everything. I think that people, when they listen to our songs, get happy and want to party, and now we have to say yes, but with the mask. For us, seeing people sitting at a concert and wearing a mask is the strangest thing there is, but then you feel that the public's response reaches you anyway.
There are voices that scream in the sky these days when they see photos of concerts.
But there are some protocols and as long as the guidelines are followed, there is no problem. Culture is safe, and if it is outdoors … In Santiago we performed in a meadow and they let us put 4,000 people in. All in their seats, grouped by bubbles and with their masks. I'm looking forward to the old normalcy back, but now this is what it takes.
He was talking about new songs. Are you already thinking of a new album?
We go as always, making songs to make them, and when they tell us that it is time to make an album, we will start to select. But next year we still have to give space to the album Fuego with the tour, which was interrupted. In the new songs we are getting the typical rumbitas, some half times, and a little more introspective lyrics. At the moment our filters are passing.
Are they still standing as a containment dam against reggaeton?
We will never say "I will not drink this water", but no, no, there is no reggaeton in the new songs. Just as when it is not in fashion, we will do it ourselves.
Perhaps his songs about dreams, which are many, are appropriate for times of recollection.
Yes, dreams allow scripting freedom, and ours are quite rare. We like weird things. We always leave those songs for number 12 of the albums, and sometimes we get a lot of 12.
In fact, there is a new song by Estopa, El madero, from the soundtrack of Los Hombres de Paco, which they published in April. Created in pandemic?
It occurred to us to make a song like The Junkie from the point of view of the tree. Now, instead of the junkie, we are the tree.
There is an old connection between Estopa and the police world, ever since the Sant Ildefons police station nurtured his parents' bar, La española. Among them, Emilio Hita, Rockhita, the member of La Banda Trapera del Río who taught them to play the guitar.
Of course, Emilio, who was a teacher for us, one of those people who stay there forever as references. The police station has always been in front of the bar, so it has been a fairly close relationship that we have had.
«I was a qualified logger / Frowned upon by some, by others poorly paid / But I'm still here, following your trail», the song begins. Was it about humanizing the tree?
Totally. In Paco's Men they already humanize him, compared to Hollywood movies. The series is closer to reality. We made the song in this spirit, with a little bit of humor.
Are there any songs from your prepandemic repertoire that you have now decided to withdraw on this tour, or any additions?
There is one, Paseo, that we think we'd better save for when normality returns, because it invites us to hug and sing as if it were five in the morning, and now it's not a plan. We save it for next year's tour.
"Seeing the public sitting down and wearing a mask is rare, but the answer comes to us"
These concerts, do they follow the script of the Fuego tour?
About. We want to continue presenting Fuego, but then we summarize our entire discography. Hour and three quarters or something like that.
With so much free time in these months, have you made any musical discoveries?
We are very freaked out with Robe's album, from Extremoduro, Mayútica. We put it on separately, my brother and I, and then we commented on it: "What a bastard, what lyrics, what melodies …". Another that we like a lot, and that has surprised us, is C. Tangana. He has taken the rumba and the bossa, and has given them a little electric touch, rag, with his style, and we must congratulate him.
They know each other?
Yes, he came to see us at the last concert we did in Madrid before the pandemic.
They tell us that the fifth wave could be starting to subside. Are they already vaccinated?
Yes, double standards both. My brother, Moderna, and I, Pfizer.
Who was going to tell us that we would have conversations about vaccine brands.
As if you could choose! We went to the Cornellà Fair and they gave us the one they had prepared for us. When you think that at school they burned the needle … I think we all vaccinated with the same needle and there came a time when they burned it to continue using it.
Do you know people who don't want to get vaccinated?
No, I don't know of any deniers. At this point, not believing in the virus yet is something that has neither head nor tail. The virus exists and vaccines save many lives.
Has your life been very sedentary in these months?
Well yes, although we have set our schedules, so that the muses would come to see us with guitar in hand.
And the pandemic continues its course. Do you see the glass half full or half empty?
We always say that our glass is half empty, but to ask for another! We have never had such a long-term agenda. It is a bit dizzying to think of 2022. We always work annually. But I hope that there will come a time when, with the high vaccination percentage, this will be noticed. The deniers will have already passed the virus, because by not getting vaccinated … Or maybe they get vaccinated without anyone seeing them. I think that from the end of the year we will go back to our old life.