ESSSCAN organizes an online training update on vaccination against COVID-19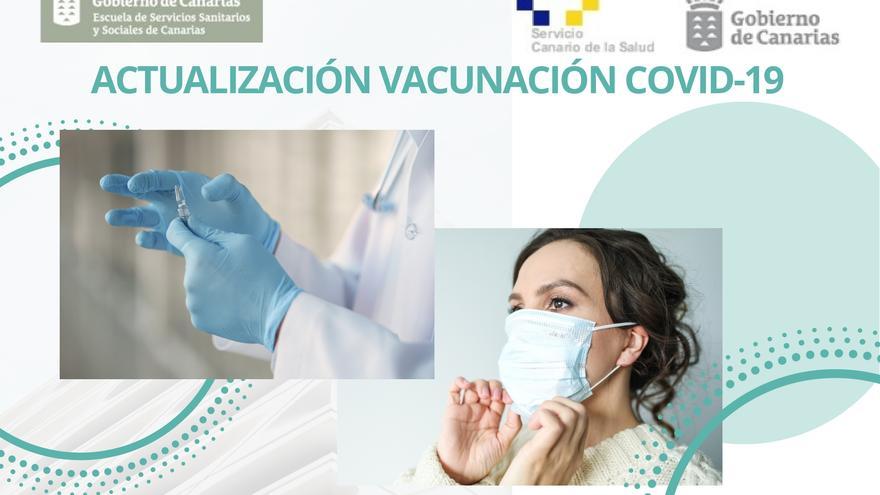 The School of Health and Social Services of the Canary Islands (ESSSCAN), attached to the Ministry of Health, begins this Thursday, the 14th, the online training to update the vaccination against COVID-19 for nurses and physicians from all over the Archipelago .
ESSSCAN, at the request of the General Directorate of Assistance Programs, organized telematic training for healthcare personnel last December with the main objective of transmitting skills, knowledge and skills necessary to carry out vaccination against COVID-19 . This training came simultaneously to all the teams of professionals in charge of this process in the first vaccination block in the different islands of the Archipelago.
This training, which will have the corresponding official recognition and certification, will be developed for 20 teaching hours through the MOODLE platform of the ESSSCAN and will start this Thursday, the 14th.
It is intended for all the teams that will be dedicated to vaccination in successive groups and it will address all the relevant technical information that is generated related to the vaccination process and specific characteristics of the different vaccines.
Initial training for 680 professionals
In this training action, They came to carry out six tele-training sessions, reaching about 680 health professionals, which involved a great technical effort that achieved optimal results in record time.
The director of ESSSCAN, Fernando Mández, thanks "the professionals and teachers for their full willingness, involvement and effort to carry out their specific training to provide this new vaccine. This involvement is reflected in the good numbers that the campaign of vaccination is taking place in our community. "
Méndez also highlights the great interest that these professionals have shown in this training without neglecting, in any case, their obligations and daily work tasks, with the intention of improving the provision of their work, the quality and safety of the vaccinations that They are gonna do it.