Escrivá overshadows the first pension agreement by recognizing the adjustments to the 'baby boomers'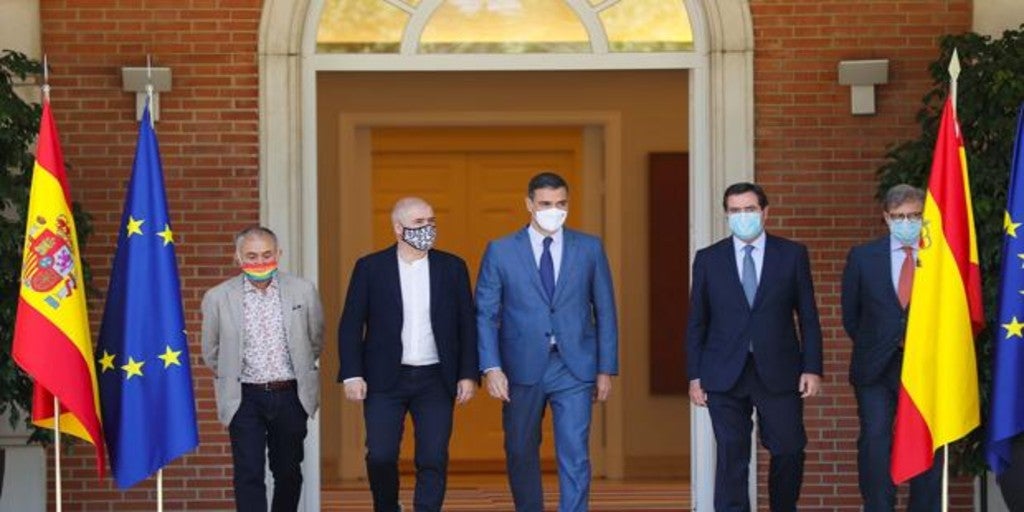 MADRID
Updated:
Keep

The first pension agreement signed today by the social agents and the President of the Government in the Moncloa Gardens has been marked by the words, just a few hours before, from the Minister of Social Security in which he recognized that the reform will bring
"Moderate adjustments" for baby boomers or more years of working life. Despite the commotion generated by his statements, Minister José Luis Escrivá has defended in his intervention after the signing that the agreement "Eliminates uncertainty" thousands of pensioners, an idea that the leaders of UGT and CC.OO., Pepe Álvarez and Unai Sordo, and the president of the CEOE, Antonio Garamendi, have also insisted. Pedro Sánchez, however, has avoided focusing his speech on future pensioners and has addressed current retirees, who earn "tranquility" by returning to have their payroll linked to the IPC.
The president has taken his chest out of the "ten agreements" that the Government has signed with social agents so far in the legislature and has assured that this signature is a "crucial step" for pensioners "Do not lose purchasing power again". Turning a deaf ear to the voices of experts who have criticized these days the lack of ambition of this agreement to ensure the future health of the finances of the system, Sánchez has said that the pact does look in this direction and has given as an example the support financial that the State will give to the system. In addition, he mentioned the substitution of the sustainability factor for intergenerational equity, "because this is what we are talking about", but without going into the consequences that Escrivá had previously mentioned. "It is a reform that was urgent", has said.
During the careful staging of the firm, the businessmen have nevertheless tried to lower the levels of enthusiasm of the Government and have insisted that this is only the first of the package of agreements that must be sealed to guarantee the sustainability of the pension system. "We wish it had only been one", Garamendi said, after advancing that the next tables will be much more complex. Garamendi had coincided hours before with the leader of the PP, Pablo Casado, who had described the pension agreement as a "mistake" and criticized the government's political use of these agreements.
The unions, for their part, have picked up the glove thrown by the CEOE and have shown themselves willing to give up part of the ground in the negotiation to ensure that the future of pensions is "built on the basis of consensus", in the words of Deaf. Álvarez has also extended his hand: «The following negotiations are not going to be easy, either on the business side or the union side. But in 2001 we already made a great effort ", he recalled. The agreement signed today is the first major pact on pensions within the framework of social dialogue since 2011.