Escrivá advances 217,000 new jobs in May and charges against the Bank of Spain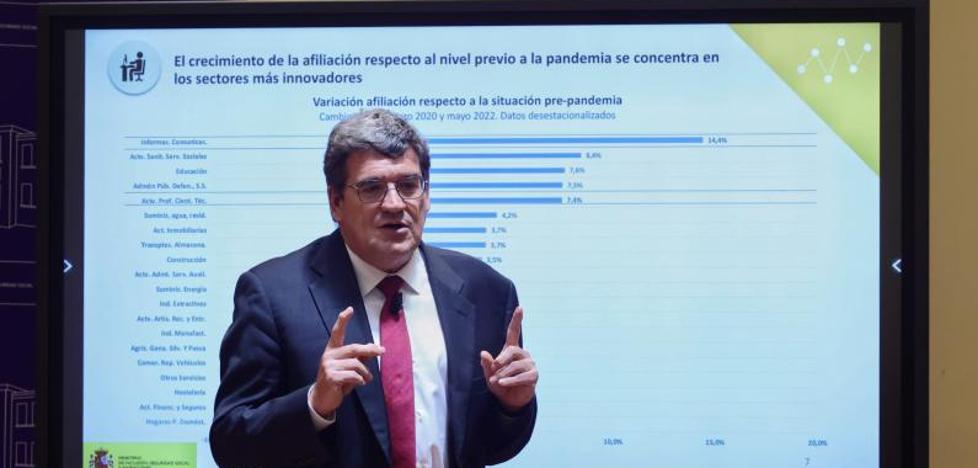 The minister maintains the increase in pensions with the CPI and warns the supervisor that "automatic rules do not work anywhere"
One day after the Bank of Spain questioned the reform of José Luis Escrivá that links pensions with the CPI again, the minister took advantage of the good employment data for the month of May, when some 217,000 new jobs will be created. average, according to the forecasts managed by his department. This is the third best data of the entire historical series, since in the years 2018 and 2017 this figure was exceeded. This will allow Social Security to set a new milestone and overcome the barrier of 2.3 million affiliates at some point in the month. «As of yesterday we had 20,278,000 jobs. At some point this month we will exceed 20.3 million employed people," the minister boasted, stressing that the labor market maintains the "enormous dynamism" of previous months.
And Escrivá stressed that not only is there more employment, but that what there is is of increasingly higher quality thanks to the labor reform, which is leading to "spectacular" growth in permanent contracts. Specifically, he pointed out that until the middle of May, more than a million workers with an indefinite contract (767,000 permanent and 292,000 permanent discontinuous) are registered, more than what was usual at this same time of year in the years prior to the pandemic. And, in turn, he emphasized that the duration of the contracts has grown by more than three days thanks to the fact that an "extraordinary decrease in very short-term contracts" is taking place after the penalty established by the counter-reform.
But the minister's smile faded when he had to comment on the criticism that the Bank of Spain made of his pension reform, warning that it is not going in the right direction to achieve sustainability and that if new measures are not taken it will mean a threat to public accounts. Escrivá, however, counterattacked: pensions will rise with the CPI because the supervisor's report is guilty of "lack of sophistication" and does not incorporate "any new element that would make him change his mind."
What's more, he categorically refused to apply any automatic adjustment mechanism -as requested by the governor- since "it is clearly demonstrated that automatic rules 'per se' tend to fail" and that is why the central banks -he pointed out- have been moving away and moving towards more flexible rules.
Escrivá defended the new intergenerational equity mechanism that will apply from 2023 for being a "sophisticated" and "semi-automatic" measure and ruled out making decisions for the year 2030. "Does anyone believe that today we can decide what decisions to make in 2030? Does it make any sense to make some automatic rule 10 years from now, saying what we are going to do? We know a lot about rules, I was president of AIReF; therefore, let them talk to me about rules... Anyway. Automatic rules don't work anywhere », he concluded.