Eric Curbelo, blunt: "Not getting into the playoffs would be a failure"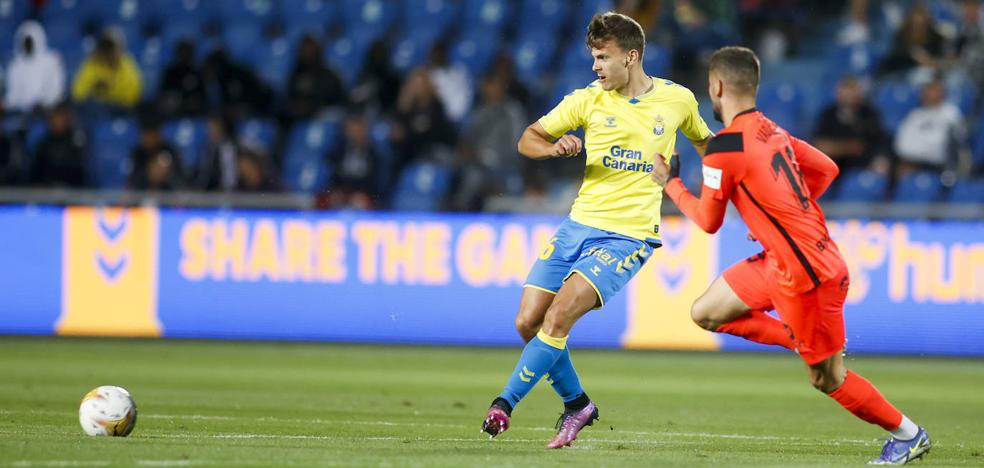 soccer
The UD Las Palmas defender analyzes the match against Mirandés and talks about the possibilities of entering the promotion promotion
UD have a difficult time, hoping that Málaga will do them a favor against Real Oviedo, currently sixth in the table and a team that marks the frontier with promotion. But
in the squad they are optimistic and are going to fight to hurry up all the options. so made it clear
Eric Curbelo, who regained ownership last day and also hopes to stay in eleven.
It's going to be complicated, but inside the locker room they trust the possibilities. "We have gone seven games without losing and I think we are going to get into the playoffs," said Eric. "We have to be on our own, we will see what happens with the other results. There we can't do anything. We, to win », he affirmed. "Not getting into the playoffs would be a failure, we have to get in and be there," he said forcefully.
"Of course I see myself in yellow next season, everything is very advanced," he drew about his renewal.
«Any player has to feel like a starter, I feel like that. The coach talked to me, it's true that Coco and Navas were playing very good games, but it's normal for there to be rotations. So we are pending whether we are going to play or not, "Curbelo said in the press room.
«There they painted our faces and on Friday we have to run over them. Close the game as soon as possible », recalled the central defender about the first round match in Anduva against Mirandés, with whom he wants revenge.
«We have to win everything and that those at the top puncture, but there are direct confrontations between them
. We have to win ourselves and someone will puncture »he insisted.
«Fighting with Kirian and Viera for the prize is a surprise»

The player, nominated for the CANARIAS7-Germán Dévora Awardrecognizes feeling especially recognized.
«For me it is a surprise and I think I am there to fill in. Those who have put the icing on the cake have been Viera and Kirian in this final stretch of the Leagueso if one of them wins it will be more than deserved, "said the defender with great humility.
"Pepper teaches us a lot and is fundamental for the footballer when it comes to improving"confessed when questioned about the continuity of the Catalan coach.
"In Ponferrada I didn't play my best game and it's normal that Navas and Coco played later. They did great.
We all deserve the prize of playing when you train and play well»stressed about his substitutions after the clash in El Toralín.
"The issue of having a high defense, taking risks and enduring, although the risk is high, is something that benefits us," concluded the youth squad of the Sports Union.