Equine therapy: when horses help people with disabilities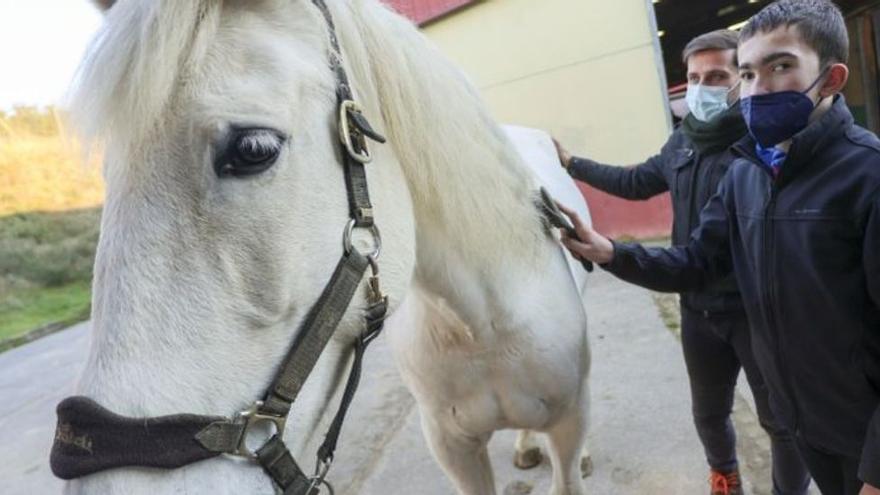 When Nestor started riding horse he was nine years old, hypoplasia (incomplete development of tissue or organs) and mobility problems. She is now 22 and balances on Storm's back as if this brown mare were an extension of her body. He has gained autonomy, motor skills and self-confidence. All this has been possible thanks to the equine therapy carried out in the association Positive Riding, located in Asturcón, a modality for people with disabilities that uses equines as mediators to acquire different skills according to the characteristics of each patient. "We work with needs, not diagnoses", explains Odón Coto, one of the center's professionals.
The organization, which was officially established 19 years ago, has the work of six socio-sanitary specialists and a stable boy. Psychologists, physiotherapists, speech therapists or social workers adapt to the peculiarities of each user for one hour a week to turn a straddle ride into the ideal treatment. "We flee from the myths that horses heal. It is a therapy like any other but with an environment that motivates them", affirms the worker Yaiza Herrera, who has been in the organization's facilities for 11 years. They also flee from labels, the important thing is not the disease that the person suffers, if not the way to set goals to help her.
It is five in the afternoon and the session of one of the groups begins. they arrive Hugo, of 14 years, nel, 16, Santi, 29, and Nestor accompanied by their respective parents, who wait chatting for the day to end. Each one of them is attended by their corresponding therapist who asks them: "Shall we go to the block to get your partner?". The answer, it seems, is always an emotional yes. Nube, Hana, Mandy and Tormenta have been these four-legged friends who have been inseparable for years and they show it by allowing themselves to be loved slowly. "They are very good", they say as they brush their manes and prepare saddles. These activities, which at first glance they perform as experts in the field, are achieved with time and persistence.
"The change is very noticeable, they gain autonomy. We are by their side to guide them, correct their posture and indicate them if they need it; but in the end are able to make decisions autonomously and they learn in a calm way," says Natalia Castelao, who is an occupational therapist and is assisting Néstor.
The advances are also notable for the parents, Marta prieto says that Hugo learned to ride a bicycle as a result of hippotherapy: "I had a lack of balance and disability visual. He started coming here when he was 5 years old and we immediately noticed a great advance". "From the first moment they understand each other with the animal. It is a privilege, almost nowhere is there anything like it," says Begoña García, Nel's mother. And it seems to be true, because by receiving aid and facilities from the City Council, it allows participants to be given the attention they require at a lower price. of what normal equestrian classes would cost, which are usually a privilege."We don't want it to be something elitist," admits Herrera.
Once the steeds are groomed and saddled, it's time for the ride. The four riders access a ramp that makes it easier for them to climb the animal and settle down ready to watch the sunset between the grounds of the equestrian center. "We evaluate the horses so that they have a certain back and height, that they do not present hobbies such as biting or kicking and with an age that gives them a little impulsive character, "says Castelao. The particular monitors are escorting the way but leave the leading role and the freedom of action to the young people, who at all times they unfold with ease.
The day ends at a pace and with the occasional smile of satisfaction. Now, the worst part remains, to see the world again at normal height and wait until the following week to return to these therapists with horseshoes. Thus, the decades pass, while Nestor, Hugo, Nel and Santi take control of their lives.