Equality close to gender violence with the 'Mask 19 Municipalities' plan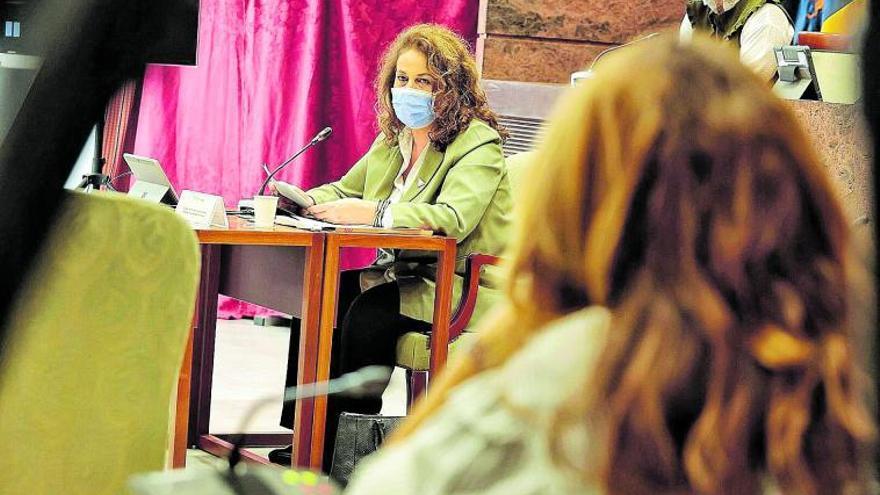 The director of the Canarian Institute of Equality (ICI), Kika Fumero, announced yesterday during her appearance at the Equality, Diversity and Youth commission, that a pilot project based on the Mascarilla 19 idea, launched during confinement, will be developed. The initiative will be called Mascarilla 19 Municipalities and will be tested in the municipalities of Tías, in Lanzarote, and Ingenio, in Gran Canaria. The project will have an endowment of 107,000 euros, 53,500 euros for each municipality. One of the fundamental pillars will be training on gender equality. The knowledge will be imparted to the pharmaceutical staff of the Islands through the School of Health and Social Services of the Canary Islands, thanks to an agreement that will be signed by the Canary Institute of Equality with the two Canarian Pharmaceutical Associations, on March 17.
The Mask 19 initiative was well received during the state of alarm and became a benchmark campaign not only at the regional and state level, but also worldwide, according to Fumero. The objective that has been most successfully achieved is that of social awareness. For this reason, the second pillar on which the Municipality of Mascarilla 19 is based will be awareness campaigns. "If society as a whole, businesses and establishments, recognize that violence against women is a public problem, we are convinced that violence will feel cornered, stigmatized and signaled and a deterrent effect will be achieved," he asserts.
Fumero announced that he had just signed an action protocol with the administrator of Radio Televisión Canaria, Francisco Moreno, valid for four years, to carry out joint actions for the promotion, prevention and awareness of equality between men and women. For this, a person will be appointed, to whom the ICI will provide training, who will be responsible for the implementation and development of equality measures, and for the supervision of the languages ​​and contents in this matter.
Education was another of the issues in which the focus was placed, due to its nature as a "weapon of massive construction". Fumero expressed his desire that all the work carried out in the Canarian Institute of Equality and all the resources generated be taken to the classrooms. The coeducation area has been enabled for this purpose, with the intention of adapting the materials to schoolchildren and developing campaigns. Currently, two projects are being developed: The thousand and one Elsas on corporal diversity, canons and stereotypes, and Neither treatment nor trafficking, aimed at raising awareness about the trafficking of women for sexual purposes.
The Canarian Institute of Equality is developing other projects such as Juno, aimed at the State Security Forces and Corps; initiatives aimed at working with victims of trafficking and sexual exploitation and the labor insertion of victims of gender violence and prostitution. In addition, it develops a campaign aimed at men, with a program to show the alternatives to hegemonic masculinity.
The deputy of the Madrid Assembly for the PSOE Carla Antonelli also appeared in the commission, defending the effectiveness of Law 2/2016, of March 29, on Gender Identity and Expression and Social Equality and Non-Discrimination of the Community of Madrid . In addition, he added that "it is not explained" how "a false debate has been created" around the approval of the Trans Law, because "feminism that is written with capital letters welcomed the trans community with open arms since the 90s" . He added that he does not understand how, for a year and a half, "first we became a danger to the women of this country and, now, to the 47 million people who inhabit it." Antonelli ended by expressing his desire that the Government of the Canary Islands pass a depathologizing trans law. "I am proudly from the Canary Islands, and nothing would make me happier if this Autonomous Community is a benchmark in terms of trans people's rights."