"Epstein was addicted to sexual abuse and they brought him girls three times a day"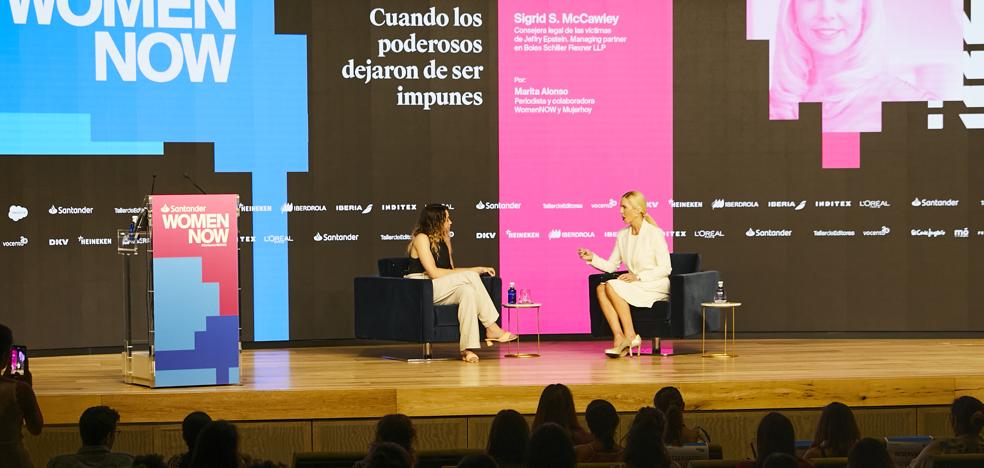 Virginia Giuffre's legal adviser against the American billionaire and Prince Andrew, Sigrid S. McCawley, assures that the victims are beginning to be believed
Eight years after a legal process in which the main defendant, Jeffrey Epstein, hanged himself in prison after being convicted, the prosecution's legal adviser, Sigrid S. McCawley, remembers the moment he met Virginia Giuffre, a of the victims. "She told me her tragic story and it seemed almost unbelievable that she had experienced the same trauma twice, in her childhood and her youth. But I could understand her and connect with her." In part, she secures McCawley at Santander WomenNOW, because she volunteers in UK foster care programs. "Empathy is very important in our work as lawyers. We have to learn to listen to the victims and recognize what the survivors have suffered. It is important to believe the victim."
A partner at the Boles Schiller Flexner firm, with offices in the United States and the United Kingdom, McCawley measures the time she has spent on investigative investigations and "travel around the world" for her youngest daughter's birthdays. "She turns eight years old this summer and finally they are going to pass sentence against Ghislaine Maxwell", she affirms in her intervention 'When the powerful stopped being unpunished'. "This case affected my personal life. I had to go with escorts, I received threats. But knowing Virginia's pain motivated me a lot.
So he fought against the impunity of powerful criminals, he says. "We can win against their privilege of the powerful," says McCawley. "We have begun to see how the law deals with these rich and powerful people. Some have been sentenced or have had to resign due to the pressure we are applying, although they do not want us to talk about their cases. We see it slowly."
metoo to believe

Regarding the Epstein and Maxwell case, McCawley regrets that it took 20 years to arrest him. During that time they silenced, through coercion, the victims. "Epstein was addicted to sexual abuse and they brought him girls three times a day," says who faced his lawyers in court. "Three times a day he changed his victims. He needed them constantly. He was addicted. If we don't stop men like this we are going to have more child victims."
"When I started with Virginia it was before the #MeToo movement," he continues. «They did not listen to her because she came from a broken family and from the margins of the system, but when the actresses and models began to speak out against abuse in Hollywood they began to believe us, and the media began to work with us, and not against us» .
Who confesses that he uses his "physical presence to impose myself in court because femininity is very powerful and I think we can take advantage", now continues with the legal representation of more victims of abuse and pursues a change in laws worldwide, to that the term of accusation be extended before the statute of limitations for sexual assault, especially when suffered during childhood. "We have to change that law to wait until victims are ready to speak. It is something that can take many years. Legislation has to be adapted for psychological reasons."