Entrepreneurs who (unknowingly) did so much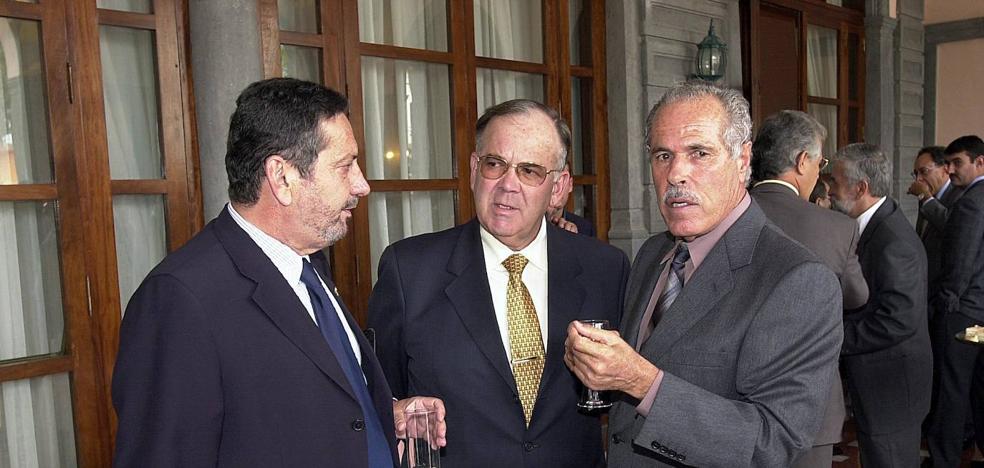 Félix Santiago joins the long list of businessmen from Gran Canaria who, often unintentionally, ended up articulating the employers' movement
The journalistic exercise of searching the graphic archive to find images that accompanied the news of the death of businessman from Gran Canaria Félix Santiago made the photo that accompanies this text appear. It is from the beginning of this century, it was made in the Santa Catalina hotel, in the run-up to the Christmas lunch of the
Canarian Confederation of Entrepreneurs and in it you can see the businessman from Galicia accompanied by Germán Suárez and Ángel Luis Tadeo. None of them are with us anymore.
The photo of Santiago, Suárez and Tadeo served as Proust's particular cupcake and other absences and old stories came to mind. Because they are no longer with us
Sergio Alonso, José Sánchez, Lizardo Martell, Antonio Armas, Lothar Siemens, the brothers Basilio and Domingo Pérez Moreno, Domingo González Guerra, Joaquín Galarza, Juan Padrón, Carmelo Medina, Antonio Rodríguez.... They left in a relatively short period of time and perhaps for this reason there has not been time to calibrate what they meant in the productive fabric of the islands, but above all for the business movement, to make an island and to make a region.
On Friday, the president of the construction association of Las Palmas, Salud Gil, made a comment that was as accurate as it is necessary to keep in mind: Félix Santiago, like the rest of those mentioned,
they helped articulate the bosses' movement where there was only a handful of willing entrepreneurs. And all this coming from a dictatorship where too many times the employer was on the side of power and, suddenly, he found himself at a table negotiating with unions face to face.
autonomy was born

What's more: it was all so fast that that handful of men - let's be honest, there were few women, very few then - also found that
Canary Islands, almost without realizing it, became autonomous and I had to make a far-reaching decision: how were we going to be in Europe, if as an exception in the middle of the Atlantic, almost as a state associated with Spain and the then European Commission in fiscal and tariff matters, or with a progressive integration. As is known, it began with the first and ended up turning towards the second: seen now with the perspective that time gives, the success was undeniable.
In that Canary Islands that was marked by the provincial reality, the steps of the incipient business movements were very different:
in Santa Cruz de Tenerifeinfluenced by the conservative mentality associated with the weight of the primary sector,
a model was chosen where what prevailed was not to discuss in public. If there was a difference between businessmen or a position of great depth had to be transferred to political power, then a few sat down to lunch or dinner and agreed on it in secret.
And no one went off script. This is how the efforts made by
Francisco Javier Ucelaypresident who was of the Chamber of Tenerife and parliamentary spokesman for ATI, or by
Jose Fernando Rodriguez de Azero, president in his day of the Tenerife CEOE. EITHER
Leopoldo Cologon regarding tariffs to protect bananas.
Las Palmas is more Phoenician

In Las Palmas the singing was very different.
The eastern province has always been more Phoenician, in the sense of the influence of trade and the opening of minds linked to businesses such as the port, in the first instance, and from the mid-1960s on tourism. And that made
competition between local entrepreneurs was greatereven reaching episodes of confrontations where business logic sometimes gave way to personal misgivings, tripping and the occasional betrayal.
Félix Santiago (RIP) himself experienced some of those chapters, such as when
he was temporarily removed from the Port Authority Council simply because there was a political slogan.
In Tenerife, there was talk of the 'Sanhedrin' of Las Palmas as a business sect, but it was no big deal. The level of competition meant that there were actually something like two groups:
those who had made themselves (and there were Félix Santiago, Germán Suárez and Tadeo, among others) and
those who, by surname or because they were in sectors with a greater business tradition, had gained land in terms of dialogue with political power.
condemned to understand each other

But all were condemned to understand each other. They learned it some times almost by chance or by the good work of those who mediated between them, making them see that there was
business opportunities that were enhanced if they shook hands even if they came from different sectors -the case of the Cordial Group is one of them and the work done, among others, by Nicolás Villalobos and José Miguel Bravo de Laguna- will never be highly valued.
It also helped that there was
own financial entities, such as La Caja de Canariaswhich provided financial muscle for the growth of the business community in the province of Las Palmas and for the consolidation of their own tourist groups, after decades in which the engine of the Canarian economy accelerated or slowed down in offices in the Balearic Islands or in bank offices in Madrid.
Others assumed that unity was necessary when they realized that
in Tenerife business power and political power were communicating vessels. And then there were people who arbitrated consensus that will never be applauded as they deserve: read Germán Suárez, who was capable of resolving enmities that seemed eternal around a table in Utiaca.
Battlers, even among themselves

That Canarian Confederation of Entrepreneurs, that Chamber of Commerce and that Circle of Entrepreneurs that today seem calm and in harmony owe a lot to those who, like those mentioned,
in their day they battled for this and for that, even among themselvesbut in the end they were able to understand that there was room for everyone.
Reviewing the photo of Santiago, Suárez and Tadeo, I already imagine them, wherever they are, commenting on how the Canary Islands are going, which is so
requires entrepreneurial initiative, healthy competition but also consensus and high vision.
PS: The burning chapel of Félix Santiago was open this Saturday at the San Miguel funeral home, where today, Sunday, at 2:30 p.m., the cremation of his mortal remains will take place.