Enrique Iglesias, the greatest Latin artist in history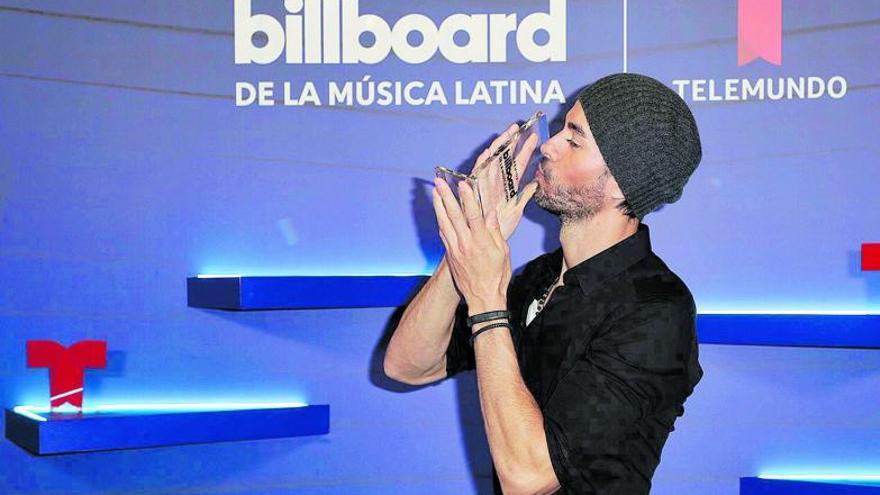 Global icon, songwriter, and singer Enrique Iglesias was recognized as Top Latin Artist of All Time at the 27th Billboard Awards, as announced by both Telemundo and Billboard. The ceremony was broadcast live on Telemundo last Wednesday from the BB&T Center in Sunrise (Florida). Very excited to receive this very special award, he had words of thanks for his team, for his great friend Pitbull and especially for his fans, whom he thanked for all the support throughout his career.
Among the reasons for the award, it stands out that Enrique has composed more than 40 mega-hits within his impressive record work and has sold 180 million records, 19,000 million streams and 17,000 million reproductions of his videos. In addition, it has performed in all corners of the world for more than ten million people, reaching a ticket sale that exceeds one billion dollars.
As if all this were not enough, Iglesias dominates the Billboard Latin music charts, where he has achieved more records than any other artist in history: more number one on Hot Latin Songs (27) and Latin Airplay (31), more Top 10 in Latin Airplay (40), plus number one titles in Latin Pop Airplay (24) and more Top 10 in Latin Pop Airplay (43). In addition, it has placed 39 songs in the Top 10 of Hot Latin Songs.
And the list of hits continues. Enrique Iglesias also holds the record for having the highest number of number one titles on Billboard's Dance Club chart (14) and for being the Latin artist with the highest number of Top 10 on this same list (25). It has also achieved 25 entries in the Hot 100 chart, with two titles at number 1 and five in the Top 10, 14 entries on the Billboard 200 chart, with three in the Top 10, and one title at number 1 on the chart. Pop Songs Airplay, ranking seven in the Top 10. In addition, it has won the highest number of awards in the history of the Billboard Latin Music Awards, a total of 47.
For all this, Enrique is without a doubt the greatest Latin artist in history and it is not for nothing that he has been called the King of Latin Pop. "Enrique is an iconic artist, a global star, a professional, but more importantly, he is a great human being. His music has transcended generations. This well-deserved award is a testament to their continued impact and influence. It is an honor for us at Sony Music to work with him. Congratulations Enrique! ", Said Afo Verde, president and CEO of Sony Music Latin Iberia.
On the other hand, Live Nation recently announced the new dates for their long-awaited tour with Ricky Martin, which will start in 2021, great news for their fans. This 25 concert tour will begin on September 3 at the Gila River Arena in Glendale (Arizona) and will tour the United States and Canada, concluding on October 30 at the Amway Center in Orlando (Florida).
Enrique Iglesias also stands out in his solidarity side. Thus, it has supported Save The Children in raising funds for assistance in humanitarian crises. He and his fans around the world have contributed to the cause through donations, auctions and merchandise sales, raising more than $ 400,000 to date.