Enrique Crespo, bullfighting surgeon, the magic of immediacy in an infirmary | The bull by the horns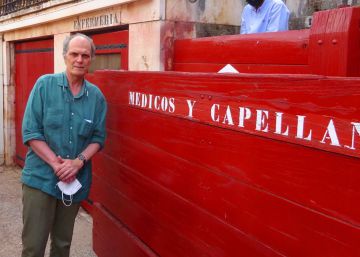 Son, grandson, great-grandson, cousin and nephew of bullfighting doctors, Enrique Crespo's destiny (Zamora, 1957) could not be other than a bull ring surgeon; shares his trauma consultation in a Madrid clinic with the infirmary of a bullring or a popular celebration, where he is gripped by melancholy before a fallen hero or a waiter sewn with goring, and feels useful when a man who seemed to have reached the Threshold of the other world comes to life.
But this vitalist, passionate, talkative doctor, undoubtedly in love with his profession, who gestures to emphasize his arguments, is a unique case. He neither wanted to be a doctor nor did he like bulls. He still remembers when, at the age of nine, his father, a prestigious surgeon, introduced him to an operating room and the boy collapsed.
"I studied medicine by family tradition; the vocation came later ", says Enrique Crespo; "I did not like bullfight either, and I acquired the hobby accompanying my father to the squares."
Who would have thought by listening to how he describes his love for the bull, life in an infirmary, the trajectory of a python or the suffering caused by the presence of a wounded man.
Crespo is the head surgeon of a multidisciplinary team that has spent many years treating goring in the squares of Zamora, Huesca, Aranjuez, Colmenar and Alcalá de Henares, among others, and celebrations in the streets of many towns. In total, it covers about 120 shows in a normal season.
"My greatest satisfaction as a doctor I have reached in a bullring"
This doctor has been one of the main faces of the last San Isidro Fair, held in Vistalegre, on the occasion of the serious catches suffered by three bullfighters: the bullfighter Manuel Perera, from whom a steer literally took the triples, the junior Juan José Domínguez, who suffered several very serious wounds in the chest, and the matador Pablo Aguado, wounded in the thigh. And all three have reappeared in the arena long before the doctors anticipated.
"People believe that we perform miracles, that we are magicians, or angels, as bullfighters call us, and it is not true. The success of bullfighting surgery lies in its immediacy ", explains the surgeon. "You have to operate the bullfighter as soon as possible and do it well, because, otherwise, the complications can be very serious."
"But bullfighters have a special condition that is not common in other patients," continues Crespo, "and it is the desire to heal, a certain mental capacity to overcome adversity and show the bull that he has not been able to overcome it."
The surgeon stops in the case of the bullfighter Manuel Perera.
"Since the fucking happened, no more than ten minutes had passed and we were already opening her belly. The boy had a very bad time the first days, morally depressed, with intestinal discomfort, until he saw his companions and was encouraged. I told his attorney, Maestro Padilla, that he should spend eight days in the clinic, three more weeks of rest for the wounds to heal, and another three to test himself in front of a bull. And it turns out that he reappeared on the 12th, before the month of the accident was completed ".
The dramatic fucking of Juan José Domínguez, on May 19, was more concerning. "He could have died in the ring," says the doctor, who shows a video that the bullfighter has just sent him in which he gives his first race, and is heard saying: "Doctor, I don't know if it's you or this is a miracle, but I can't explain how good I feel. "
The surgeon relates that Domínguez saved his life on three occasions: the three trajectories of the bull python, towards the armpit, clavicle and neck, which did not touch vital organs. "If not, he does not make it to the infirmary alive," he concludes.
"I told him that I would not lose the season, and that I ventured that by August I could fight, and he has just told me that he intends to reappear on June 26 in Zamora ..."
Question. How are the bullfighters inside?
Answer. "Physically, they are like us, with the same muscles, nerves and arteries as the others, but, psychologically, they are gifted, privileged. Becoming a figure of bullfighting is the most difficult thing that exists in this world and is within the reach of very few ".
"The goring is the most treacherous, lying and dirty wound that exists"
Enrique Crespo emphasizes the keys of a bullfighting medical team: a high professional qualification of all its members, a health vocation (desire to heal), and respect for those who stand in front of the bull.
"In my team there are professionals who are not amateurs," he clarifies, "and they come to the plaza for the personal satisfaction of saving a life and feeling useful as a doctor or nurse. Let me confide in you: my greatest satisfaction as a surgeon has been in a bullring. Here, in the clinic, I am not aware that I have saved anyone's life ".
P. Is it bad in an operating room?
R. Of course. I profess so much admiration for bullfighters that a feeling of sadness and regret comes over me when I see them injured. It is bad because, sometimes, you think that the person may die. The team attends the Ciudad Rodrigo Carnival every year, and in the last decade we have called a priest four times to administer extreme unction to some wounded while we were operating. And the tension remains until you find out the extent of the goring; in the case of Perera, for example, we did not stay calm until we opened, we explored the entire abdominal cavity and we verified that there were no injuries ".
P. How much does a medical team charge in a first class place?
R. "That same question was asked by Morante a couple of months ago, and I answered him: between 750 and 900 euros. 'For each one?' He insisted. Not for everyone".
The usual group led by Enrique Crespo is made up of between 8 and 11 people, who are the ones who have come to the Plaza de Vistalegre every afternoon.
"At Vistalegre we have not charged several members of the team, and for me, personally, the fair has cost me 110 euros, the price of parking during the eleven days of bullfighting."
"We dedicate ourselves to this by vocation and to be useful, and not for money," he agrees.
The surgeon is accompanied in the infirmary by residents and medical students, convinced that this specialty, not recognized in the study plans, is learned in the bullrings.
"Bullfighting surgery is a great unknown," he explains, "and, still, in large hospitals there are those who continue to operate as many years ago."
"Because the goring is the most treacherous wound that exists in our environment," continues Crespo; "There are areas that you think are clean, but they can become infected; It is also a liar, because you see the hole and you cannot trust what is inside, and dirty, because, even if you wash it well, you cannot remove all the germs ".
"In the case of a stab or a shot, you know where the trajectory is going; two living beings participate in the goring: the bull, who wants to kill, and the bullfighter, who wants to get away, and a blow can cause three injuries ".
Enrique Crespo does not want to end without having a special memory for two colleagues: Ramón Vila, chief surgeon at La Maestranza for 32 years, with whom he felt very close. "His death was one of the worst experiences of my life," he says; and Máximo García Padrós, head of the Las Ventas infirmary. "You have to kiss where Don Máximo steps on ..."
It is hard to believe, finally, that Enrique Crespo did not want to be a doctor.
"What I wanted is to be an architect, like my maternal grandfather, but I found that it was very difficult and I quit," he ends.
P. By the way, doctor. Do you have any descendants who continue the family tradition?
R. "I only have one daughter, and she is a psychologist. Life has come like this ... "
Mechachis ...!