Ennis, Shurna and Albicy, the candidates to win the tenth edition of the CANARIAS7-Pepe Moriana Award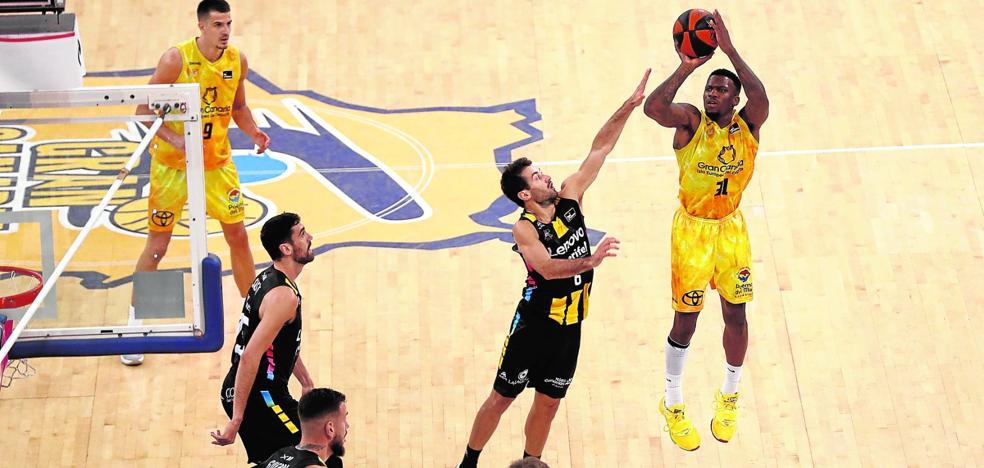 The Canadian foreigner was the Granca player with the most votes, with 12 points, by the media covering the daily information on the Fisac ​​team for the CANARIAS7-Pepe Moriana Santisteban Award. The North American interior obtained 11 votes and the Canadian game director nine mentions
After acknowledging the trajectory, the work and the commitment of the
SPAR Gran Canaria Basketball Club (2020) and of the
Islander coach Víctor García at the Gran Canaria Basketball Club (2021) in the last two editions of the CANARIAS7-Pepe Moriana Santisteban Award, the tenth edition
will return to the hands of the most outstanding player of the season for the media and for the fans.
An award that Spencer Nelson (2013), Tomás Bellas (2014), Edy Tavares (2015), Albert Oliver (2016), Kyle Kuric (2017), Eulis Báez (2018) and Xavi Rabaseda (2019) already have and that, after the votes of 15 consulted media that cover the yellow daily information, already has candidates for the current year 2022:
Dylan Ennis -12 votes-, John Shurna -11 votes- and Andrew Albicy -nine mentions-.
Each communication medium chose three outstanding players of the course to win the prize that bears the name of the one who was
founder, player, coach and president of the entity and, after being Ennis, Shurna and Albicy the three with the most votes,
now it will be the fans who will choose their favorite of the season with their votes on the website of this newspaper (www.canarias7.es).
The popular vote will start this Wednesday and will last until May 1. The award will be presented in the duel against Valencia Basket, set for May 8 from 12:00 at the Siete Palmas venue.
The Canadian outside
Dylan Enniswho is completing his first year on an island where he seems happy, is the most valued player on the island squad, recording 14.2 points, 2.7 rebounds, 1.9 assists and 11.4 PIR credits in an average of 24 minutes in the 26 games played.
Likewise, the North American interior
John Shurnawho is in his third year and is the silent leader of the team, averages 9.5 points -37% on three-point shots-, 4.3 rebounds and 11.3 PIR credits in 24 minutes on average in 23 duels -he missed three due to bilateral pneumonia- .
In addition, the French game director
Andrew Albicywho is in his second season and is the real engine of the squad coached by Porfi Fisac, has 6.3 points -40.5% from three-pointers-, 4.7 assists and a PIR of 9.6 in an average of 22 minutes in 18 games -he missed eight by injury and coincided with the worst Claretian moment-.