Endesa drives an acceleration in the decarbonisation of the Balearic and Canary Islands in 2040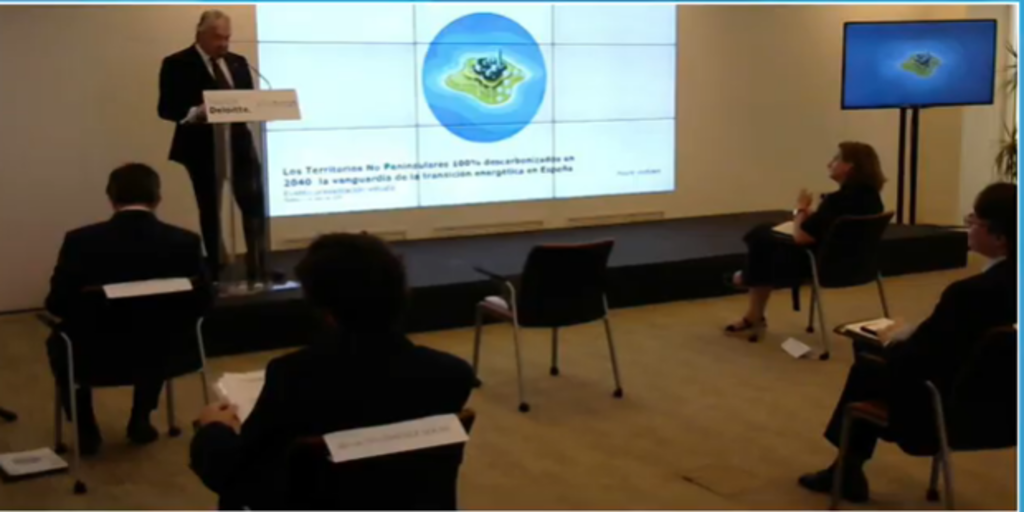 Madrid
Updated:
save

The CEO of Endesa, José Bogas, today insisted on advancing and accelerating the investments foreseen in the National Plan for Energy and Climate "to give an impulse to the economic recovery in our country".
Bogas has made these statements at the presentation of the report 'Non-peninsular territories 100% decarbonised in 2040: the vanguard of the energy transition in Spain', prepared by Monitor Deloitte, in collaboration with Endesa, and attended by the Vice President of the Government and Minister for the Ecological Transition, Teresa Ribera; J. Pedro Yllanes, from the Balearic government, and J. Antonio Balbuena, from the Canarian executive, as well as the president of Deloitte, Fernando Ruiz.
José Bogas, after congratulating the Minister for the "good" Energy and Climate Plan, has repeated that "legal adjustments are necessary" to carry out this acceleration of the energy transition. The advance of decarbonization on the islands, Ceuta and Melilla "would be a perfect test bed" for the peninsula, he stressed.
Teresa Ribera has defined as "complex" and a "challenge" the plan presented today and agreed with Bogas that "the energy transition process" must be accelerated ".
The report points out that some investments of 30,000 million euros in the next two decades They would make it possible to accelerate energy decarbonisation in the Canary Islands and the Balearic Islands by 2040, thus anticipating in 10 years the objectives set for the entire national territory, further facilitating the reduction of household energy expenditure by 72% and generating up to 90,000 jobs.
This plan would generate between 30,000 and 60,000 jobs accumulated until 2040 in the Canary Islands and between 15,000 and 30,000 in the Balearic Islands, according to the report.
It should be underlined that the electricity generation with natural gas It was the most used in June in the Balearic Islands, with 72% of the total, and it was also the first in the Canary Islands, with 44% of the total, according to REE.
Specifically, the report estimates that achieving that objective would additional investment effort between 2020-2040 of about 18,000-22,000 million euros in the Canary Islands, which represents an average of 10,000 euros per inhabitant throughout the entire period; and between 10,000-12,000 million euros in the Balearic Islands, which represents an average of 9,000 euros per inhabitant.