Employment in July achieves its highest rise since 2005, but there are still 747,656 fewer members than a year ago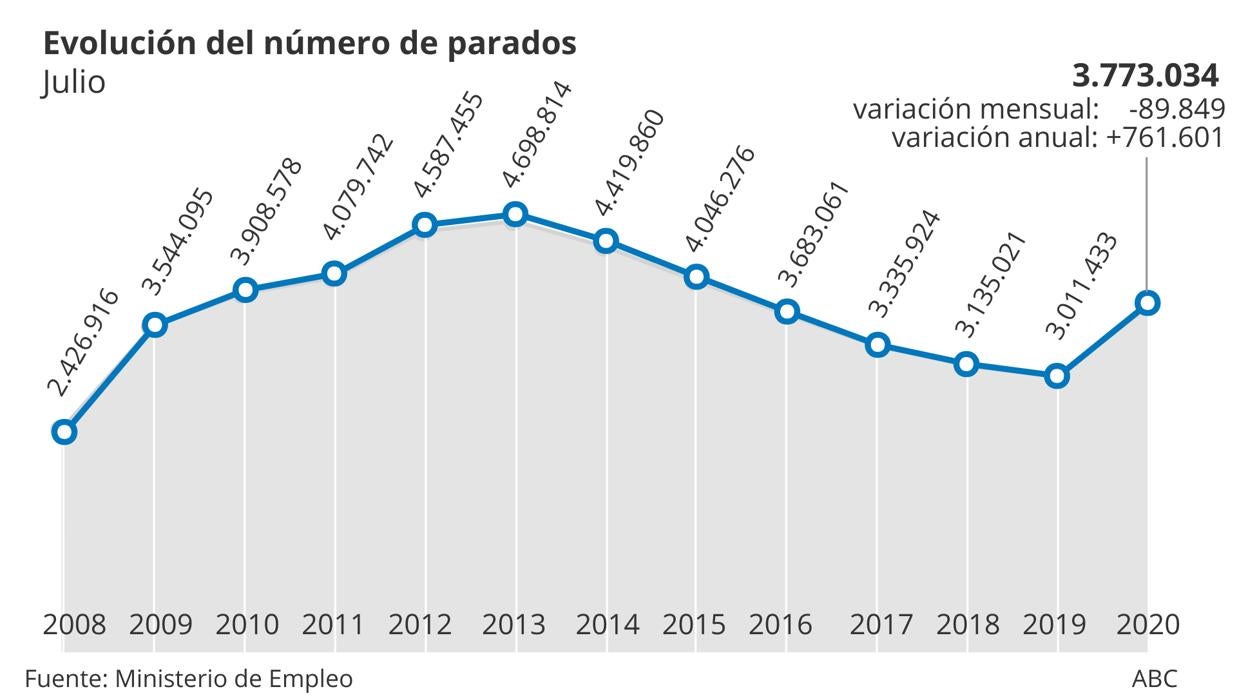 Madrid
Updated:
save

Employment had a significant rise during the month of July. After having slight rebounds in May and June, in the seventh month of the year the average affiliation totaled 161,217 people, its highest increase since 2005 in that month, according to data released by the Ministry of Labor and the Ministry of Social Security . In total, there are 18,785,554 members, a figure still far from the data from before the coronavirus crisis, when employment exceeded 19 million. In addition, compared to last year there are still 747,656 fewer affiliates, a figure that shows that there is still a long way to go for recovery.
For its part, unemployment decreased by almost 90,000 people, its biggest drop in a month of July since 1997. In total, the number of unemployed in Spain amounts to a total of 3,773,034. As with membership, there are still half a million more unemployed than before the crisis and almost 800,000 more than a year ago.
As usual, the month of July brought with it a good figure in employment. Since 2008 she has not suffered a setback. And it is that despite the crisis, the end of the state of alarm and the "new normal" has led to the economy reactivating, and with it the labor market. For many service-related sectors, summer is also their peak season, a fact that has been noticed in the increase in membership. Added to this is the possibility that many of these new registrations have been delayed to this July due to confinement, since many sectors such as hotels and commerce undertake new hires in the months leading up to the summer.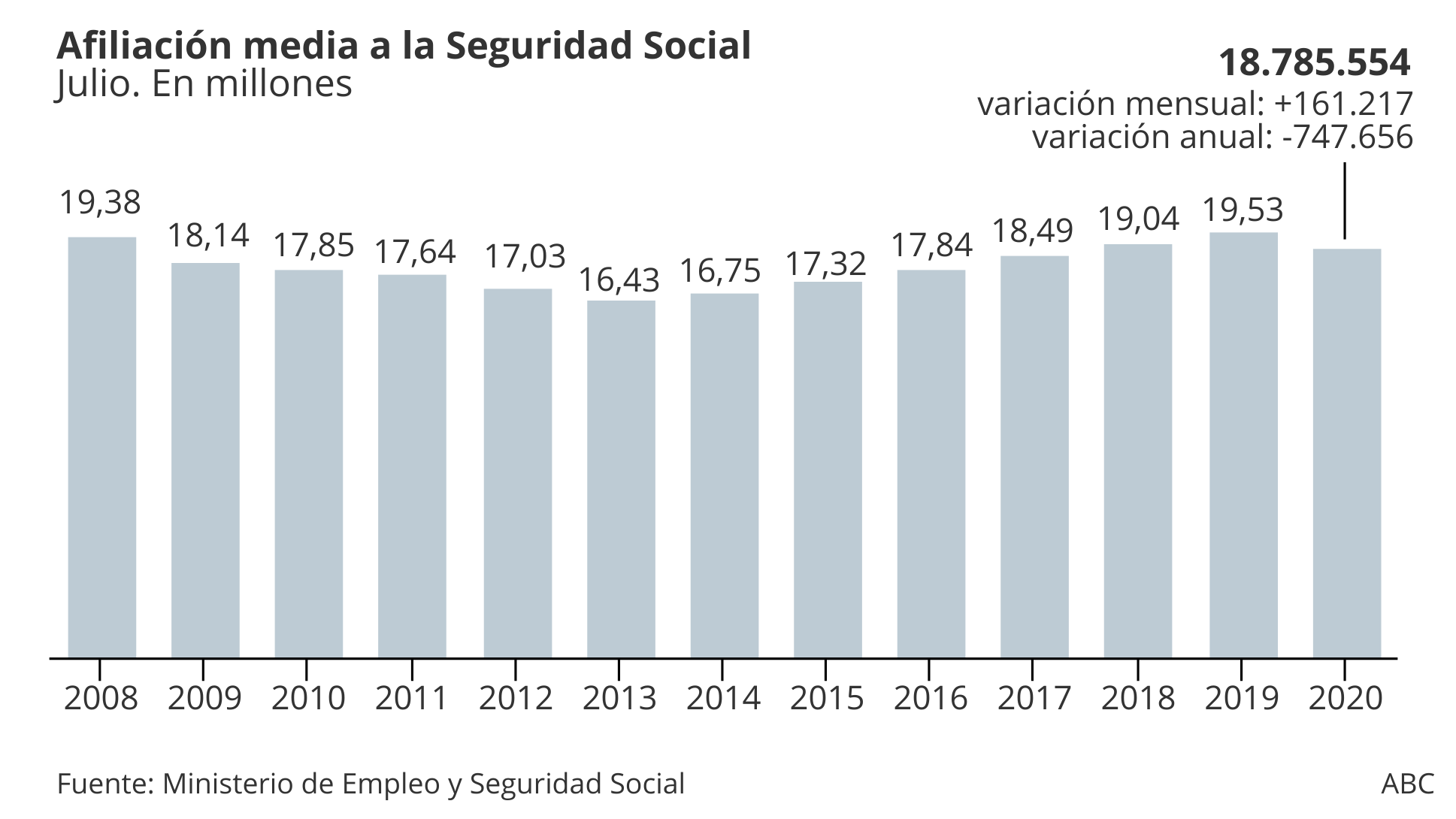 Thus, in this month of July the sectors that have grown the most in employment have been the hospitality industry, with 66,924 more members, followed by health and social services activities, with 43,333, and the trade and repair of motor vehicles and motorcycles, 40,816. In contrast, education subtracted 82,789 members after the end of the school year. The self-employed, for their part, grew by 17,506 members, although compared to the same month of 2019 there are 16,075 fewer people.
As for unemployment, it was reduced in all sectors except agriculture, which had an increase of 11,108 people. Thus, the service sector was the one that reduced unemployment the most, with 84,563 fewer, while industry and construction fell by 9,444 and 6,556 people, respectively.
During the month of July, more than 1.5 million contracts were signed, 400,000 more than in June. However, more than 90% (1.3 million) of these remain temporary. The services sector stands out, where more than 1 million contracts were signed, but 964,495 of these were temporary.
1.18 million people are still in ERTE
With respect to ERTE, there are still 1.18 million people in one, 712,000 fewer than a month ago. According to Social Security data, two out of every three people who have been included in an ERTE during the pandemic have already left it. Of the total, more than 900,000 ERTE are from force majeure. By sectors, travel agencies (with 62% of workers in ERTE), Air transport (with 52%) and accommodation services (with 47%) are the ones that maintain the highest proportion of workers protected by ERTE.