Emergency aid from Fundación MAPFRE Guanarteme for the island of La Palma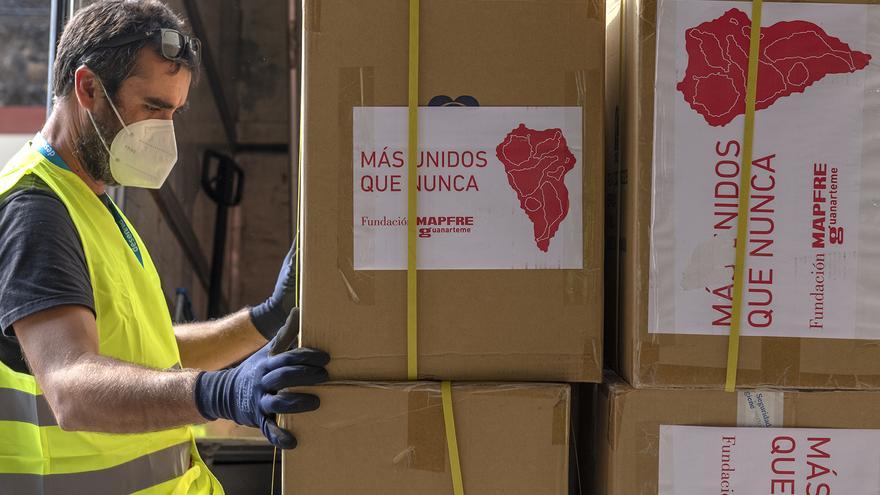 MAPFRE Guanarteme Foundation has activated a first package of emergency measures, endowed with 65,000 euros, to give its support and solidarity to the inhabitants of the island of La Palma.
With this first action, the entity has sent 26,000 FFP2 and FFP3 masks, 2,000 protective glasses and 30,000 single-dose containers of artificial tears for the population, security forces and emergencies. The aim has been to help citizens protect themselves from inhalation and dermal and ocular exposure to ash and toxic gases from volcanic emissions.
It has also provided shelves to the humanitarian aid sites set up in the affected municipalities which, in the face of the enormous supportive citizen response, had run out of space to organize the donations of clothing, hygiene products, food, household goods and household items received.
The support of the Foundation has made it possible for the two municipalities most affected by the volcanic eruption, El Paso and the Llanos de Aridane, to receive a batch of 7,500 FFP2 masks, which protect from ash, volcanic gases and the coronavirus, to distribute among the population, as well as 5,500 high-protection FFP3 for emergency and cleaning services, 15,000 single-dose artificial tears and 1,000 protective glasses.
New aid plans for the victims, the recovery of employment and the economy
The director of Fundación MAPFRE Guanarteme, Esther Martel, is in contact with representatives of the island's public institutions and social agents to launch new actions that respond to needs that have not yet been covered by citizen solidarity.
The Foundation will soon announce its new plans that will be aimed mainly at the personal, social and economic recovery of the most affected families who, overnight, have seen their homes, their businesses and their shape washed away by lava. of life.
Pedro, Suso and Silvia, an example of the solidarity of the people of La Palma
Our special thanks to Pedro Acosta, Suso García and Silvia Gutiérrez, from the Transpecarpe transport company in the municipality of El Paso who, in a totally altruistic way, made it possible for this material to reach the different points of the island of La Palma.
#WeWithLaPalma
#FMG_Contigo