Elia Barceló, Inés Plana and Alexis Ravelo appear in the 2nd Lpa Confidencial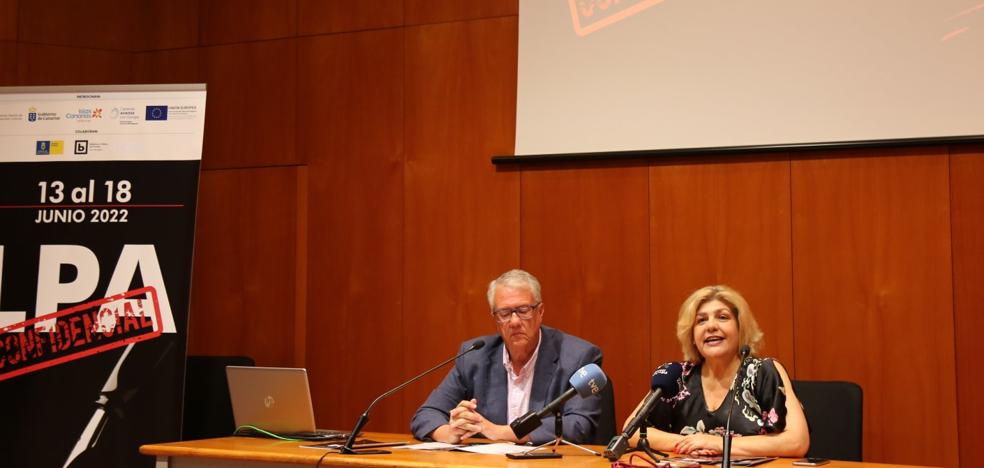 The new installment of the crime novel festival, directed by Mayte Martín, will take place in the capital of Gran Canaria between June 13 and 18
The LPA Confidencial festival will turn the capital of Gran Canaria into the epicenter of
black and police genre from June 13 to 18 with fifty writers and twenty free activities related to this genre.
The director of the event, Mayte Martín, explained this Wednesday at a press conference that the festival seeks to be
"a cultural landmark and a tourist attraction for the city"within a genre that "has more and more loyal audience" and that
"It has been increasing in popularity year after year" in the number of fans, writers and editorial publications.
This festival celebrates its second edition after its pioneering launch in 2020 and will have an entire agenda of activities in the
State Public Library and creative writing workshops that will also pass through
Galdar and Teldeby Josefa Molina and Carlos Ortega respectively.
In its
face-to-face edition, 'online' and 'streaming'the festival will feature authors "of great local, national and international prestige" in a "complex network" of activities linked to
universe "noir" that will give value to Canarian talentwith daily colloquium talks under the heading «Encounter of Canarian feathers».
Within the agenda of activities and participants, the interventions of
Elia Barceló, Miguel Ángel González, Inés Plana, Ana Ballabriga, Alexis Ravelo and creators of police series such as
Pepe Coira from 'Iron'which will value the potential of the genre and of the Canary Islands as a setting for literary and cinematographic creation.
protagonism of women

In this edition they will have a
special role women within the noir and police genre that have experienced "an emergence, leaving traditional female roles to consolidate at the local, regional and international level as writers and main characters" that enrich the sector inside and outside the pages and the cameras.
The festival will also address
gender and vicarious violence Within his talks and conferences, thanks to the participation of the National Police inspector, award-winning blogger and writer,
Alvaro Botias which will have 'online' format.
The "black week" in Las Palmas de Gran Canaria will feature talks, interviews, debates and workshops, with professionals from all branches such as
cinema, television, literature, graphic design, editorial production, research, teaching, cultural management, outreach, feminism, LGBTI activism, psychology or journalism.
The starting signal will be offered by the journalist Jezabel Artiles and Ana Ballabriga's talk on
'Women in black genre literature'which will be followed by an interview with
Miguel Angel Gonzalez and the colloquium talk 'Who watches us?' in which they will also participate
Natalia Gomez Navajas, Julieta Martin Fuentes.
Among the most relevant names that will go through this festival week are the Mexican
Macaria Spain, José Luis Correa, Colombian Patricia Rojas de Leundaor the Catalan writer and judge
Graziella Morenowho will talk about the danger of social networks in 'From the networks to the morgue', among other proposals.
Canarian presence

The director of LPA Confidencial, Mayte Martín, valued the programming, with twenty free activities for all citizens, with some 50 people who take part, including authors and «
an incredible team of professionals at the national, regional and local levels."
In this line it is about "highlighting the work and the birth of Canarian authors, so that they are known and it is known that talent is being forged on the islands and also of new writers awarded at a regional and national level." In the Canary Islands
"There is incredible talent and desire for culture"said this Wednesday next to the c
Councilor for Education of the City Council of Gáldar, Carlos Ruiz.