'El Vega Life': «Whether you want it or not, everything is marked by love and life is to 'fall in love'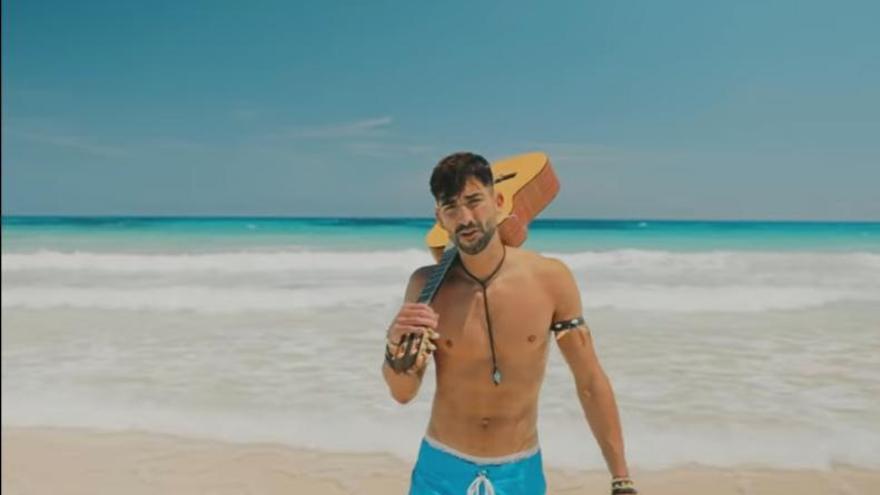 His followers say that summer begins with the premiere of a song by El Vega Life. You are in luck, because next June 11 you will return to the stage with a concert in Moya accompanied by your band. And he will do it in a big way with his new single, 'When you come back', whose video clip has just premiered and promises to be another of his hits. How do you face that return?
I face it with enthusiasm and as a new stage of life. The predisposition is good and the best is yet to come. We will go big with my band, without cutting back on musicians, with the original format of a lifetime and with the incorporation of a new musician, who is Carlos Vives's percussionist, Shango, who has come to live in the Canary Islands. I'm going to have fun and have fun with what I like, and when that is the case, the people who go to see you have fun with you, because in the end we are all united living the party. In this case, I have been responsible for the sermon (laughs) and the main thing is to have a good time so that people have a good time too. So the reception is going to be perfect.
Without losing the good vibes that we are accustomed to in hits such as My paradise or Pa live it, he has once again repeated a creative tandem with Zukoabega Producciones. When You Come Back is his first ballad, which tells the unresolved story of a childhood love affair. This song that you wrote a while ago fuses Latin pop and happy romantic style with vallenato. How did it come about?
I had a time of downturn because the girl left me and I went to La Graciosa to relive beautiful stories that I had lived with her there while writing this song. I dedicated myself to touring the places on the island where we had been and through music, asking the universe to relive those sensations that at that time I longed for. From there came the lyrics of When You Come Back.
Why have you decided to see the light now?
Basically because I don't force things. I write because it is what makes me feel good and when recording the songs I let them flow. I thought, I want to record a song with such musicians, that I don't know, but I want to record with them … It has been a year of conversations to get my harmony recorded, etc. I don't force things and let them flow smoothly when I think it's the best time to make a good song I've written a reality.
In these times of pandemic love is needed more than ever? Should love set "the course", as it says in the lyrics of your new song?
Like it or not, everything is marked by love and whoever says no, lies. And lie for love. In the end, what is life for? To fall in love, and I'm not talking about love between two people. There are many forks in what love is. The little coffee every morning, getting excited because the sun rises and all kinds of emotions enter you, going to the beach, love is sleeping, love is everything … Everything in the world is moved by love, even money. Life is to fall in love.
I face my return with enthusiasm and with Shango in my band, the percussionist of Carlos Vives
The video clip was released on May 19 and a week later accumulates more than 300,800 views on YouTube. Did you expect this reception after the support that Mi Paraíso already had to celebrate El Día de Canarias last year, with more than two million reproductions?
I am quite optimistic and actually I was happy since the song and the video clip went hand in hand and for my taste they were perfect. The numbers thing is something I like, I appreciate it, but I'm not so aware of it. Ojito! I'd rather that than ten visits, but they're still numbers.
The video clip of the single When You Come Back was recorded in different stages of the municipality of La Oliva under the direction of SAOT ST (Se Dijo Award in the Best Project category at the Clickers 2020 Awards). It is starred by Álex Zacharías, an actor from Conejero who has participated, among other works, in the series Hierro; Amaia Izar, Miss World Spain 2018; and the artists and brothers Leila and Cairo Plartus García (young surfer). Why Fuerteventura?
Because of the color and light that this island has. You are going to record yourself with an iPhone or a lower-end mobile and whatever you do on that island it will be beautiful, because the light fills the faces a lot, the water is a turquoise color that stands out a lot in the YouTube videos… What we wanted to achieve is that the surroundings and the atmosphere shine like a dream, like a movie that everyone wants to live.
You are the image of La Oliva, a municipality that is committed to young talent like yours and for its vital message and its connection with nature. How do you feel?
It is a pleasure that some consider me an image of La Oliva, I don't think everyone does, but I respect that. La Oliva is like my base area, everything begins there, the organization of the videos, the photos, the recording of the songs, it is the meeting point with my girlfriend … It is like the center of the Canary Islands for me. I live in Gran Canaria, but when I start a job I go to La Oliva to get rid of everything, to Corralejo, El Cotillo …
For the recording of his latest single he has had a luxury team, which has more than 50 Grammy Awards. Lee Levin (drums), Juan Carlos Garza (guitar), Colombian bagpiper Mayte Montero (Carlos Vives bagpiper) and JK Escorcia (accordion) participated in the instrumental recording made in the United States. The song has been mixed by Javier Garza and mastered by Adam Ayan, the same one who has been in charge of mastering Despacito by Luis Fonsi. What has it been like to have the work of these great professionals?
A dream come true and a personal demonstration that it is possible to do everything you want, as long as the path you take is very loving, very humble and with the truth ahead. I told them: "I'm a boy from the Canary Islands, I don't have that much budget to pay you, but my dream is to record with you. Could you adapt a bit? Going like this, I got it at an affordable price.
'When you come back' I wrote it in La Graciosa after reliving beautiful stories I had with a girl
This cast of great professionals has been joined by the songs of whales in the Canary Islands, which is home to one of the sanctuaries of those mammals that exist in the world and whose sounds have been incorporated into When You Come Back. How was that process?
One day I told my friend Yonay, who lives in Tasarte and has a boat, that I wanted him to record whale songs for me. He recorded them with a GoPro submerged in water. The sound was edited by computer, without modifying the song of the whales, to remove the bass and not hear the bubbling of the water, and it was. They are songs of fin whales in El Hierro.
You are already preparing with Zukoabega Producciones the national tour The Vega Life & Love Tour 2021. What can you tell us about it?
On May 30 we will confirm through a video that we will do a tour with Efecto Pasillo. First it will be in the Canary Islands and, on the other hand, we will try to take the solo tour with my band also through the Canary Islands and the Peninsula. I take Moya's concert as the beginning. With Efecto Pasillo we are going to go to all the islands and we also hope to give a concert in La Graciosa. I still get nervous before each concert, and the day that doesn't happen, I'll think about it.