El Tamaraceite pulls epic to beat Cádiz B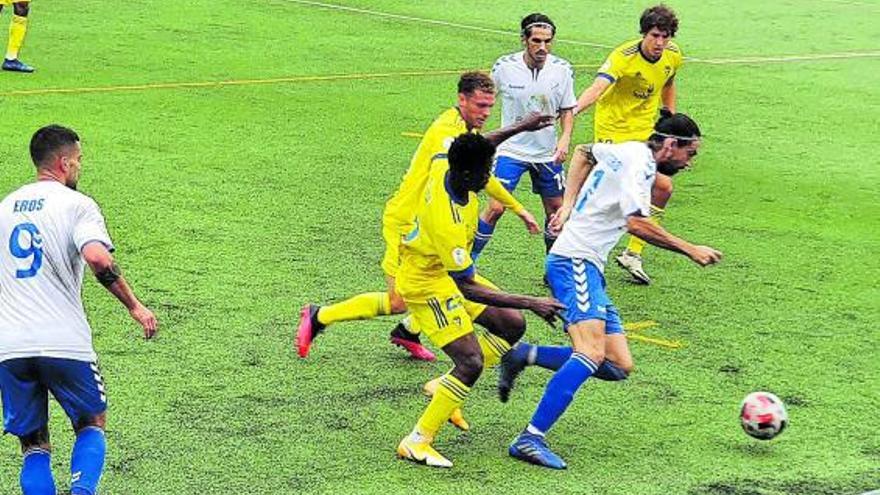 The Unión Deportiva Tamaraceite won yesterday an exciting and very valuable victory against one of the teams at the top of the qualifying table of subgroup A of Group IV of the Second Division of B. Epic triumph of the blue and white team, who played with one less from minute 76 by the expulsion of David González, who saw two yellow cards. Jonathan Quintero's goal in the last play of the game gave the Gran Canaria team their second victory of the season, which places them in the comfortable zone of the classification.
The meeting began with few occasions although with the Támara as dominator. The central David García tried to assist Jordan with a filtered pass to the area that the side failed to finish. Jordan himself exquisitely centered the small area in the 18th minute, but Asdrúbal Padrón finished very high.
Cádiz B was little by little encouraging and took the controls of the party. Local goalkeeper Nauzet made a spectacular save point-blank to Chapela and, a few minutes later, denied the goal to Boselli, who tried to score with a dry and powerful shot from the area. Tamaraceite's response came through Eros, who finished off a free kick from Jordan on what was the last chance of the first half.
The second half began with a shot from Asdrúbal Padrón from outside the area that went high. Shortly after, Eros headed a center from the area, but his header was very easy for the cadista goalkeeper.
Cádiz dominated again and managed to have the Blue and Whites constantly defending behind. Peter had a clear chance to score in the 66th minute, but Nauzet saved his team again, this time clearing with his shoulder for a corner.
In case the visiting superiority was not evident, David González had just been sent off in the absence of a quarter of an hour for a double yellow. The Cadiz squad did not take advantage of the fact that they had one more man on the field, although the goal was close. Goalkeeper Nauzet appeared again to stop a shot from Javi Pérez and then Kensly sent the rebound out.
After enduring so many minutes with one less, the tie seemed to be a result of the liking of Tamaraceite. When it seemed that the distribution of points was going to be a reality. Carlos Cid, after a good individual play, crossed into the area and Jonathan Quintero pushed the ball to the back of the net to the delirium of the fans at Juan Guedes.