'El Sevilla': «We look people in the eye, we don't sing looking at the cannon of light»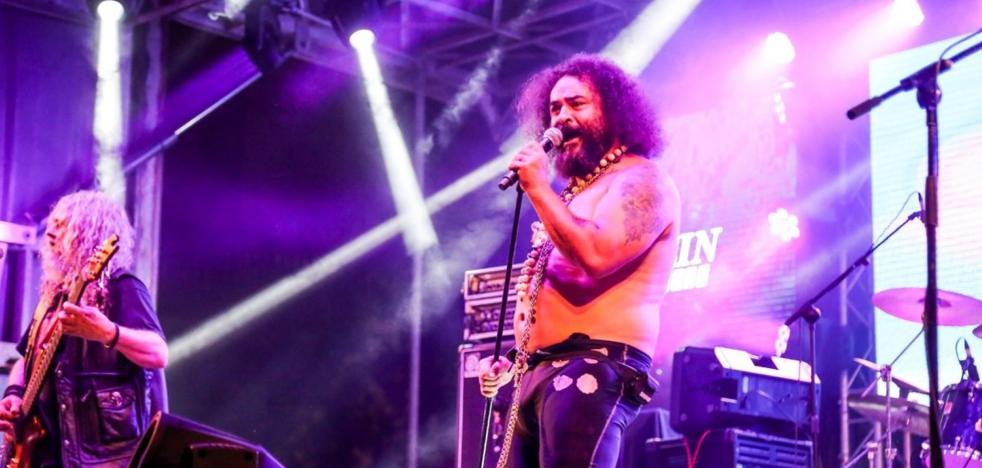 Los Mojinos Escozíos closes this Friday, with its hard rock full of irony and humor, the first of the three days of the FiestoRon, in Arucas
The hard rock, fun and irony of the group Mojinos Escozíos closes tonight, starting at
01.00 hoursthe
first of three days of Rum Party in Arucasa festival that returns after two years of absence due to the covid-19 pandemic.
At mid-morning the band he leads lands in Gran Canaria
Miguel Angel Rodriguez 'El Sevilla' to take part in a festival that they understand as their «home» and that they have enjoyed, acknowledges
from Malaga hours before playing in Benalmádena, «from the stage and in the first edition that we were also as an audience, because we stayed two days».
This popular band, which took its first steps on the national stage in 1994, faces this date with
"very excited" and with its own repertoire for this type of event. «
At festivals we never present records or play new songs. We have a repertoire of two hours of 'singles', with songs that, if the public doesn't know them, they will see that they are easy to sing. We've always said that we Mojinos don't have pretty songs, but rather we pull on 'singles' so that people have a good time", says 'El Sevilla' with a laugh, alluding to songs like
'The girls of La Saye', 'Chow Chow', 'The little bubbles' or 'How cool I am', among others.
Fun without time or place

The fact of playing early in the morning, to bring down the curtain on the first day of the FiestoRon, is something that does not concern him.
«At one in the morning we will be as if it were ten at night», underlines who assures that returning this year to the old festival normality has been a major pleasure.
«We came from giving six concerts in two years.
The public is going to find the Mojinos of always, but with more desire than ever. We've had about 20 concerts and our desire and that of the public are being noticed. At FiestoRon we go with our repertoire of best-known songs so that the party is complete », he advances.
The singer-songwriter recognizes that each concert and festival "is special" for this band. «It is super special to see 20,000 people at a festival with their arms raised, with kids of 20 or 25 years who were not even born when we released the first songs. But
it has also been special to play in a town of 30 inhabitants in which we met 500 people. I assure you that I don't know what is more special, the massive concert or that small one. We don't play differently from place to place, our feeling is always positive on stage."
The keys

For 'El Sevilla', the keys to the success of Mojinos Escozíos are clear. "The perseverance.
We never get tired or give up. Los Mojinos are perfect for a party. If you don't like our music, you discover live that we're super hot and you end up liking the 'show'. We look people in the eye, we don't sing looking at the cannon of light.
We seek to interact with the public and we do everything very closely, with songs in their language. In a heartbreak song we don't say what a bad time I'm having because you left me. We say what is said in the street, put the car and the dick up your ass. Success is in that proximity », she says with a laugh.
New songs and album

Neither at the FiestoRon nor at the rest of the summer events planned for the coming weeks, the Mojinos Escozíos are going to play unpublished compositions, although Miguel Ángel Rodríguez, 'El Sevilla', acknowledges that they do
They have a handful.
«We are with new songs, but we have learned not to tell the 'manager' or the record company, because then the pressure begins and you end up going crazy.
We never stop releasing songs and we hope to have the new album ready next year. It will be number 18, which is said soon. And that we have stopped for two years due to the pandemic, because we had a pretty good rhythm, "says the singer-songwriter.
The pandemic, already a very hard drink in itself, came with a tremendous additional setback for the group. «
It was all especially difficult because our guitar, 'Chicho', who was the one I composed with, died. We knew it was bad and we already had little desire. This September makes two years of his death and that is why during the pandemic we have not wanted anything, "says with regret who assures that in the new compositions that the band already has, the health situation does not have any reference.