'El Pirata' by Brian González prevails in the Open International Deep Sea Fishing Gran Canaria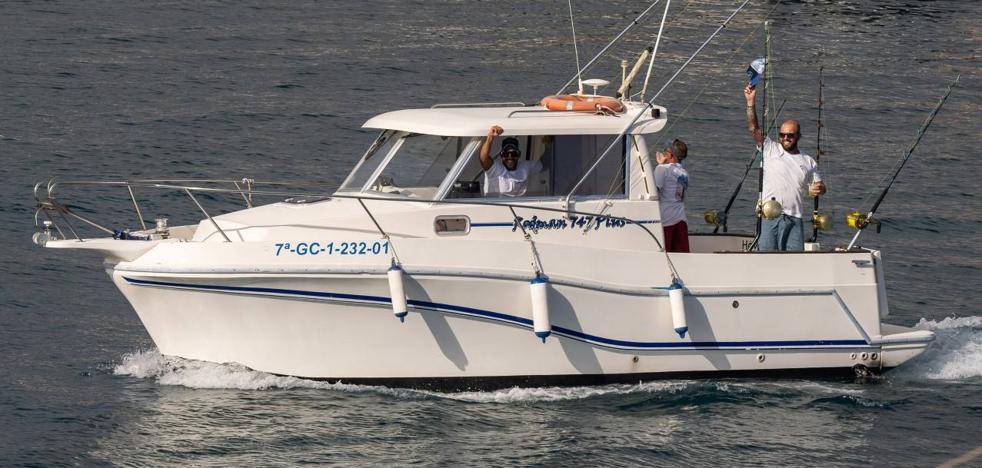 fishing
He managed to take the podium, in his first competition, after capturing and releasing a specimen of blue weevil, ahead of ten other boats
The
International Open Deep Sea Fishing Gran Canaria, celebrated its second edition this weekend with the participation of 38 boats. Brian González's 'El Pirata', Pablo Carranza's 'Max Mar Uno', and Thomas Rodger's 'Reel Scape' completed the podium of winners in an edition that stood out for the great presence of marlins.
The Minister of Health, Carolina Darias, participated in the awards ceremony, together with the Island Councilor for Tourism, Carlos Álamo, who congratulated the participants and the organization of the contest.
Brian González received the jacket that, since last year, determines the champion of the International Open, after achieving
be the first to capture and release a specimen of blue weevil, ahead of another ten boats: the 'Max Mar Uno', by Pablo Carranza Brito; Thomas Rodger's 'Reel Scape'; the 'Pilar', by Reinold Meyer; Adolfo Zan's 'White Marlin'; 'Fish On', by Betancor Bravo de Laguna; the 'Rapa Nui' by Iván Ramírez Martel; the 'Run Away', by Wim Moens; the 'Jorcon', by Rafael Tejera; the 'Hedonist', by the historic patron Manuel Ramírez; and Garvi Uno, by José García Villalta.
"It's the
first time we participated in competition and on top of that, we won, so we're very happy. Yesterday we were lucky enough to be the fastest and today we managed to catch another one, but it got tangled up with a buoy and unfortunately we lost it", assured Brian González Hernández. In addition, he highlighted the equality and emotion of the Open until the last moment, "next year we will return with more enthusiasm."
The International Open maintains the philosophy and sporting spirit of the Pasito Blanco Fishing Contest and
its 32 editionsbeing one of the first fishing championships on the international scene to make the concept of catch and release its own, which was imposed through this initiative even before the IGFA regulations required it for the international fleet.