'El madrileño', C. Tangana's album "that could have been a grotesque" and is a milestone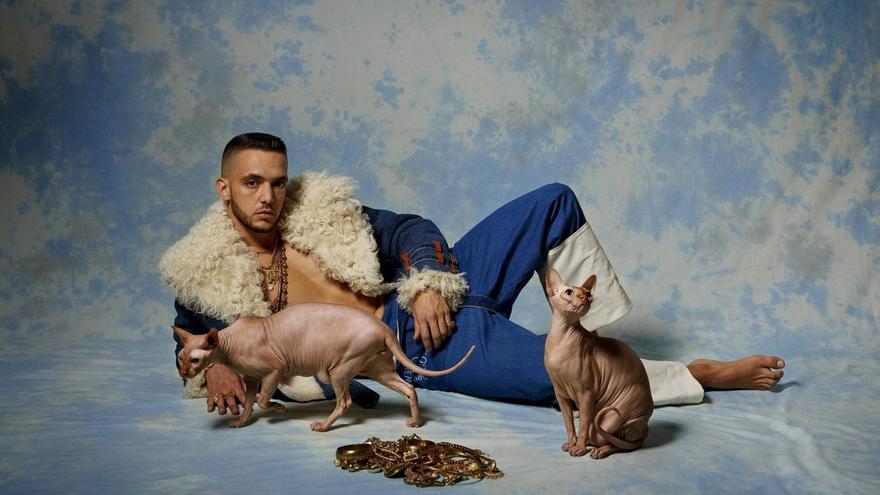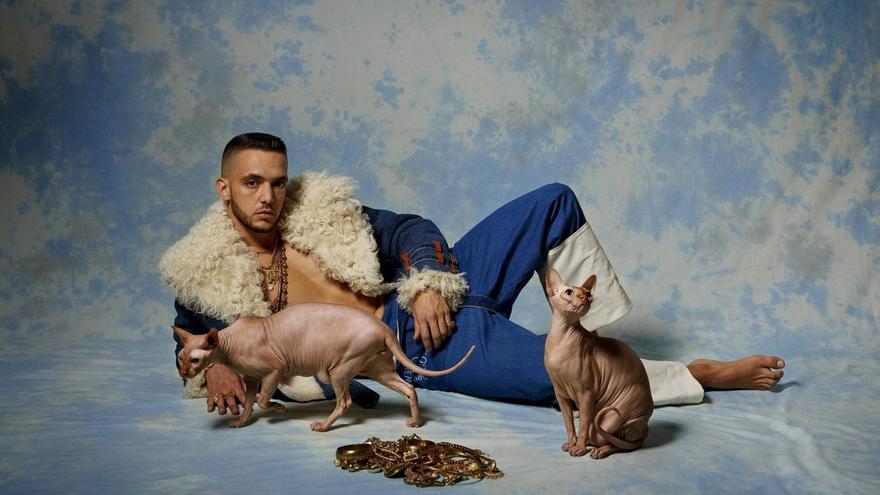 Rumba mixed with bachata, bossa with carioca funk or a corrido that doesn't seem like it. In search of a transgenerational album that impacted on Spanish culture", the crossing of variables that is 'El madrileño' by C. Tangana "It could have been an absurdity", but the result – presumes its author – are 14 equations "and not a single one fails".
"The most difficult thing in deciding the repertoire has been not getting carried away by the songs that I liked the most now., which are usually the last, nor do it because of thinking that, if I had a collaboration with such a person, that had to be on the album ", explains Antón Álvarez (Madrid, 1990), alias Pucho, in a talk with Efe.
Your purpose with this studio album released tomorrow by Sony Music in the midst of great expectation, after chaining three number 1s? "Include a little of everything to reflect the spirit of 'the Spanish', in a young and experimental project that did not fall into nostalgia all the time. "Although it is not the oldest cut, 'Too many women' was for him" the first letter of introduction "." In 'Views' (2016) Drake has a song of more than 4 minutes that works as an introduction; I wanted something like this on this album, for it to have a presence, not that prologue that you never read to yourself, but the first 15 minutes of a movie ", tells of the cut that openly opens the album to the rhythm of trumpets and passable.
He takes over 'You stopped loving me', with Niño de Elche and La Húngara. The great bombshell of 'El madrileño' with 1.6 million views in 24 hours, made it the best debut in the history of Spotify Spain. "If there was a song that could hook the public towards an album this experimental, this was it," he acknowledges. This 'rumbachata', one of the genres coined by its author, was born from a 'riff' that was reminiscent of Extremoduro, passed through the sieve of 'Where's My Mind' by Pixies. Thus arose a chorus that went to rumba and a 'riff' that led to bachata. In its search for new combinations, right after, 'Eat you whole', it combines bossa with carioca funk and with Toquinho.
'I am never' supposed the "turning point" towards this album. "It was the argument to convince everyone that this was the way, that he could do something transgenerational, with an impact on the culture of Spain and songs that people will really remember, risky and different, each with its own spirit, "he says. C. Tangana made use of some of the most iconic verses of two clear examples of those artists who have tended bridges between the country's musical traditions, Alejandro Sanz and Rosario. "In fact, there was no subject, just the idea of ​​starting from that refrain of his: 'How do you want me to love you if you're not here?'"
For his part, the Mexican artist Ed Maverick applies balm and 'reverb' to the wounds of 'Párteme la cara', with unfortunate verses that seem inherited from the national ballads, while 'Ingobernable' embraces suburban rhythms and dares to "pitch the voice of the Gipsy Kings as if it were electronic music." "One of the intentions was to make a Spanish music album other than flamenco. Spanish cultural identity is changing in the face of things that had been rejected or that 'were not cool'. Here is an attempt to see what any hipster or cultural supplement would have taken for low culture and turn it into something high, avant-garde, "he says.
'Nominao' is tempted by his "friend" Jorge Drexler, who in a way becomes tanganized when playing his part. "I wish I could have his vocal register and achieve that warmth. He doesn't need gurgles or scales to make what for me is one of the best interpretations of the album," he highlights. 'Un veneno', again together with Niño de Elche, included a sampler of 'Campanera' by Joselito and it was the cut that he presented first, although he did not obtain the data of his successors. "Putting it on the record two years later seemed unfairIt was not enough, "he justifies before the remix in which he has incorporated José Feliciano." Like the Gipsy Kings, he is a Puerto Rican who triumphs in another place and making other people's songs; his journey has a lot to do with the spirit of the album, also because of its star aura. This song was one of the possible ones to collaborate with him and have someone with a trajectory like his singing 'This excessive ambition' was too powerful to pass up, "he reveals.
Mexico reappears through the r & b touch of Omar Apollo in the sensual 'You forgot' and Carín León and Adriel Favela, two bastions of current folklore in that country, in 'Cambia'. In between, "Dying of envy" bursts in, with the Cuban Elíades Ochoa transmuted "into El Pescaílla." The triple somersault is' When I will forget ', with references to the Argentine tango (' Nostalgias', by Enrique Cadicamo and Juan Carlos Cobián), the Cuban guajira ('Al vaivén de mi carreta', by Ñico Saquito), the bulería (' Pasan Los Días', by La Tana), an r & b vocal 'loop' ('Slide' by HER) and a monologue by the historic copla and pasodoble singer Pepe Blanco, in which he boasts that he can do what Sinatra but not the other way around.
"The achievement has been that everything sounds natural, although they are experiments. Two years ago it would have been crazy or grotesque, but the result is popular songs that sound spontaneous despite very strange mixtures of structures, rhythms and sounds, lyrics and accents, "he comments on a very intuitive process in the studio. In the end along the way, having reached the point of experimentation that I wanted to reach in this musical 'parable' that is' El madrileño ', the first encounter with Kiko Veneno in' Los tontos' to weave more iconic verses: 'You have believed that for be me good / you can go treading where I wash '.
"All the letters were written in the instant and few have I turned them around. In some cases I have been on the verge of censuring myself for political correctness, partly for the accusations that have been made against me, in others for whether it sounded modern or not, in others for whether they were in line with the romantic composition … He confesses. He is taken over by that 'I have a flower in my ass and a camel in Hong Kong' from the fourteenth cut, which he shares with Andrés Calamaro. "'Hong Kong' is the end of the great stage of my career and the closest I've never been to Latin rock, although it suddenly acquires a more grunge side and escapes from there ", says C. Tangana.
To get there, he shared a study with the Argentine star, in a process that has served him gain "a lot of confidence" as an author. "I am grateful to reggaeton for having taught me to make songs. I did not know if I was prepared for these artists, but we have done it by doing the usual: going to the studio with vague ideas and even so we have not failed a single one," adds this man from Madrid.