'El internado: Las Cumbres' arrives with new mysteries to reopen its doors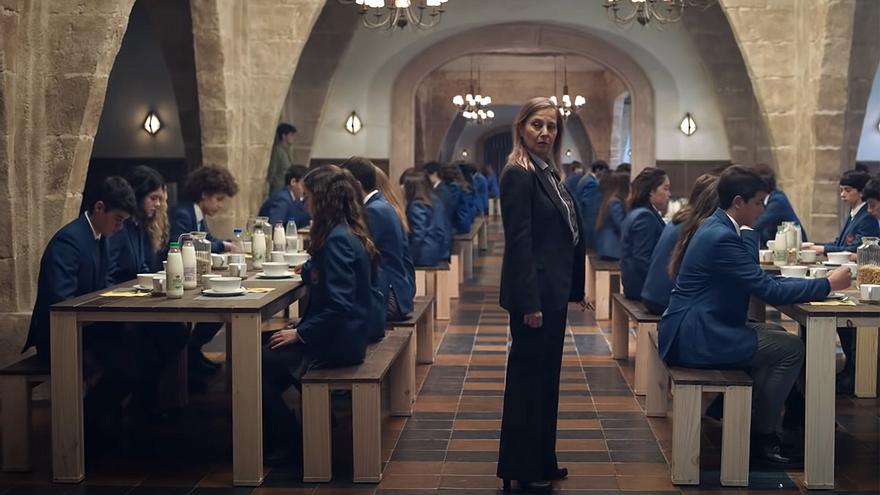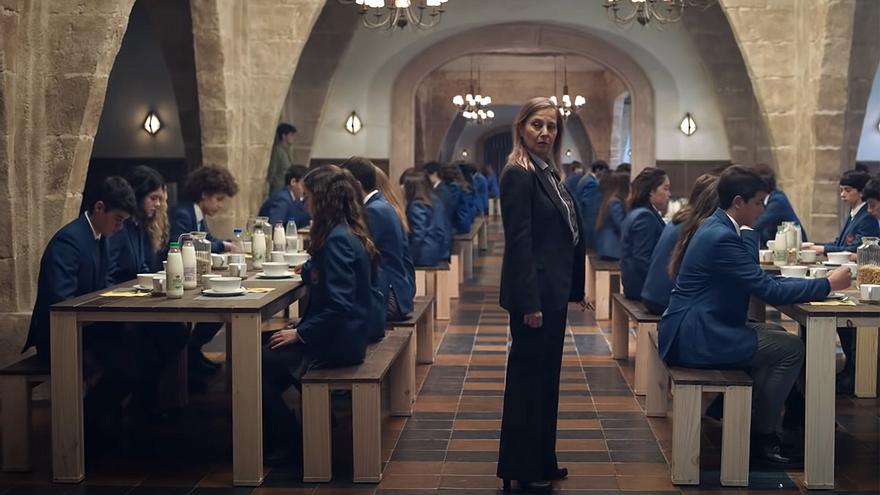 The tireless search for a missing student from the school will lead to discovering the truth about some mysteries that surround 'The Boarding School: The Summits', a "more adult and structured thriller in the form of an escape room", which comes to the small screen this Friday.
More than 10 years have passed since the end of 'The boarding school: Black Lagoon', the drama, suspense and tragedy fiction that Antena 3 aired with great success for seven seasons. Now, under the same labels, Atresmedia Televisión (through Buendía Studios) and Globomedia (The Mediapro Studios), and the same team of scriptwriters, comes the 'reboot' of the remembered mystery story, with which it only shares names and stage.
"It is a totally different series, with different plots and eventsIn fact, thanks to the fact that it debuts on the platform, it has undergone an evolution and has taken away the 'childish' touch that the original could have. It is darker and more adult, "the actors say in an interview with EFE. El Hammani Mine (Elvira) and Joel Bosqued (Elías), who play two teachers from the boarding school.
Yes OK the cast of young actors who play the students (Daniel Arias as Eric, Albert Salazar as Paul, Daniela Rubio as Adele, Cladia Riera as Inés or Carlos Alcaide as Manu) did not see the original series at the time due to age, they believe that this new proposal has elements that will make it special thanks to that "take the characters to the limit" and their photography and aesthetics.
Regarding the responsibility of making a 'reboot' of a series that was so successful, the young actors confess that "it gives a bit of vertigo", but in turn they ask the viewer that, although a comparison with the original, that "see the zero series."
'The boarding school: The Summits', to be broadcast on Amazon Prime, It stands at a school located next to a former monastery in an isolated area, between the mountains.
In this place, the students – rebellious and problematic – will be faced with strict discipline. But they will also have to face terrifying and unexpected adventures in the middle of a surrounding forest that hides ancient legends and threats.
In their eagerness to escape -the starting point of the series that begins with the disappearance of Manu after his escape from school-, they will run into the mysteries that lie around Las Cumbres. They cannot imagine the horrors, dangers and threats they will have to face if they want to survive.
"It is true, we have no idea what's going on outside; After all, we are there, in that place in the middle of nowhere because we have a complicated past, and that almost military disciplinary instruction makes us want to get out of there, but in the end we realize that what is out there is a lot worse than what we have inside, "he says Gonzalo Diez, who plays Julio, one of the boarding school students.
For its part, Asia Ortega, who gets into Amaia's shoes – she is the leader of the students, a visceral and very emotional girl who suffers from hearing problems – admits that to prepare her character she had to go through an introspection process.
"I remembered a lot about my 'me' when I was 15 years old, because I have always been a woman of arms to take up, of struggles against those who seem unfair in society. It has been exhausting to channel it because Amaia is very intense, but it has been a gift, "he says.
In addition, she acknowledges that for her the greatest difficulty in interpreting it lay in the physical limitation: "They made me custom hearing aids and I had to work a lot on the subject of smells and music, and talk to people who have worked with reduced hearing; that helped me a lot to fit my character. "
Although to see this series it is not necessary to have much information about its predecessor, its creators (Laura Belloso and Asier Andueza) have sprinkled the eight episodes of this first season with some nods to the past.
In fact, in the first chapter there is a cameo by Blanca Suárez and Yon González talking about their time at the Boarding School: Black Lagoon in a television program.