'El Golem' explores the transformative power of words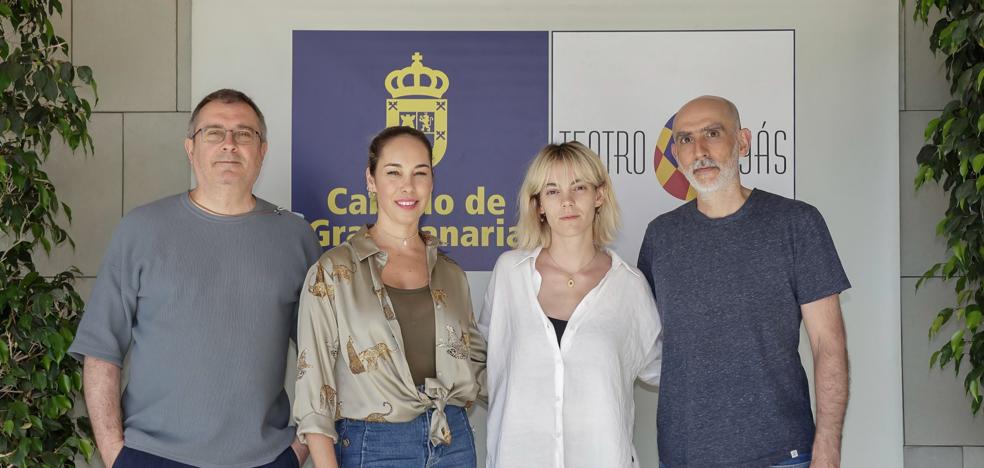 The Cuyás Theater hosts this Saturday and Sunday, always at 7:30 p.m., the production written by Juan Mayorga and directed by Alfredo Sanzol
The word is as powerful or more than force. In these times of
fake news and messages that seek a global and rapid impact, reflect on the
transformative power of words in a society it is especially pertinent.
The
playwright Juan Mayorga carried out this exercise and embodied it in 'El Golem', a stage production that, hand in hand with
National Dramatic Center (CDN) directed by Alfredo Sanzol and that this
Saturday and Sunday, always at 7:30 p.m., it is performed at the Cuyás Theater from the capital of Gran Canaria.
«During the pandemic he finished making the last version, in which he introduced a health crisis. Mayorga wanted to do a work about the power that words have from the Golem,
myth that is born from a Jewish tale in which a rabbi gives life to a mud monster to save a community. With the confinement and the health crisis of 2020, Juan thought how far the
people's despair and we could see ourselves in a situation of vulnerability", explains Sanzol about the origin of this project that stars on stage
Vicky Luengo, Elena González and Elías González.
The history

Specifically, 'El Golem' begins when Felicia (Vicky Luengo) is with her husband Ismael (Elías González) in the hospital and one day a woman named Salinas (Elena González) approaches her, who suggests that if she learns a few words could get her husband to continue the treatment he needs. «
Felicia is shocked but accepts it, because she is desperate. This is how he gets into the world of Salinas, where he has to learn a few words from a manuscript that belonged to a person that Salinas, who is very opaque, does not want to tell him who he is, "advances Sanzol.
Thus, the work gradually becomes a kind of
"labyrinth" in which the "disorientation is very important and generates the process of transformation of Felicia, who little by little becomes the person who wrote those words", emphasizes the director,
National Award for Dramatic Literaturewho does not hesitate to define the work as "a mystery 'thriller'".
Mayorga, Sanzol points out, places in this piece
«realities in which all the elements that are touched seem to be linked to reality», but the laureate playwright and Academician of the Language «places them in such a way that a very strange situation is generated,
half fantastic and fairytale».
essential question

Basically, says the winner of three Max awards, the essential question that Juan Mayorga ys asked himself
hovers throughout the montage is: "To what extent are the words we say mine and not others', and to what extent are we nothing more than bodies inhabited by words?"
More than an allegory about the pandemic that we still suffer from, this 'Golem' reflects on "the danger that someone could get hold of the words that are capable of transforming society", according to the director of works such as 'La ternura'.
A scene from 'The Golem'. /

soria light

He recognizes that taking this text to the stage was a
"complex" job, but Sanzol points out that when he has the best time in his work, it is when creative difficulties are triggered. During rehearsals, he adds, "the
Mayorga's initial version It was changing and we were creating different atmospheres».
The scenery that signs
Alexander Andujar is capital in assembly. To the point of becoming another character.
«Mayorga and I worked for many months with Alejandro to create that dark hospital that becomes a
living and essential monster, which also generates some transitions that are very important to situate the spectators", he points out. To achieve this, "a structure of transparent charges that generate surprising spatial compositions" has been created, he advances.
maturity test

Gonzalo Ubani, artistic director of Cuyás, recognizes that the 'Golem' is not an easy work. "I have read it several times. It needs a hard effort on the part of the spectator who only needs to sit down and listen. This play is a serious request for trust from the theater towards the spectators », he adds.
Alfredo Sanzol is clear that this 'Golem' will be
object of study in the future in drama schools.
Then for the second time

The actress
Vicky Luengo returns to the Cuyás Theater for the second time with the last two performances of the national tour of 'El Golem'. And she does it by celebrating that it is a
proposal "that is not easy"which is "brave" for him.
The actress acknowledges that when Juan Mayorga's text came into her hands "she didn't know where to start." «
It hypnotized me and at the same time scared the crap out of me. It was clear to me that it was a challenge that she had to do, since there was no reason to say no », recalls the actress whose career has skyrocketed after her leading role in the series
'Anti-riot', by Movistar +.
Juan Mayorga, the trio of protagonists, and Alfredo Sanzol. /

soria light

Her character in this montage, Felicia, undertakes a transformative journey with significant physical demands on the actress. "I had to get my body used to this labyrinth. I am very happy after working with
Amaya Galeote all the scenes of movement», explains the interpreter who underlines the weight that the scenery and the music have within this scenic proposal. «They help me with the loss that the character carries out», she confesses.
Therein lies an element that director Alfredo Sanzol does not overlook in front of the media. «
The public follows Felicia as she is transformed by the words she has to memorize at the suggestion of Salinas. And the public also gets lost with her and that becomes a pleasant situation », points out who acknowledges feeling a great admiration for Juan Mayorga although his universes as playwrights have nothing to do with it.