El Femarguín renews its sponsorship with Spar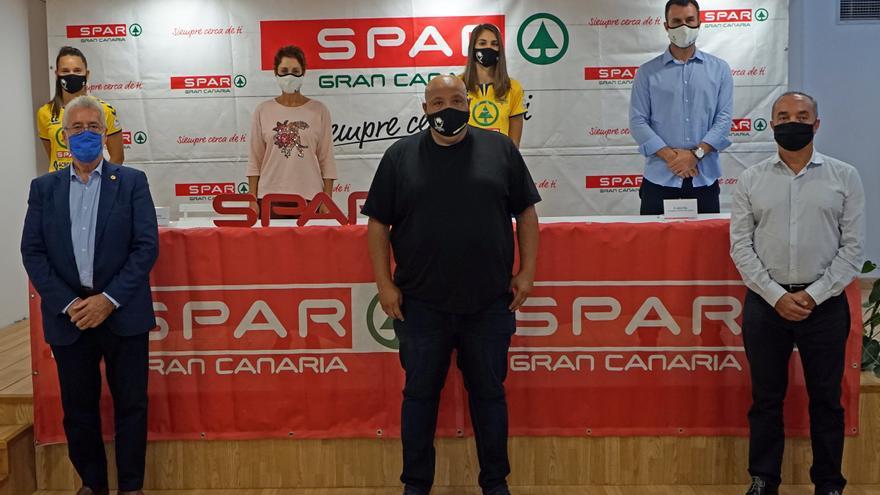 The president of Spar Gran Canaria, Ángel Medina, and the member of the Board of Directors, Jesús Díaz, have formalized today together with Miguel Ángel Sánchez, president of CD Femarguín, the club's sponsorship renewal agreement for the 2020-2021 season.
The signing of the agreement, which took place at the CD Femarguín Spar Gran Canaria football field, was also attended by the mayor of Mogan, Onalia Bueno, and the councilor for Sports of the municipality, Luis Becerra.
Spar Gran Canaria thus bets, one more year, on Canarian women's sport and the strong values ​​promoted by the Femarguín players, such as the importance of following a discipline, which has led them to achieve important sporting achievements, and to maintain healthy lifestyle habits through physical exercise and a balanced diet. After signing the agreement, Ángel Medina stressed that "for Spar Gran Canaria it is a pride to be one more season the main ally of these young promises of Canarian football, who also set an example to follow for Canarian youth, promoting the sport as one of the main social values ​​".
For his part, Miguel Ángel Sánchez pointed out that "the objective for this season will be to be promoted to the first division, the Iberdrola League. A challenge that we hope to achieve after having reinforced the team with players of local, national and international stature. For our club it is a pride that a group like Spar Gran Canaria continues to support women's sport year after year, this being the second year as a sponsor ".
The players of the CD Femarguín Spar Gran Canaria will begin on October 18 to play the Iberdrola Challenge, the silver category of women's football at the national level, and their first match will be against Valencia CF B. Once the season begins, La Liga will perform random tests on the players.
About CD Femarguín Spar Gran Canaria
The club, founded in 2010, (being before this the women's section of CD Arguineguín, founded in 2001) has more than fifty players registered in the different categories; Second Pro Division, Territorial and Children's League. Throughout its trajectory the southern club has become one of the leading teams on the islands, with important achievements in its record such as: six times League Champion, three times Canary Islands Champion among the most outstanding and six times reaching to the final of the promotion for promotion to the highest category of women's football.
About Spar Gran Canaria
Spar Gran Canaria is the only supermarket chain with 100% Canarian capital, present in the 21 municipalities of the island. In a total of 190 establishments, Spar Gran Canaria offers the best fresh local products from 'KM. 0 'with a quality-price ratio that makes it a leader in the sale of fresh fruits and vegetables.