'El Drogas': "I will continue to shape stories that amuse people"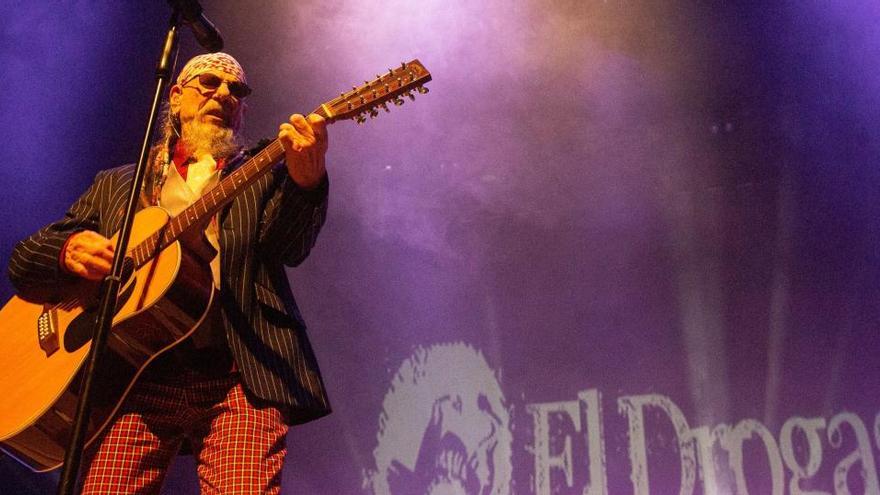 At 61, the musician Enrique Villareal, better known by the stage name "El Drogas", continues with force to "continue composing and shaping stories that amuse people", although "it does not seek a massive following, but the recognition of honest work."
In this sense, he has spoken in an interview with Efe in Logroño, within the Actual Festival 2021, where this Sunday he intervenes in a creative debate and is the protagonist of the documentary "El Drogas", directed by Natxo Leuza, which is screened in this contest.
The documentary is a human portrait that delves into the historical journey of who is considered one of the most important rock figures in Spain, from his childhood, in Pamplona, ​​to some of the most chaotic stages of his youth.
The former Barricada bass player admits not having stopped during the lockdown and his passion for reading has led him "to write texts and compose with the piano and guitar".
On the Riojan band Messura, with which on January 2 the curtain of Actual 2021 concerts opened in the auditorium of the Palacio de Congresos -restricted by the covid to 600 spectators- the Navarrese composer believes that it is "a promising group, which begins to be known and that it should be filling rooms ", but recognizes that the restrictions by the covid-19 they have been "the lunge" for many groups that have just started.
"These groups need to return those massive concerts and I'm so sure that, in the near future, so many people can get together in a concert like they used to, "he says.
In October 2019, the former Barricada bassist published five albums under the title "I only want witches on this night without company", an album with 42 short rock and roll songs in which "behind there is a very intense work."
"In my degree of stupidity, in times when a song is not heard for more than 30 secondsAn asshole like me can pull out 42 songs at once"says Villareal, who does not seek to enter" the deadly pace of the profession, where there are television contests such as Operación Triunfo where they have much more visibility. "
He adds that "there is a system of cultural functioning that does not work", because, in his opinion, "there should be a basic circuit where any artist could start and more regulation so that any group can collect unemployment."
The General Society of Authors "should be more than a management society", says Villarreal, who details that with the technical team that he has for this album "he needs to put more than 500 people in a room for it to be profitable".
Likewise, he affirms that the last day he performed was on November 10 at the "Iruñarock" festival in Pamplona, ​​and from March to December he has done three performances, "despite the fact that he had a full schedule of festivals in summer".
"After the covid-19, in all the festivals in which I have participated all the security measures have been fulfilled that are advised in this type of shows, but it is useless if twenty people later accumulate in the public toilets ", he emphasizes.
"El Drogas" confesses that "Logroño is not a very well-known city for him", but he remembers that he performed with Barricada at the "Iberpop" Festival – currently Actual -, which was held in 1990 in the Riojan capital.
"In that Iberpop we meet Héroes del Silencio in the same hotel. I remember that we were with them one day when they came down to breakfast dressed in an impeccable way and we got to know the night of Logroño ", remembers Villarreal with a laugh.