El Cuyás puts about twenty new shows on sale until June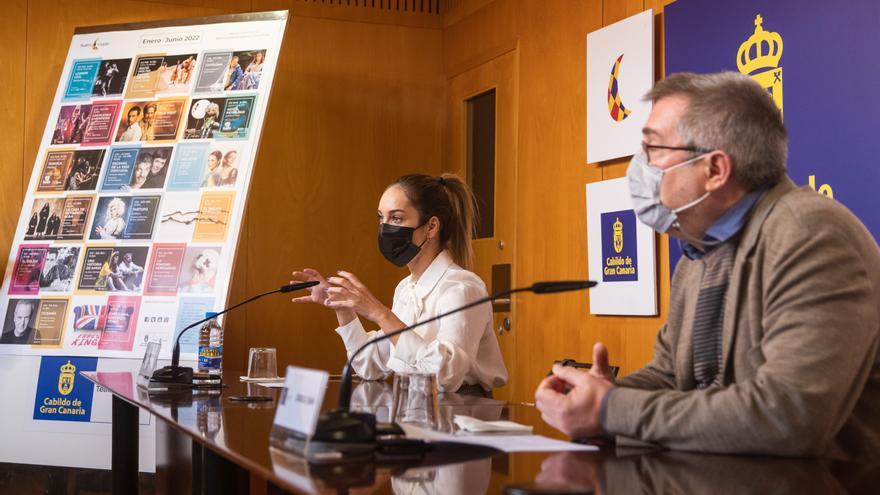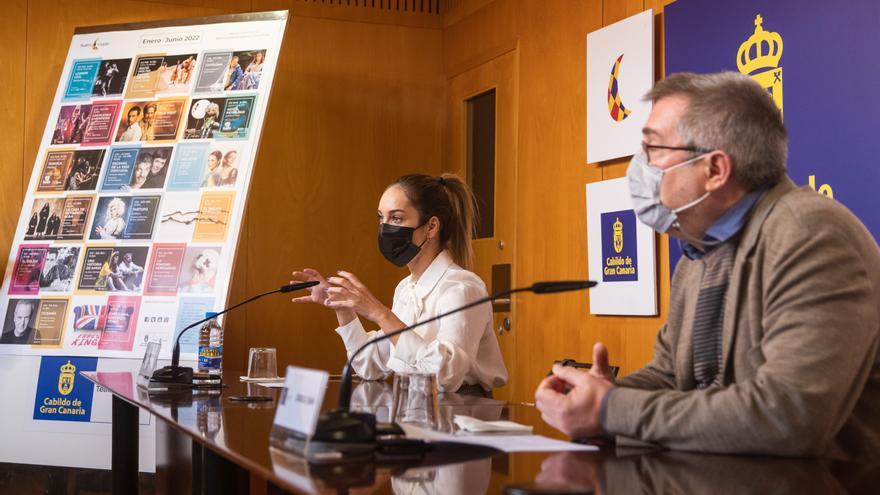 About twenty shows make up the programming for the second part of the 2021-2022 season of the Cuyás Theater, which has been presented today by the Minister of Culture of the Cabildo de Gran Canaria, Guacimara Medina, and its artistic director, Gonzalo Ubani, and whose tickets will soon go on sale.
The new proposal, which includes 17 shows between mid-January and June, will start with Night, flamenco dance show danced, directed and choreographed by Leonor Leal, with Alfredo Lagos on guitar and Antonio Moreno on percussion and which is scheduled for the 29th.
As its name suggests, the piece, In a certain abstract sense, it has the serenity of the night, a few lights of gloom that refer to the dream or the nocturnal wakefulness, all dominated by an elegant stage austerity that gives prominence to Leal's body, always guided by the strict codes of flamenco, but not a typical flamenco, cante and tablao, but focused on dramaturgy and research.
And after Leal, more flamenco: that of the winner of the National Dance Award Rocío Molina and the guitarist Rafael Riqueni, which will arrive at Cuyás on February 12 with Home (One).
Also in February, a Antigone by David Gaitán starring, among others, Irene Arcos, Fernando Cayo or Clara Sanchís (days 18 and 19) and the co-production of the National Classical Theater Company and Barco Piratas Producciones of a musical comedy from the Golden Age adapted and directed by Sergio Peris- Mencheta: Castelvines and Monteses. Lope's lovers of Verona (days 25 and 26).
Already in March, Tristán Ulloa and Pablo Derqui will star True west, a work by Sam Shepard adapted by Eduardo Mendoza and directed by Montse Tixé that portrays the outcome of the rivalry between two brothers who represent, with their duality, the conflictive nature of the human being. It will be on the 11th and 12th.
The familiars Goodbye peter pan and Tarasca, from Festuc Teatre and Pieles, will complete the program for that month, also full of school functions within the framework of the pedagogical project of this venue, Teatrae, which celebrates ten years with the sponsorship of the Mapfre Guanarteme Foundation. March will end with the exhibition at the end (April 30 and 31, 1, 2 and 3) of Scenes of conjugal life, with Ricardo Darín. Directed by Norma Aleandro, the work of the Argentine actor, who had to be postponed a few months ago due to the pandemic, is an arch-successful dramatic comedy by Ingmar Bergman whose protagonists, the now divorced Juan and Mariana, tell the public different sequences that have to do with the relationship you have during and after your marriage.
Another great on the scene and on the screens, Aitana Sánchez-Gijón, will star Bad living, "A trip to the dark side of the Golden Age", with its different social layers, settings and characters, but also for the love story between "two miserable rogues in a Spain of splendor and famine, dreams and deception, faith and witchcraft, illusion and death ". The staging will arrive on Cuyas on April 8 and 9, with dramaturgy, adaptation and direction by two old acquaintances of this theater: Álvaro Tato and Yayo Cáceres, historically linked to the Ron Lalá project.
And it is that April will be in Cuyás a month devoted to theater with capital letters, with the representation also of Bernarda Alba's house and Tartuffe. The great José Carlos Plaza directs Ana Fernández, Ruth Gabriel or Mona Martínez in Federico García Lorca's play, who will perform on the 22nd and 23rd, while Ernesto Caballero will do the same with Molière's play, in this case starring Pepe. Viyuela.
And in May, two texts by one of the most important playwrights in contemporary Spanish theater will be performed: Juan Mayorga. First (days 13 and 14), it will be the turn of The burned garden, a show staged by 2R Teatro, an island company directed by Rafael Rodríguez; later, another great, Alfredo Sanzol, will direct The golem, with Elena and Elías González and one of the actresses of the moment, Vicky Luengo, as protagonists of this story, which tells how, due to the collapse of the public health system, Ismael, who suffers from a rare disease, is about to be forced to leave the hospital where they have been treating you.
Final stretch
A love story, written and directed by a French theater prodigy, Alexis Michalik, and performed by Félix Gómez, a long-standing actor whose popularity has grown especially after he was proclaimed a finalist for the TVE MasterChef space, or Aura Garrido (The Ministry of Time), will be performed on May 27 and 28. It tells the story of Katia and Inés, who have a fairytale love affair. Ines wants to have a child and Katia, who has been hurt by life too much, agrees that they both undergo an artificial insemination process. Katia becomes pregnant, but a few days before giving birth, Inés disappears. Years later, Katia becomes seriously ill and will have to find a tutor for her daughter, having to turn to her brother William, a cynical writer whom she has not seen for a long time.
Finally, they will close the programming The faked true, by Lope de Vega, staging by the National Classical Theater Company directed by Luis Homar (June 3 and 4); Oceania, starring Calos Hipólito, who is placed under the orders (June 10 and 11) of José Luis Arellano to interpret this text by José Luis Collado and Gerardo Vega, considered the "artistic testament" of the latter, recently deceased because of the coronavirus, and Erresuma, Kingdom, Reino. Historical tragedies of William Shakespeare, a production by the Arriaga Theater of Bilbao together with the Spanish Theater of Madrid, the Principal Theater of Vitoria, the Victoria Eugenia Theater of San Sebastián and the Muxikebarri of Getxo based on the historical dramas Richard II, Henry IV, Henry V, Henry VI and Richard III covered and directed by the great Calixto Bieitio. It will be on the 17th and 18th.
Season tickets and tickets
As on previous occasions, due to the pandemic, subscribers who want to buy tickets for these new shows may request an appointment, this time between the 4th and 8th, on the web www.teatrocuyas.com (all the time) or on the phone 928 432 180 (from 10 a.m. to 2 p.m.). Once this process has been completed, they will be able to renew their subscription on the next 9 and 10 December. Also by appointment, the new season tickets can be purchased between the 11th and 13th, while the general public will be able to purchase their tickets (now without an appointment) from December 14th, both online and at the box office.