El Cuyás closes the tour of 'Los Niños', one of the hits of the season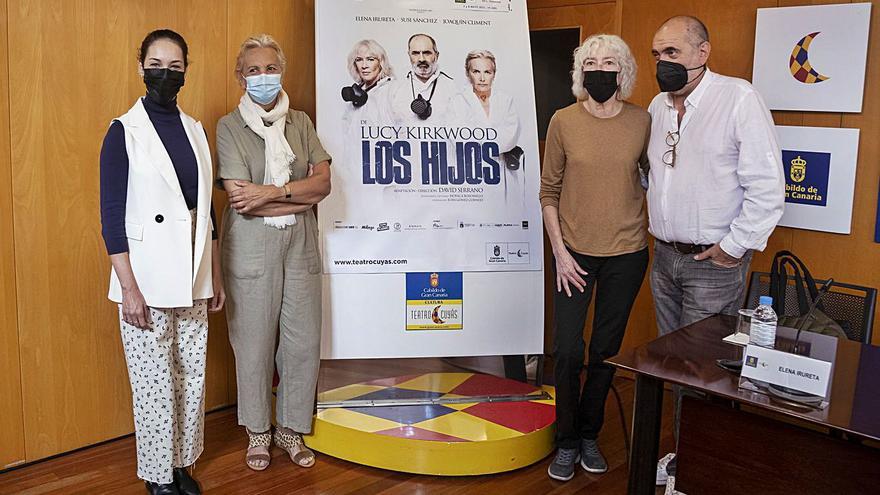 The Cuyás Theater is programming today and tomorrow one of the most anticipated plays of its 2020/2021 season: Los Niños, a montage directed by David Serrano based on the homonymous text by Lucy Kirkwood and starring Elena Irureta, Susi Sánchez and Joaquín Climent, which It was presented yesterday at the Gran Canaria venue together with the insular Minister of Culture, Guacimara Medina.
The action of The Children takes place in the near future and reflects on the responsibility towards future generations, explain its protagonists, including one of the most popular actresses in recent months for her role in the HBO series Patria (Irureta) ; the one who was her husband in another mythical television series, El Comisario (Climent), and the winner of the Goya for Best Actress 2019 for Sunday's illness (Sánchez).
The play, which this weekend will close its national tour at the Gran Canaria Cabildo theater, tells how, after a catastrophe at the nearby nuclear power plant where they worked, two recently retired scientists, Hazel and Robin, live "in a small cabin from the east coast. ' Despite the fact that electricity is rationed and they have to measure the radiation around them, they try to maintain a seemingly normal life: Robin cultivates her garden and Hazel practices yoga while maintaining contact with her eldest daughter, Lauren.
Suddenly, their peaceful existence is interrupted by Rose, a former physical colleague they haven't seen in 38 years and whose return forces them to reflect on the impact of their lives on generations to come.