El Cid, "a natural bullfighter", has found someone to write to him | Blog The bull, by the horns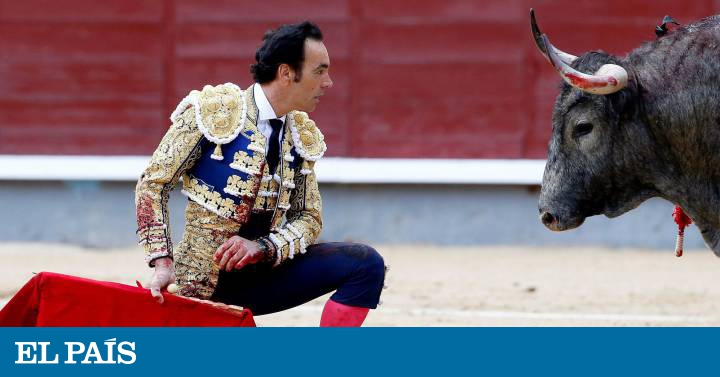 The bullfighter Manuel Jesús Cid, El Cid, He is one of the best natural bullfighting interpreters; his long twenty-year career as a bullfighter has not been fairly valued, and every heroic bullfighter deserves someone to tell the world about his struggle and effort.
These are some of the reasons that have led the Sevillian journalist Carlos Crivell to write about life and miracles in the arena of El Cid, a bullfighter forged as a bullfighter in the so-called 'valley of terror' in the province of Madrid; Later, he became a favorite of the Las Ventas fans, and emerged as a figure on his own merits despite many detractors who have insisted on criticizing and detracting from a self-made man who achieved glory with perseverance, will and determination. sacrifice.
This is, at least, what Crivell thinks, a bullfighting critic forged in different media over a long career; an authority in the analysis of the bullfighting festival that has had the collaboration of the publishing house El Paseo to publish El Cid, a natural bullfighter, that saw the light last April and that has not yet been presented due to the coronavirus.
"I have tried to put a very good bullfighter in his place," says Carlos Crivell. "I believe that those who dress in lights and fight with all their might to achieve glory deserve a book," he continues; "They are lives full of sacrifice, effort, hardness, difficulties and uncertainties that denote the merit of becoming an important bullfighter." In the author's opinion, El Cid is one of them who, until now, has not had anyone write to him, and has also suffered an inexplicable campaign of harassment and demolition: "I have the clear feeling that El Cid has not been sufficiently appreciated; even, at times, undervalued. Perhaps for this reason, it seemed fair to me to highlight the many achievements of his career, backed by extraordinary bullfighting afternoons ".
What do you mean by that? Crivell responds: "The bullfighter himself affirms that he has never given anything to anyone (I think he is understood) and, at worst, some have not assimilated it. There are mass media that live off bullfighting advertising and they mistreated him because El Cid decided not to advertise in them. So much so, that in 2006 he came out on his shoulders in Madrid and Seville and there was a journalist who did not include him in the list of the 10 best bullfighters of the season ".
Crivell admits, however, that the career of the Salteras bullfighter has suffered surprising ups and downs. "I divide his career into four sections: first, the novilleril stage, very hard, like many others; six years forging in the valley of terror. The second, the alternative in 2000 and his maturation as a matador until 2005; the third, from 2005 to 2010, the stage of the figure of bullfighting, based on two large doors in Madrid and four Puertas del Príncipe; and the last, from 2010 to 2019, the decline, although every year there is a detail with which it recovers its category ".
Crivell has no doubt: El Cid is a bullfighter from Madrid. And he argues it: "for its novilleril explosion, the alternative in Las Ventas, and for its great tasks, some of them ruined with the sword; later, he has won the title of favorite in Seville, Santander, Bilbao, squares in France, but bullfighter in Madrid ".
"El Cid has been more powerful than an artist", continues the author of the biography. "A bullfighter with a short repertoire with a cape and crutch, who bases his bullfighting on the distance of the bull and the temple".
The book also highlights the long and happy idyll of El Cid with Victorino's bulls, which began in 2002 in Bayonne with Thug, who cut off both ears and tail, and ended up turning the bullfighter into a specialist in this ranch. "I think the key is that he was a bullfighter capable of adapting to all types of settings: Albaserrada, Núñez and Domecq, among others", explains Crivell.
In his opinion, the most complete afternoon of El Cid's career would be Victorino Martín's confinement with six bulls, in Bilbao, on August 25, 2007. "He cut off four ears, and showed a perfect knowledge of bulls, a huge ability to excel and unlimited confidence in their possibilities. It was the demonstration of what a true feat in bullfighting is ".
Question. Recognize that El Cid has also starred in desperate afternoons …
Reply. It is true that there have been great tasks that were not signed with the sword, and despite this I do not believe that El Cid has been a bad bullfighter. He has failed in fundamental moments, especially in Madrid, but he has killed many bulls well. Note that he is left-handed, which implies an added difficulty in the ultimate luck. But it is true that the task that is not signed with the sword fades and is soon forgotten.
P. In nature, an indisputable figure …
R. Without a doubt, El Cid has been one of the best interpreters of natural bullfighting. I think he has treated many bulls so well that his condition has improved. When he quoted them at length, with all the advantages for the bull, and shipped them with courage and bond, he embellished the behavior of the animal ".
P. Has El Cid been a happy bullfighter?
R. Yes. When a bullfighter is well empowered, and he was from 2002 to 2016 with Tornay and Ellauri, there is the right ground for happiness, the fruit of mutual trust.
Two Big Doors of Las Ventas, four exits through the Puerta del Príncipe, a bullfighter in Madrid and a favorite of Seville. Twenty years as a bullfighter …
Carlos Crivell writes in the first pages of the book: "The life of a bullfighter is a unique event, an example of how sacrifice leads to glory or nowhere".
And among the many journalistic quotes, one by Joaquín Vidal about a bullfight held in Madrid on May 26, 1999: "El Cid started fighting for natural reasons and that was a different matter. He did not wait for anything or make any preamble: natural, well, as it sounds. It is already a detail that in the full empire of the right wing a bullfighter comes and is employed in the natives at the first exchange ".
"Manuel Jesus, El Cid, a natural bullfighter… ".