El Cicca explores avant-garde graphic art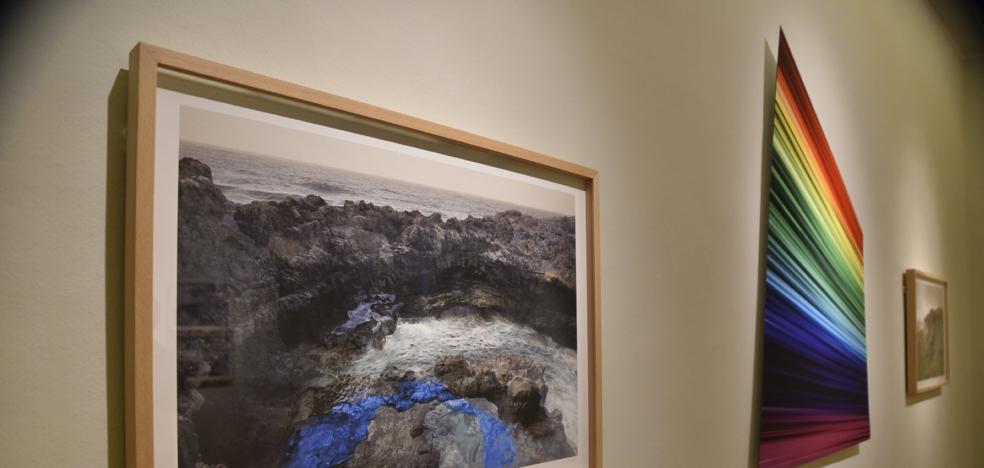 The exhibition, entitled 'The subtle as an element' can be visited at the cultural venue of the capital of Gran Canaria until July 15
Landscapes that do not exist in reality; emotions that run through the work in the form of dreams like a river of colors or a dreamlike path; pop-style graphics that point, aim, or question; a sample to experiment 'in the now' of the author and that will have
video installations and 'performance'.
The La Caja de Canarias Foundation, responsible for the exhibition space of the Cultural Center
Cicca of the capital of Gran Canariahas decided to explore avant-garde graphic art and does so through the eyes of two Canarian authors such as
Ruperto Cabrera and Nacho Ramirezthrough an exhibition entitled 'The subtle as an element', curated by Miguel Rodríguez and which can be visited at the facilities of the
Alameda de Colón until July 15.
The new proposal of
The Caja de Canarias Foundation collects photographic works, graphics and avant-garde techniques. In addition, it will have a second phase, at the beginning of June, in which the use of various cutting-edge techniques will be expanded with videos and more elements.
"It is a fresh and innovative exhibition", says Manuel Sánchez, president of the Foundation. He also explains that the bet is "almost groundbreaking for what we are used to having, with
greater presence of painting and sculpture. Now we have electronically manufactured photography with a dreamlike perspective and pop elements."
a performance

He also points out that «we want to explore and commit to addressing all artistic techniques and variants. This exhibition, in fact, will feature
a 'performance', that is integrated into it. We are open to all kinds of artistic manifestations, we want to open up to current artists and we seek to attract young audiences with this ».
«Ruperto and Nacho Ramírez
margulla at full lung, diving into the depths of knowledge with nearby, primary, essential tools, to constantly craft proposals loaded with sensitivities in our scattered time", explains the curator of the exhibition.
For his part, Nacho Ramírez recognizes that the link between feelings and nature is a constant
"romantic"but my photographs are not so much a representation of nature and landscapes, but rather they are
memories and memories.
In each of his photographs,
without a location concrete but formed by a set of real places in the Canary Islands, you can see a path marked with a color.
"What this represents is the journey of life and this photograph represents a moment of that journey," the author explains.
transformed landscapes

"They are landscapes transformed over time, through emotions and memories," adds Ramírez, who also concludes that "all of our past, everything we remember, are experiences present in the now." «
We live and interpret them remembering them now and, therefore, these landscapes are as unreal as the memories themselves, "he says.
A moment of the presentation of the sample. /

c7

The commissioner assures that it is a
personal satisfaction having been able to unite two great Canarian artists like Nacho and Ruperto. They have great sensitivity and artistic ability. «Nacho makes snapshots of his feelings. He does not seek the landscape but to intervene in nature, because paraphrasing
Oscar Wilde: Exterior nature imitates art", he adds.
The sample is completed with
graphic interventions of Ruperto Cabrera, with works closer to pop iconography.
"The game between these two artists makes the exhibition grow, through a basic quality and the joint sensitivity of the artists", values ​​Miguel Ramírez.