Effective responses to the unknowns of the labor market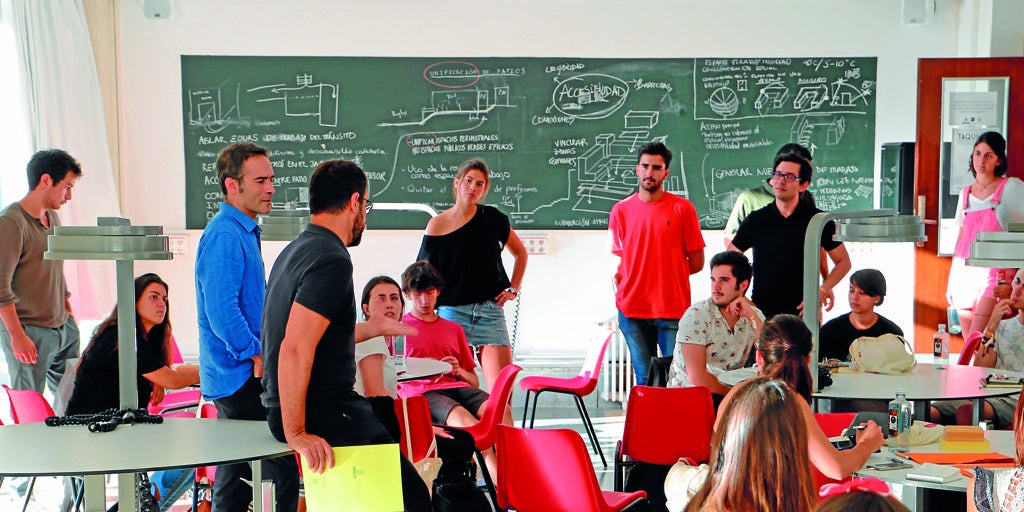 Bethlehem Rodrigo
Updated: 06/21/2022 20:05h
Save
Related news
In a changing and increasingly demanding job market, the master's degree is presented as a differentiating element for the candidate. There are many things that postgraduate training provides and that companies appreciate when selecting applicants. It is not about having one more degree in the curriculum, but rather it offers another type of training. "A master's degree provides knowledge and personal development, which is difficult to quantify, and generates 'networking'", says Fernando Calvo, People & Culture Director at HAYS. When the degree is finished, the students have a very general education. "The master's degree, accompanied by internships, means that in just over a year the candidate already has experience and has further oriented his professional career," he adds.
It is necessary to differentiate between a qualifying master's degree and a non-qualifying master's degree, which in turn can be an official degree or an individual degree. The enabler refers to that higher education necessary to pursue a career. Among these regulated professions is that of lawyer or architect. Among the non-qualifying, the official master's degrees can have a research orientation, which gives access to the Doctorate and with a professional research output, but also professionalizing, oriented more towards the student's labor insertion, which also usually have compulsory internships. On the other hand, "own titles quickly update their content and are not official, that is, they have not been approved by the Ministry of Education. They are aimed at acquiring knowledge that is fast, up-to-date and oriented towards direct professional application", emphasizes the Guidance Department of the Camilo José Cela University.
Fernando Guijarro, managing director of Talent Consulting at the Morgan Philips Human Resources consultancy, recalls that "learning is the key." When we talk about postgraduate studies, there can be various scenarios. «One of them is when you want to consolidate knowledge in a specific area, go from generalist to specialist and that positions you in the job market. You go from the studio to the professional world », he highlights. "It involves contact with professionals, in addition to acquiring knowledge. You work on different skills and there is a staging. I know the contents and I have criteria to apply them », he adds. A second scenario would be one in which the student wants to refocus his trajectory,
"And that internal change is a plus, it means accelerated growth". The study of the master's degree can also be motivated by a change of area, "which is never easy," Guijarro clarifies.
In the final line
Although many recruiters say that the master's degree is not a determining factor when selecting the candidate, there is more consensus in admitting that it generally helps you to be on the 'short list' of candidates. As highlighted by Fernando Calvo, «with the master's degree you develop a way of thinking. You work with people from other companies, you are going to move to a way of thinking of a company. The recruiter knows that if he has done a certain program he has a minimum level because there are schools that select their students». Depending on the master's degree and the school or university where it has been carried out, "more details of the candidate are offered," he points out.
Already having done a master's degree "allows you to understand that the person has a deeper knowledge of something and if it has been abroad, it also gives you a sign that you control languages." Fernando Guijarro also points out that many times the first selection of candidates can be done with a machine and having a master's degree can allow that first filter to pass. "In some cases it is a desirable requirement and in other cases it is imperative," he concludes.
Miguel Sarrión, associate director at Peoplematters, considers that university degrees in Spain have traditionally been disconnected from business reality and master's degrees provided "training and key skills for the transition to the labor market." However, this 'gap' is being reduced "with the contributions of private universities and the improvements in the public university". He draws attention to the fact that "other alternatives or complements to the master's degree are beginning to have more and more influence on the labor market, such as accreditations in specific subjects or professional certifications." In addition, it must be taken into account that "there is a great difference in quality in the market and certain institutions are a guarantee for the companies they recruit."
When talking about the most digital profiles, Sylvia Taudien, CEO and Founder of Advantage Consultores, points out that the young generations have good knowledge of the use of digital devices. "Their digital skills such as creativity, adaptation to flexible environments are well developed." She believes that a good university education or vocational training in digital profiles, in principle, is enough to find a job. However, "a complement such as a master's degree always improves employability." And it is that the master's degree by itself is not a guarantee of demonstrating knowledge. "We look for experience in the workplace and attitude," she clarifies.
directors
One of the most common questions that are asked is whether the master's degree is an essential tool for those who want to reach management or responsibility positions in companies. Xavier Gangonells, general director of the Spanish Association of Managers (AED), begins by emphasizing that "anyone who wishes to dedicate himself to the practice of the managerial profession must be aware that
their training must be continuous throughout their career to properly carry out its responsibility. In this sense, any manager must invest in their development and take care of their training». And very especially in times of change like the current ones, hence the importance of 'upskilling' -the process of learning and enhancing skills that help improve our skills- and 'reskilling', or the process of updating new skills to adapt to market needs.
"Training is one of the best tools to keep up-to-date, grow at a professional level and so that one can continue adding value to the company". In this sense, postgraduate training "continues to be necessary because it provides essential foundations for the exercise of our profession. A good master's degree provides practical and very useful knowledge that represents a differential value in the career of any management professional».
He recognizes that, as a general rule, the opportunities for promotion in a company after completing a master's degree increase "because the person has acquired new skills that will be important to reach a higher hierarchical level and, therefore, will be better prepared to take advantage of a possible opportunity ». For this reason, it is common for companies, which need to have profiles with high potential for their development, to become involved in the training of their professionals. The level of training of a person also affects their value in the market and, therefore, their level of remuneration. «Even more so if there is also a promotion after completing the master's degree. The labor market values ​​and demands the best prepared professionals, and training continues to be one of the key factors influencing managerial remuneration».
"Specialization is the main characteristic that completing a master's degree provides, in addition to providing the student with greater experience and new knowledge and skills", highlights the general director of AED when referring to the added value that a master's degree provides and that is most appreciated in the market. But he's not the only one. Gangonells adds "mental flexibility, cultivating creativity and the ability to seek solutions in different ways, as well as analyze and apply them according to each situation." The study of the master's degree also provides the skills "badly called 'soft' that are increasingly important in the new digital reality, such as teamwork, creativity, oral and written communication skills, analytical skills, etc.", Miguel Carrión clarifies.
contacts forever
Undoubtedly, one of the great benefits of postgraduate studies is 'networking'. Networking with peers can help students throughout their career path. «A master's degree unites a lot, especially when you are already working. You share your time", recalls Fernando Calvo. «The master's degrees are not only valuable for their content, but above all for the relationships they can bring to the student. Links that sometimes extend for many years and therefore become valuable relationships throughout the entire professional career. The master's degrees stand as an excellent tool to meet other professionals with whom the same concerns are shared", points out Xavier Gangonells.
Spain has several business schools whose master's degrees are positioned at the top of the main world rankings. Taking one of its programs is practically a guarantee of placement.
The reputation of schools is closely linked to a better job prospects. «When one is going to allocate a year of life, it is important to be certain that this investment is worth it. They need to know that you are going to make progress in your career", highlights Pollyanna Nethersole, Director of Recruitment and International Admissions at Esade. In areas such as Finance, he considers completing a master's degree essential to get a job, and in the world of Innovation "it helps a lot when you want to set up your own business." For profiles from Humanities or Engineering, "an MBA can help transform your career and generate new opportunities," concludes Nethersole.
In a constantly changing job market surrounded by all kinds of uncertainties and unknowns, postgraduate studies seem to be in a position to offer some convincing answers.
View commentsTopics

Source link