Edit in canine times | Babelia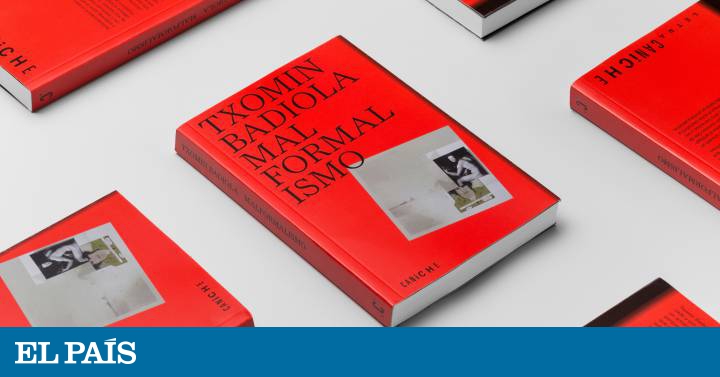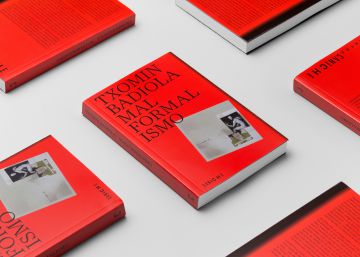 A book bound with gotelé-covered covers. The diary of the birth of an artist. An alphabet started at the end. A painting engulfing a library. An encyclopedia of modern engineering. The photographic diary of a pop group on tour in Mexico. A documentary of the reverse of art. A collection of poems devised as a ready made shower At first sight, It is difficult to recognize a book by the publisher Caniche. They do not develop a common design, nor a specific pattern, nor a specific theme. Each project is a separate point, a change of line in the recent history of artist books. I am not mistaken if I say that it is the most unique project of art publishing currently in Spain. A benchmark in its way of intersecting architecture, design and art without complexes. The editorial joy of recent times.
Caniche was born in 2015 at a time when the economic crisis was still dragging and visibility platforms in the field of art and architecture had been minimized. Carlos Copertone, a jurist specialized in urban planning, and the architect Patxi Eguiluz were thinking about it when one day they decided to make a assault and give that story a twist. That's what they call the interventions, always ephemeral and outside the conventional circuits, with which they give visibility to projects that would not otherwise be accessible to the public. The first was the artist Raúl Domínguez showing his work in a coal factory in the Lavapiés neighborhood of Madrid. Then came Paula García-Masedo and Andrea González and her gotelé at the Twin Gallery. Actions started as books and books began there as a starting point for interventions. A job that Isabel Lerma also, in addition to editor, farmer.
To date they have carried out four assaults and they have edited 18 books. The last one is Malformism, by Txomin Badiola, an experiment at the crossroads of the novel, the essay and the autobiography, where the artist turns the bad way which defines his work so much and where the publisher opens a new collection, Poodle Letter: textual, narrative, critical or poetic proposals made by artists. The next to appear are still tied to the Basque artistic context: Itziar Okariz and Jon Mikel Euba. In addition to that new collection, Elena del Rivero has just released her book The dust file, about 9/11 and Joaquín García voices the podcast series normal speech with a good cast of Spanish artists.
His philosophy is to accompany, push, stimulate and finance artists to develop a broadly understood creation process. "Think of the book as architecture that generates a productive space," they say. That lance to defend the book as an object there is a love for the process, an impeccable design and an almost artisanal scale of work. Hence the name: something small, that accompanies you from the lack of pretentiousness. We talked about all this.
Question. What would you say differentiates Caniche from other publishing projects?
Reply. Firstly, in that we have never been aware of being publishers by publishing books, just as we have not been aware of being curators by making exhibitions or other projects. These are roles that, in general, have bothered us and that generate a certain asymmetry when relating to artists, architects or other agents involved in the cultural fabric. Someone once told us that what most appealed to him about Poodle was the ability to desecrate formats. Placing ourselves on hybrid and unbiased terrain has probably been the greatest strength of the project and what has been able to attract artists or thinkers to want to do something with us. Despite the diversity and since we face each new project as a universe in itself, we believe that, little by little, an identity has been achieved, recognizable common lines, like an air of family. Lately, and this is something we have learned from artists around us like Lorea Alfaro or Jon Otamendi, what we do has a lot to do with a certain concept of "structure" in which we are not alone, but rather share it with a plurality of agents, not only artistic. And in that structure, authorships, roles and even identities are much more fluid and permeable.
That structure will have a roadmap, right?
Perhaps the only idea that we have had clear is that it was convenient to spend a period of time (three or four years) experimenting to know in which areas we were comfortable, which ones made us more curious and also, why not say it, which bothered us. And once a practice is developed, feel safe to combine that experimentation with the beginning of Poodle Letter, a collection of essay, criticism ... text, in short. That collection has started with a work by Txomin Badiola, an autobiographical essay on fiction that he defines as a bad way In herself. Therefore, there is no premeditated roadmap. In fact, we believe that this project trend that defines contemporary art today and that manifests itself in institutional calls, in which it seems that everything has to be defined a priori It is tremendously disturbing. Coming from areas, in principle, foreign to contemporary art, what interested us was precisely the possibility of banishing all that and focusing on the do.
Does it cover gaps left unattended by other publishers?
It would be very pretentious to speak in those terms because we really are a tiny structure. But we have made it easier for projects to come to light that would otherwise not have occurred. Outside the institutional sphere, there are not many platforms that offer artists a comfortable space, for example, to make a book. In the end, that implies, also a political stance. If we think about The (Invisible) Art of Documenting Art by Cristina Garrido, it is a complex, expensive and difficult book to carry out without institutional support ... We have done it that way despite everything because it is essential that a young female artist can carry out her work in the best conditions and that, In addition, she feels accompanied at all times, just as we have felt accompanied by her.
How close are you to the idea of ​​an artist's book?
It is a concept that we are interested in exploring because it offers infinite possibilities. The artist's book can be both the unique piece that, as such, the creator has conceived because it needed to be so, or a fanzine, or a textbook that, at first glance, might seem more conventional.
What virtues and what failures does the current publishing system have in Spain in relation to the plastic arts, thought or criticism?
This is an area that is generally quite precarious, where desktop publishing and very poor distribution systems abound. Perhaps this is one of the critical points. The editorial distribution is tremendously complicated and absorbing. From the first moment, we thought we wanted to know the sector from scratch, so, in addition to selling on the web, we have dealt directly with bookstores and attended the fairs ourselves. It is undoubtedly enriching but exhausting work. And the bookkeeping system does not make it easy because it is designed, even from a computer point of view, to deal with distribution companies. Stopping to deal directly with a small publisher like us, simply registering a book is an extra effort for them that sometimes they cannot afford. Add you invoice on time. We are currently trying to create ties with platforms that encounter similar problems.
Your role as editors is very special, since you work with specific projects and a financing system far from the big brands.
Our model is totally self-managed. We try, although not always successfully, to make each project stand on its own. What improves that base is entirely devoted to new projects. We have never ever shared benefits (luckily, each of us lives from other occupations). Only on one occasion have we had help to edit a book and, obviously, that is rare, but it allows you to work on that project with wonderful peace of mind. It takes a lot of work to get the numbers out, not to reduce quality and so that the creators and the rest of the people necessary for a project to see the light have a fair return.
What level of precariousness is there in the publishing world?
The appeal to precariousness seems to have become an immovable mantra that we all use. This situation, which is real, should lead us to two attitudes: socially, as responsible citizens, a greater degree of demand on public institutions and their representatives for decisive support for contemporary creation and the strengthening of their channels of production and visibility; and, personally, to make necessity a virtue ... for us it has always been paradigmatic and it is what we have tried to apply, that principle of punk: you don't have what you want, it doesn't matter, do it yourself.
Has the publisher model changed?
We believe that strictly economic efficiency criteria have led many publishing platforms to try to specialize to the maximum and to search for a business niche. It is something that to us, in principle, seems boring and limiting, but absolutely respectable.
And of reader?
It has simply reduced the number of people who buy books and, of course, the number of people who buy contemporary art books. The number of readers has not necessarily been reduced, because digital platforms offer you, from the strict point of view of information and the almost infinite display of images, greater possibilities than the paper book. Precisely for this reason we believe that the book is currently a device that must be explored in new directions.
Between your bets each one is more special. If you had to choose one of the projects, which one has made you grow in a special way?
That is a very difficult question to answer because everyone has contributed enormously. Perhaps the experience working with the artists of Under the Hat, a platform that, from contemporary art, works with artists with some kind of intellectual disability ... so much so that after doing the project (Some things, from somewhere), we decided to start another related adventure, which materialized with X, Y, Z, t, by Andrés Fernández, an atlas with all his cartographic work. Andrés is autistic and relates to the world through his maps, a complex system that incorporates, in apparent disorder, plans, texts, lists and enumerations that speak for him and display episodes of his biography. A work that reflects with extreme simplicity and frankness the intimate relationship that he maintains with the world and his amazement at the mystery and force of life. All this would not have been possible if Mateo Feijoo, who was director of the International Center for Living Arts Matadero Madrid, had not thought of us to mix with them and work together.
What challenges does independent publishing have today?
Probably the same as always: serving as a vehicle or means of communication so that a creator in his struggle to understand the world reaches other people. That as publishers or as producers we can be able to open doors and windows so that the mark left by the creators in their processes, the fruits, the remains, the works ... become fertile raw material for others.