Edgar Badia leads Getafe and stops Getafe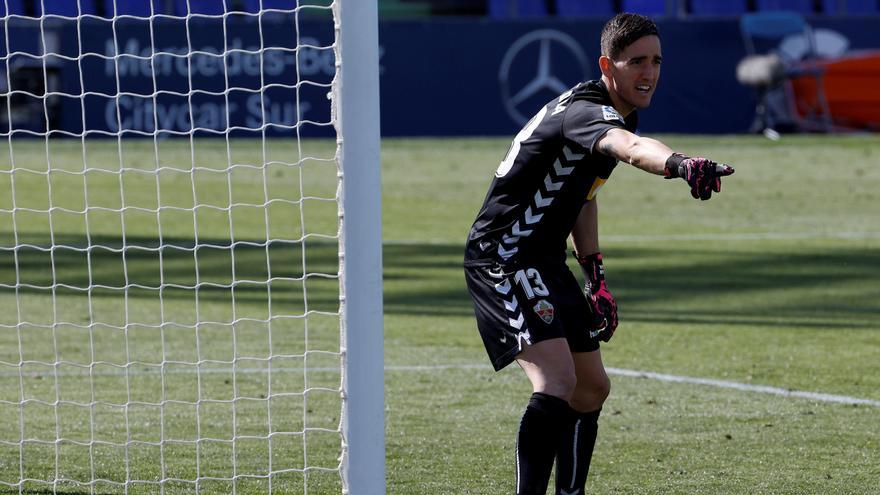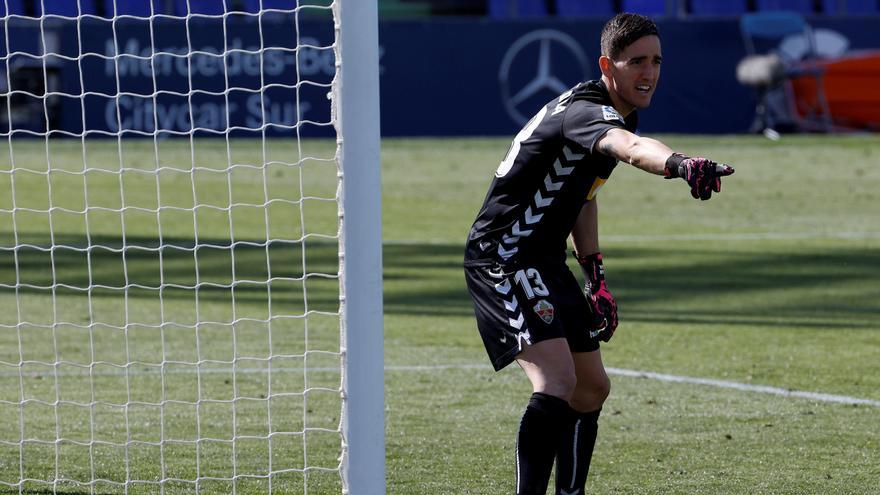 Edgar Badia, one of the fittest goalkeepers in LaLiga, stopped the Getafe (1-1) in their attempt to get away from the relegation places after stop a penalty to Ángel Rodríguez that would have given the victory to the azulón team before him Elche.
On the agenda of Luis Enrique there should already be a goalkeeper with some awesome reflections. If you have already called up Robert Sánchez, out of the media spotlight at Brighton, Edgar Badia's performances should not go unnoticed by the Spanish coach. This Sunday he surely took note of a stretched feline with a changed hand that served Elche to score a very important point in the fight for not releasing. His intervention canceled Kubo's great game at Getafe, also decisive in his team but less decisive than the Elche goalkeeper.
And, with a lot at stake on the pitch of the Coliseum Alfonso Pérez, both José Bordalás and Fran Escribá opted to change their systems to ensure the crash. The two, accustomed to the classic 4-4-2, turned towards an apparently more conservative 4-2-3-1 but, in the case of Getafe, more cheerful.
That is the drawing that Bordalás uses when he decides to join Carles Aleñá and Take Kubo. The second, absent from the Getafe line-ups in the last six days, returned benefited by the sanction of Allan Nyom, more to the liking of his coach almost always. With Kubo, his team lost fang but gained quality. But it had to flow, something that doesn't always happen with Japanese.
In front, Escribá, 'fought' with his rival for his bad experiences in Getafe (he was dismissed from the Azulón club the year of relegation and from Villarreal and Celta after losing to Getafe), took Guido Carrillo from the field to place Pere Mile in the playmaker. That decision had a lot of influence on the future of the game. In the only shot between the three sticks of Elche in the first half, Pere Milla scored the only goal in the opening act. Getafe, timid this season in set pieces, did not defend a corner well and the middle of the Elche team did not waste an assist from Gonzalo Verdú who pushed David Soria's goal net without any opposition.
Until that moment, minute twenty, Elche had shown the order that has characterized Escribá's team since his arrival on the bench. With few fissures behind and with the Lucas Boyé's back game, immeasurable in that art, Getafe barely got oil of the quality of Aleñá and Kubo.
They were both the only ones capable of oxygenate a team stuck in Escribá's spider web. And, the two of them were almost the only ones who disturbed Edgar Badía's arc. Kubo tried it with a header, provoking a possible penalty from Verdú and leaking a few very dangerous passes. Aleñá was the lightbulb of his in the creation and was also able to score with a shot from outside the area.
That was not enough for Getafe, who went into halftime with a excessive and incredulous punishment for two possible penalties that José Hernández Hernández did not decree. One of them, a stomp on Enes Ünal, did whistle it. But after reviewing the images, he canceled it. Then, Bordalás wasted no time and took Ángel onto the pitch in the first minute of the restart. With two forwards and without Maksimovic in the center of the field, his bet was clear: you had to score points yes or yes. And, initially, the bet worked. Kubo, was largely to blame.
First, he approached the goal with a good free-kick. Then, from the baseline, he gave it to Enes Ünal, who finally wore a smile on his face after scoring his first goal of the course. Kubo drew it for him before leaving the pitch with twenty minutes remaining.
In them, Getafe, with less fluidity but with great enthusiasm, took oil with a penalty that Hernández Hernández did point out after looking at the images. However, Ángel ran into Edgar Badía, the goalkeeper who stops the most in all of LaLiga, and was a monumental disappointment. From tie to glory there was a step and he stayed on the edge of success. Elche, left the Coliseum alive thanks to a man: Edgar Badia.
Data sheet
1.- Getafe: Soria; Iglesias, Djené, Sofian, Olivera; Arambarri, Maksimovic (Angel, m. 49); Aleñá (Timor, m. 86), Kubo (Portillo, m. 72), Cucurella; and Enes Ünal (Poveda, m. 86).
1.- Elche: Badia; Palacios, Verdú, Dani Calvo, Mojica; Raúl Guti, Marcone; Morente (Piatti, m. 77), Pere Milla (Carrillo, m. 64) Fidel; and Boyé.
Goals: 0-1, my. 20: Pere Milla; 1-1, m. 60: Enes Ünal.
Referee: José Hernández Hernández (Canary Committee). He showed yellow cardboard to Arambarri (m. 25), Sofian (m. 45 + 4) and Timor (m. 97) by Getafe and Marcone (m. 37), Boyé (m. 45 + 4), Calvo (m 55), Pere Milla (m. 63), Carrillo (m. 66) and Fidel (m. 68) from Elche.
Incidents: match corresponding to the twenty-eighth day of LaLiga Santander played without an audience at the Coliseum Alfonso Pérez.