Echenique refuses to lower the VAT on electricity and accuses the electricity companies of "being lush"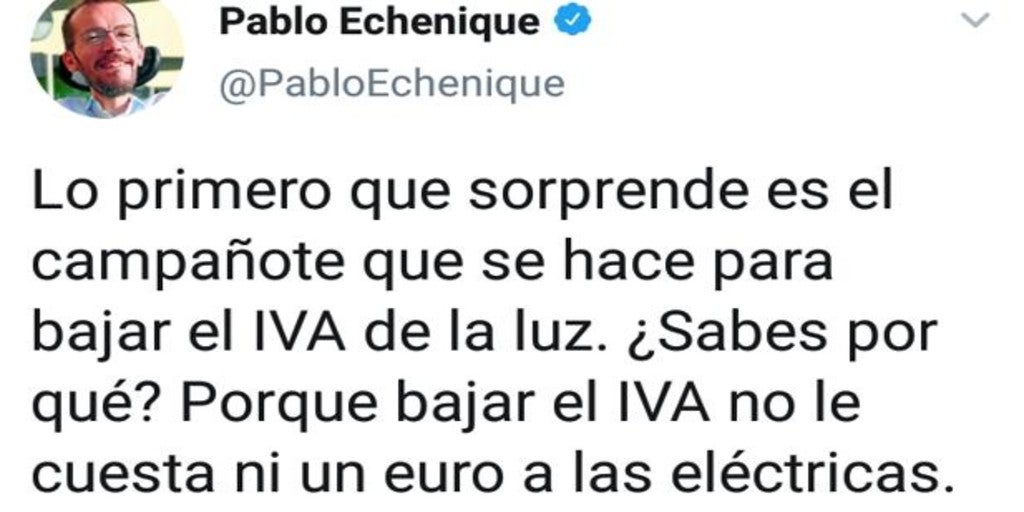 Madrid
Updated:
save

The spokesman for United We Can in Congress, Pablo Echenique, has criticized on Twitter "the campañote" to lower the VAT on electricity, a measure that "does not cost a single euro to the electricity companies" and which reduces state income "Damaging health, education or dependency."
In contrast, he has insisted on applying the reform of the electricity market based on the elimination of the so-called "benefits that have fallen from the sky" so that the lowering of the bill "is paid by the electricity companies, which are filling up, and not by public health."
However, in the electoral program of United We Can, in its article 267 it can be read: «lower VAT at the rate of 4% to more food and non-alcoholic beverages, and 10% to all basic supplies (heating, gas, electricity) from vulnerable consumers. '
In addition, Echenique has defended the position of the second vice president and leader of Podemos, Pablo Iglesias, who "criticized the rise in electricity in the opposition and is also criticizing it now. And he makes proposals to lower it. The same ones he did then, "he stressed to refer to the formation's commitment to also create a public energy company and end" the revolving doors "between this sector and politics.
The parliamentary spokesperson for Unidas Podemos also broadcasts an article published in eldiario.es by the Secretaries of State of the Second Vice Presidency, Nacho Álvarez and Ione Belarra, on the position of Unidos Podemos on this matter.
In that rostrum, both leaders detail that the marginalist auctions of the wholesale market then launched by PP governments "have articulated a system subordinate to the interests of a powerful business oligopoly, which generates notable dysfunctionalities" "in the economy.
Thus, they detail that electricity prices for Spanish families are "the fifth most expensive in the EU, which weighs down the consumption capacity of many households and contributes to a high level of energy poverty (6.8 million people suffer in Spain inadequate temperatures in the home or delay in the payment of bills) ».
Álvarez and Belarra indicate that the coalition agreement between PSOE and United We Can includes a "crucial" measure: to end the "benefits that have fallen from the sky." "The recent rise in the electricity bill shows that we cannot wait any longer, we must urgently comply with this measure of the coalition agreement," they emphasize.
Therefore, they propose "to audit the remaining costs of nuclear and hydroelectric plants and, from there, limit the price at which these plants can charge electricity in the market (through a WidfallTax, or with contracts for differences similar to those that have been designed for the new auctions of renewables) ». The difference between the market price and that limit would be considered an income from the electricity system that would be used to lower the electricity bill of all consumers, reports Ep.