Earthquake with aftershocks even in the Canary Islands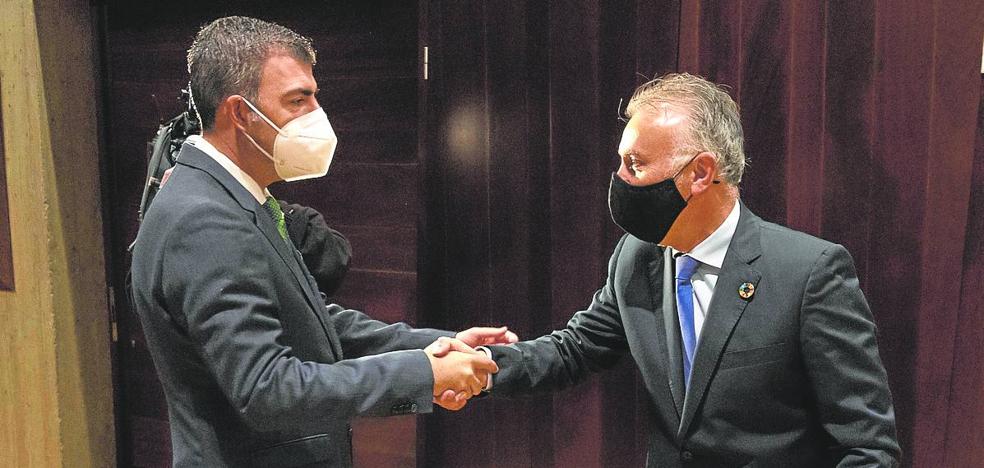 Presidency in Tenerife. / ef
Analysis. What happened yesterday is terrible news for the Canarian PSOE, which depends on the national wave, but the rise of the PP does not favor CC either
Andalusia does not have nationalist parties; Andalusia does not have a single-provincial party that wins three seats and can decide governance; Andalusia does not have councils with a direct vote in its elections, as it does with councils... but elections in Andalusia have an impact at a national level, which means that they are also felt in the Canary Islands. And even more so if what occurs is a political earthquake, because then the aftershocks clearly reach the seismographs of politics in the archipelago.
Socialist Party
Ferraz called the socialist barons to lend a hand to Juan Espadas and Ángel Víctor Torres went to Andalusia. Last night's count caught the Canarian president and leader of the PSOE on the islands watching the game against Girona at the Heliodoro Rodríguez López and, between football shock and shock, he was surely muttering a result that is an absolute disaster for the PSOE. But not only for the Andalusian PSOE but for the national brand. In the Canary Islands, voting, especially on islands like Gran Canaria, usually goes hand in hand with state trends, making the waves for or against even more intense. Almost tsunami. With what happened yesterday, the Canarian PSOE will now have to measure whether having Sánchez himself in the 2023 campaign can give him or take away votes. And that reflection is also valid for the possible sending of Carolina Darias as a candidate for mayor of the capital of Gran Canaria. In his case, everything would go through a hypothetical government crisis that Sánchez would activate as a revulsive before this fateful 19J.
People's Party.
Things cannot go better for Manuel Domínguez, who became president of the PP in the Canary Islands at the beginning of the year in an operation supervised by the then almighty Teodoro García Egea and Pablo Casado himself, and who at the first chance found that both were no longer in Genoa. The PP is now experiencing a sweet moment and, spurred on by yesterday's result, it has to resolve important electoral questions such as its candidates in municipalities of great political value and that are decisive in counting votes for Parliament and the Cabildo. This is the case of the capital of Gran Canaria and Telde. While these equations are being resolved, the PP sees in Andalusia how the centrist messages, let's say that of 'normality', the markedly autonomist discourse and separating from Vox are working. And another key to the Andalusian campaign that the Canarian PP will surely copy: everything that is to charge the inks against Sánchez ensures today grow in votes.
Canarian Coalition
Anything that the PP grows is bad for the party led by Fernando Clavijo, especially if it is confirmed that the new Canarian PP intends to leave in 2023 without complexes for the votes and trying to recover ground in Tenerife, where on too many occasions it has been almost a 'crutch' for the nationalists. If the PP rises too much in some generals, the Coalition may be irrelevant in the Cortes and that is something that CC, after losing power in the islands, cannot consent to. Another key: in almost everyone's forecasts was that Vox was going to have a much better result in Andalusia and what happened yesterday forces us to wonder if in 2023 in Parliament it may also be irrelevant in the regional scenario, because if it were to do so at the expense of that the PP grows a lot, CC would also see how its calculations do not come out.
New Canary
Román Rodríguez's party has been an ally of the PSOE in the Cortes and it is in the Government of the Canary Islands. As a progressive force, a spectacular recovery like the one experienced yesterday by the PP is not to his liking. But there is a nuance regarding CC: NC has been marking distance from Sánchez and his people for a few months, especially in decisions as controversial as the turn around the dispute over Western Sahara. And in matters such as the defense of the Canarian jurisdiction, NC has also criticized the positions of socialist ministers. Thus, we will probably see a greater emphasis on what NC defines as "progressive canarismo".
United We Can... and various fractures
Yesterday's result makes it clear that divisions are not good for the left, and even less so if they are covered in personalism and with bitter confrontations. This is what has been happening in recent months in the Canary Islands, with Alberto Rodríguez defending a new project, with Meri Pita openly criticizing her former teammates and with Javier Doreste announcing that she does not want to repeat. Divide and rule... but here they divide themselves to be defeated.